When running a home-based business, it can be a stressful yet fulfilling experience. From getting all the needed permits and staying away from potential hazards to ensuring that your customers are happy, there's heaps of work to do. Besides creating products or giving home services, you also need to take care of your house to make it an ideal location. One of the aspects that you need to look into is your house's cleanliness.
It could be more work for you if you had to do your cleaning regularly to make your house a liveable and business-ready space. The good news is that hiring professionals can get this off your shoulders. You can look for house cleaners in Melbourne, Sydney, Brisbane, or wherever you are in the country to help you. So if you're wondering if it's worth spending your money on, check out these advantages of hiring cleaners for your home.
6 Benefits of Hiring House Cleaners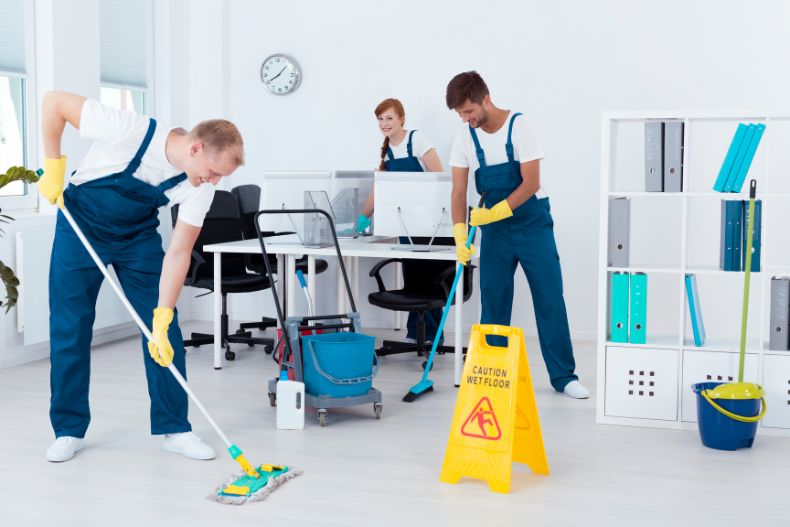 You get more time for yourself

One of the main benefits of hiring professionals to keep your house clean is that it gives you more time to focus on yourself and your business. You won't have to squeeze in a cleaning period between your other schedules when you've got people who can take care of it.

Instead, you can use the spare time to do more for your business, whether buying new materials or catching up on some paperwork. If it's not for business, you can use the time for yourself and catch a break from the daily grind. There's so much you can do with at least one thing that you won't have to think about and work on.
They ensure that the work is done

Besides having more time for yourself, having professionals come regularly ensures that the house stays clean. Maintaining your house's cleanliness might seem like an easy job, but just like any other chore, it could get neglected or pushed way behind your list of priorities.

Having house cleaners come every once in a while can prevent this from happening. While you could get some basic cleaning after your work is done, like returning materials to the cupboards or throwing stuff in the trash, deep cleaning can be difficult, especially if you're doing it on your own. You won't have to think and put in the extra effort yourself when you hire house cleaners.
You and your customers feel at home

One great perk of running your business at home is that you're in the comfort of your house. But having an unclean environment can take the homeyness away.

A house needs regular cleaning on its own, but it gets messier sometimes when you combine this living space with a workplace. For example, if you're running a dog sitting or dog grooming service, it's expected that you'll get more fur or dirt around your house even if you do sweep after a hard day's work. You might not notice it after a few weeks, but having this added grime in your house can make you feel less comfortable. Having cleaners at your home weekly or monthly can help solve this issue.

Not only does it make you feel better, but if your type of business requires having some of your customers or clients over, they'll feel right at home too. Just like preparing for visitors when you want them to come over for an afternoon get-together, you'd like to ensure that your house is at its best when customers arrive. In addition, you can establish or boost your credibility when your customers see a clean space, making them come back often.
They help you stick to sanitation protocols

Even if you're staying at home, having a business still means you must comply with specific rules. These would depend on where you are in Australia and what kind of business you handle since local governments might have different policies.

For some cases, you need to consider various factors and get permits regarding zoning, noise levels, and even health concerns. Part of this includes keeping your place sanitary to adhere to particular health standards. Especially if you're dealing with food and other perishable goods, you have to make sure that your home is clean for it to be a suitable place for this kind of business.

A cleaning service ensures that your house gets a thorough disinfection process that can help rid certain bacteria, pests, and other microorganisms that might make your home less healthy. Compared to cleaning your house on your own, the professionals would also come with their own equipment and the necessary products to ensure that they're doing their work efficiently and effectively.
Your products and equipment stay clean

Naturally, if the environment where you're keeping your products and stuff that you use to make them is clean, these items will also stay spotless. This would also help you gain and retain more customers.

For example, if you're buying and selling vintage items in your house, you'd want the storage space of these items to be clean and sanitized. This is true since even if you clean the products themselves, placing them on shelves that aren't regularly cleaned might make your efforts fruitless. That's why it's better to have professionals clean these storage spaces.
You avoid accidents or injuries

Lastly, if you're running a home business, it's normal for a room to get filled with clutter. Over time, this just keeps increasing, and the more mess you have, the harder it is to deal with them in the future. As a result, your chances of exposure to physical hazards also increases.

A cleaning service helps you declutter parts of your house and keeps your things organised. Not only will this help you work around as an entrepreneur, but it also enables you to avoid accidents, like slipping or having objects fall on you. The same goes for when you have staff working with you at home or customers visiting.

As you can see, having a professional cleaning service can help you in several ways. While running a home business can be difficult, having even the minor aspect of keeping things clean can significantly benefit you. You're sure to have a house that's nice to live in and a space where you can freely fulfill your entrepreneurial goals.