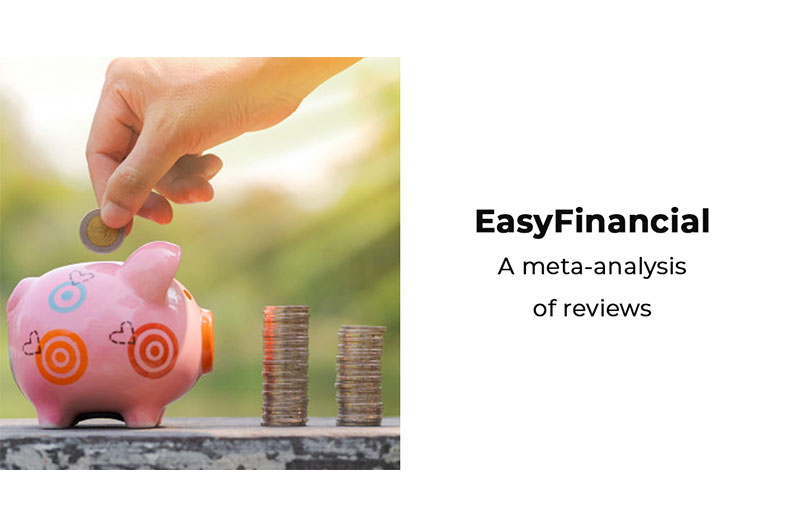 EasyFinancial – Who are they?
EasyFinancial is a Canadian loan service provider. We all know that when you go to money lenders and banks, they'd check your credit score before granting you a loan. If your credit score is low, there's a high chance that you'll be rejected.
The problem with this is each loan rejection harms your credit score even further, which causes you to get stuck in a vicious cycle. EasyFinancial claims to be your way out. This money lending company is willing to give loans to Canadians who have bad credit scores. If you need money for an emergency but you know you can't go to a bank, EasyFinancial can be an alternative solution.
EasyFinancial – Who are they willing to help?
Even though it's willing to help people with a bad credit history, EasyFinancial isn't going around giving anyone a loan without going through a proper evaluation. There are several requirements you have to meet to be eligible for their services. The requirements vary depending on whether you're applying for a secured or an unsecured loan.
Criteria for secured loans ($15,000 – $35,000)
You need to furnish them with a form of collateral – your house or any other asset.
You need to provide your yearly mortgage statements.
They will also need to see your yearly property tax statement.
Criteria for unsecured loans ($1000 – $15,000)
A monthly income of $1200 (minimum).
Proof of legal age as per your province.
A stable source of income.
A direct deposit bank account.
EasyFinancial – What do they have to offer?
EasyFinancial offers both secured and unsecured loans. You can get an unsecured loan for any amount between $1000 to $15,000. For a secured loan, you can get between $15,000 to $35,000. This is a good range as not many lenders have such flexibility. Anyone who just needs a few thousand dollars can easily get an unsecured loan, while those with major expenses have the option to put up their property as collateral if they really need the money. Moreover, EasyFinancial states that their loan terms are flexible based on the loan type a borrower selects.
The problem with EasyFinancial is as flexible as they are with their loan amount, their interest rates can vary wildly, too. You can expect interest rates that range from as low as 19.99% to as high as 46.96%. We understand that they are betting their money on people with bad credit, and there is therefore more risk. However, 46.96% is an overwhelmingly high interest to pay.
Thankfully, when we talked to many of the customers who applied for their services, they mentioned that they got an interest rate close to the lower threshold, somewhere in the 20-plus-percent range. As long as you have a good employment record, your chances of getting a bearable rate of interest are higher.
EasyFinancial – What makes them special?
With so many money lending companies out there, there has to be a USP for any financial service to stand out from the crowd. For EasyFinancial, that's their instant loan approval and instant loan credit services. The average time for EasyFinancial loan requests to get approved is 30 minutes, which is unbelievably fast. Moreover, if your loans get approved, your money reflects in your bank account within the next 48 hours. They also let you decide the payment frequency – weekly, bi-weekly, monthly, and so forth. With such promises and constant delivery, one thing is sure, EasyFinancial cares about customer retention and satisfaction.
However, this very benefit you get from taking an EasyFinancial loan can be a disguised drawback as well. If you try to take a loan from them for the first time, you have to be responsible and make sure to take only what you need at an interest rate you can afford. Once you see how easy and quick the process is, you might get careless and start taking loans for the smallest of payments. This could get you in financial trouble, so exercise discipline and caution.
EasyFinancial – Things to avoid
Just like any other lending service, EasyFinancial will penalize you for the three golden mistakes you should never make. If you're not careful, you'll have to deal with:
Delayed payment fees
Missed payment fees
Default penalties
EasyFinancial can be one of the quickest and easiest ways to get some money. However, their penalties and additional fees can be very expensive if you miss your payment deadlines. We recommend you to step back, plan your finances through, and be sure that you can pay your installments with ease. One missed or delayed payment could cost you more than you would be able to afford.
On a more positive note, if you manage to keep a good track record of repaying your loan, it would help improve your credit score. EasyFinancial submits reports to Equifax, so paying your loan responsibly can help correct your bad credit.
EasyFinancial – The formalities
EasyFinancial is a service for Canadians. Hence you need to have Canadian residency. Secondly, you need to be of legal age as per your province. These are the prerequisites to be eligible for the loan. Once you qualify based on these parameters, you will have to submit the following details to get started:
Personal details
Proof of address
A copy of any government-issued identification
Online banking details
Proof of Income
EasyFinancial – The verdict
EasyFinancial is a reputable money lender with some amazing promises. Anyone who has bad credit and is in need of an instant loan can try their services out. They may not have the best interest rates and their penalties can be a bit high, but they're a great option if you need to be bailed out of a financial hole.