Did you accidentally delete an important file? Don't worry, it happens to all of us, but what you are going to do now? Are you going to weep over your loss or try to undo the damage? The latter option is more productive. So, start with how to find trash on mac!
Don't worry; we are going to help you with the first bid. Go to the Dock on Mac and Finder. From here, you need to click on Trash Icon, open the icon and you will find all the files you have deleted so far. Just make sure you don't empty your trash that often or you will pay a big price.
Even if you deleted your files from the trash, all hope is still not lost. We are going to show you how you can recover deleted files in mac even if you deleted them from the Trash Can. Just follow the given guide, and everything will be fine.
Recover Deleted Files from Trash
This is where your files go when you delete them. The trash folder will hold your files for you as long as you don't empty the trash. If you accidentally delete your files from mac, your chances of recovering the files are accurate. But before you try any drastic measures to recover your files, you must do the following:
Go to Trash and locate files for data recovery, find the files through their name, Data, Size, and type
You can use the search box to enter a filename, extension, etc. This way, the trash can will show your file from the pool
Once you have your files, you can select them, and press right click. Now choose the Put-Back option to recover your files
Recovering deleted files that are still in the Trash is easy, but what if you emptied your trash. Yes, it's possible you deleted an important file by accident and then emptied your trash without knowing any better.
Use Time Machine
You can recover permanently deleted files with the Time machine. This is a MacOS backup utility. It is very helpful in case you accidentally emptied your Trash and want to recover important files.
How Does This Application Works?
The Application creates a backup of files on hourly daily. When the backup drive gets full, this app automatically removes the oldest backup in the log
When the trash is emptied, Mac OS deletes your files permanently. If the external Hard Drive is set as your Time machine backup, then you can recover your deleted data using it. Just follow these steps:
Go to MacOS menu bar, Click on Time Machine and Enter Time Machine
Press the Up Arrow to navigate the time before you deleted files
Locate your files from backup Finder Window
Tap spacebar to preview a file, select the deleted file and restore it
Now Open your current finder and see the restored files
Recover via a Software
If the natural approach doesn't work out for you, then you can always use a third-party solution. Following, we are going to suggest a third-party app that will help you recover your files on Mac. We are going to introduce Recoverit Mac data recovery software to you.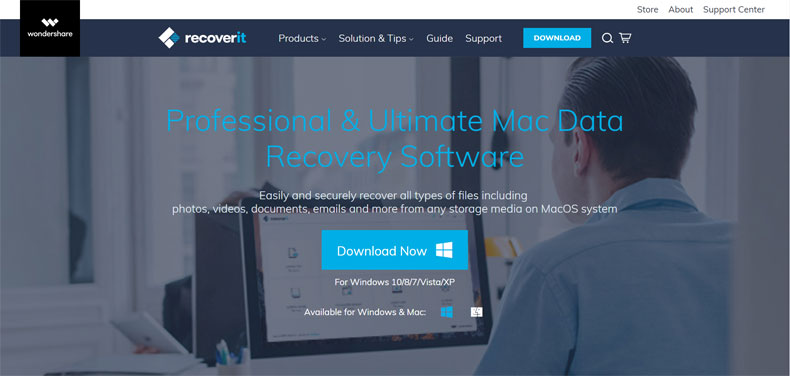 Image Source
This is a recovery tool that is specifically designed for MacOS. This is an ideal tool if you have too much data and you find it hard to keep track of them. It doesn't matter the size or type of file you lost; this tool helps you recover them.
It comes laced with all the cutting-edge features. It supports more than 550 data formats which include images, documents, multimedia files, and emails, etc. It offers you full data recovery for every device with NTFS, Fat16, Fat 32, HFS, and others.
The tool has fast scan speed thanks to its data analyzer engine. It also offers advanced deep scan which goes right into your data structure and brings a record high recovery of more than 95%. This tool supports lost data recovery from even formatted hard drives, raw hard drives or even if you had resized partitions. You can recover deleted and lost data despite whatever the cause.
Yes, if your data was lost because of a computer crash or virus attack, this tool can help you recover it, nonetheless.
Just download the tool and install it on your system. Once you are done, you have launched it and scan your disk. Select the path and location for where the data loss occurred and click start to continue. Recoverit data recovery for Mac will take its time to scan, but once the scan is completed, you have to select the files you want to recover and press the Recover button.