OnDeck is one of the most reputable small business loans providers in the United States. This company has won the support and admiration of users across the country, in terms of professionalism, approval ratings, and customer service excellence. OnDeck is geared towards unsecured small business loans, with personal guarantees. Loan amounts range between $5,000 and $250,000, with revolving credit lines of $20,000 available. Despite high annual percentage rates (APRs) of 20% + and line of credit interest rates of 30% – 36%, this small business loans provider has continued to gain ground. Founded 12 years ago in 2006, OnDeck is one of the most established providers of SBL's in the industry. To date, the company has facilitated loans for thousands of small and medium-sized enterprises across the United States. It also enjoys the distinct honour of being a listed public company on the New York Stock Exchange (ONDK), and is regarded highly among its peers.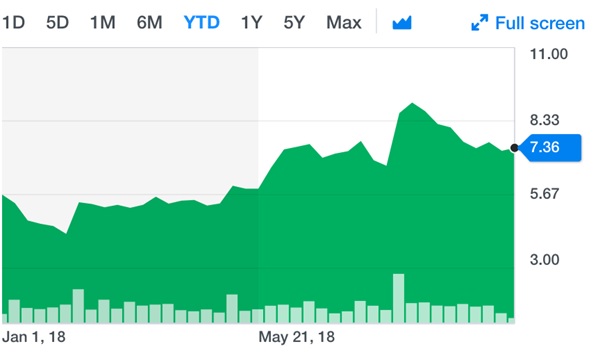 Facts and Figures
OnDeck has offices in the eastern United States, in Arlington Virginia and New York City, New York, Haswell is the south-west in Denver Colorado. In total, the company employs 500+ team members and boasts an impressive tally of $10 billion + in business loans over the years. Given the high interest rates, it comes as somewhat of a surprise that OnDeck continues to expand operations and report profitable quarterly earnings. The brains trust behind the company, Mitch Jacobs is regarded as one of the most impressive venture capitalists in the world, and he has captivated the attention of the financial community, the tech world, and CEOs of leading S&P 500 enterprises. The venture capitalists who invested in OnDeck were so impressed with the concept, and the execution of his business idea that they had hesitation in providing the seed capital and later rounds of financing needed to get the company off the ground. Now, 12+ years after inception, Mitch Jacobs is still at the helm of the company, and several others that he's invested in over the years.
When loan experts took a closer look at this company, it revealed interesting insights. Users are advised to check out the official OnDeck Reviewed report. What is surprising about this small business loans lender is that the average loan amounts is $45,000, and that comes with a hefty price tag of 50% interest. Between 2017 in 2018, this loans company has reported a 118% uptick in profitability, and the stock is riding the wave of positive investor sentiment. As that October 3, 2018 OnDeck (ONDK) stock was priced at $7.39 per share, with a 52-week high of $9.41 and a 52-week low of $4.11. The company has a price earnings ratio of 121.07 and a 1-year target estimate price of $8.80. Their market capitalisation of the enterprise is $551.304 million – substantial by anyone's admission. Perhaps the most impressive elements of this SBL company is its rapid decision-making process. It can take on average as little as four minutes for an approval or denial of a loan. It typically takes no longer than 10 hours for loans to be approved or declined – much faster than other loan providers in the United States. This is certainly one of the most impressive aspects of OnDeck.
Reasons Why OnDeck is Thriving despite High Interest Rates
The global financial crisis continues to have any impact on small and medium businesses around the world. In the United States, tough regulation remains in place, despite the regulation initiatives under the Trump administration. New businesses and existing businesses are required to provide extensive paperwork detailing their cash flow, income statements, balance sheets, profit and loss et cetera. However, with online lenders like OnDeck is much easier to be approved since the banking rigmarole does not need to be adhered to. As a trusted, safe, and secure public company, this SBL provider offers rapid service and credible operations. Of course, cost is a major consideration to many companies, and the loans are expensive to maintain. Owing to the rapid approval process, many businesses are opting for higher interest rates with guaranteed approval is rather than facing rejection and lengthy processing times with banks.
Fortunately, the approval criteria are relatively easy to meet with this small business loans provider:
A credit score of at least 500+
Annual revenue of $100,000 +
Early repayment of loans is generally eschewed as the company prefers long-term payment schedule so that it can generate sizeable returns. In terms of ratings and feedback, Trustpilot indicates a 9.6/10 score from business owners, and the company's focus on approving loans quickly is its strong point. With a clear repayment schedule and a public listing, OnDeck is trusted and credible. The high interest rates are a source of concern, but a company which can afford to make these repayments is more interested in securing bridging finance and capital than foregoing the capital and closing up shop.