Entrepreneurship isn't a job – it's a lifestyle! And with every life there is a corresponding consequence for every action. It's sort of stipulated to the invisible manual life gave us when we were born. When we utter the word "insurance", some of us would cringe at the idea. Perhaps, depending on one's upbringing do we perceive it as a shield or a threat. Whatever the case, we have to deal with it because that's a grown up thing to do. That's what it means to be responsible and hold your ground as a sole proprietor of your business. Prevention is better than cure and so precaution is better than unawareness. When things go the other way unexpectedly, insurance is the hero to the rescue. In western countries, where insurance is regarded above, it's not so hard to convince people to get one. It is even required by law and compulsory for all companies
Within the business premises, insurance should not be taken lightly. Depending on the nature of your business, as the owner you should take extreme measures to guarantee that you are protected or otherwise "covered" whatever negative is likely to happen.
These are the list insurance type you have to get to strap your business with safety armors: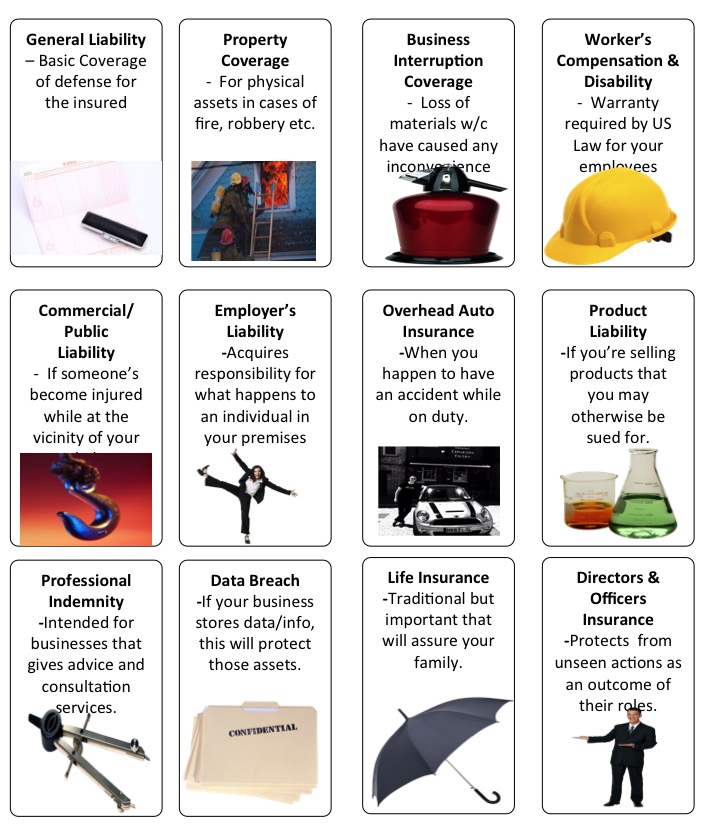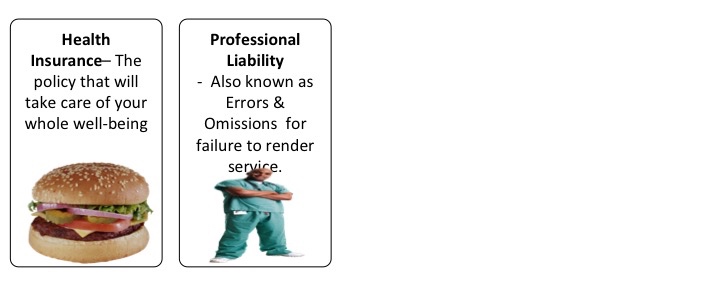 1. General Liability Insurance
– It is for the purpose of defense for the insured. A protection for lawsuits and other claims from other parties. You might be sued for many reasons, otherwise guilty or not, this is a basic coverage you must get for yourself.
2. Property Coverage
– For your physical assets,in cases of fire, robbery and other accidents that may happen to your office space and work location within the grounds of reasonable claims.
3. Business Interruption Coverage
– This is different from Property Insurance in a sense that this will compensate when an unlikely tragedy happens. The loss of materials which have caused any inconvenience or hindrance will be in the context of this coverage. Not only for property damages but also for profits that would have been incurred had the disaster not happen.
4. Worker's Compensation & Disability
– It is required by US Law that you get this for your employees. This is a warranty in case something happens to them that they will still be compensated in the event of accident.
5. Commercial/Public Liability Insurance
– this will cover the owner if someone becomes injured while at the vicinity of your work place. From slips to fall and bumps, unfortunate events can come knocking at your door. This can also be applied/used by plumbers, electricians and similar repairmen who goes to other people's home. If someone is injured by tools or other materials installed or fitted. Of course, granting that there is no negligence on their part.
6. Employer's Liability Insurance
– If your business will include a handful of staff then this is  also a legal requirement. This is intended to be displayed publicly for all employees to see. This acquires responsibility for whatever may happen to them in the premises of the workplace. As an assurance that they are protected and cared for by the employer.
7. Overhead Auto Insurance
– If you use vehicle to move product whether for delivery or client meet-ups, it's a must-have for owners; When you happen to have an accident while performing business duties, this will be your go-to since personal auto insurance can deny claims.
8. Product Liability Insurance
– This is for when you are selling products that you may otherwise be sued for. It is to cover if someone is injured/harmed by the product you have sold them or if your product has caused any damages to properties.
9. Professional Indemnity Insurance
– (fitted for consultants and contractors) Intended for businesses that gives advice or offer consultation services. If however your advices will cause financial loss or loss of business for your clients then this will cover it. This will not be adaptable for "faulty/poor workmanship" though.
10. Data Breach Insurance
–If your business includes storing valuable data/information about your employees or client, this will be responsible for protecting those assets. If it's hacked or manipulated in any way this policy will provide protection against the loss.
11. Life Insurance
– Because who doesn't need one? This will give your beneficiary a certain amount upon your untimely death. This is a traditional but very important policy that will assure your family and give you peace of mind as well. Knowing that in your absence, they will still be taken cared of.
12. Director and Officers Insurance
– This protects your directors and company officers against unforeseen actions they may find themselves as a direct outcome of their job roles. It covers costs and damages as a result of lawsuit.
13. Health Insurance
– entrepreneur or not, this is something we must posses as an individual. Regardless of our jobs, Health is wealth. It's a major asset to protect in the first place. Always consider this for your employees. This would entirely mean that you care for their overall well-being and not just about sales or profit. Taking care of your staff will motivate them strongly and that would encourage them to give their best to fulfill job roles.
14. Professional Liability Insurance
– Also known as Errors and Omissions Insurance. This provides defense on damages for failure to deliver or improperly rendering professional services (something your general liability doesn't cover). Law firms, accountants, notaries, real estate agents, hair salons and tech providers are entities that may need this kind of insurance.
So, let's take for example I have a quaint little coffee shop named "Coffee Charm"
Granted that I'm all too new in the business, I'm in the look out for what kind of insurances I should get for my coffee shop.
This is how my estimations would look like: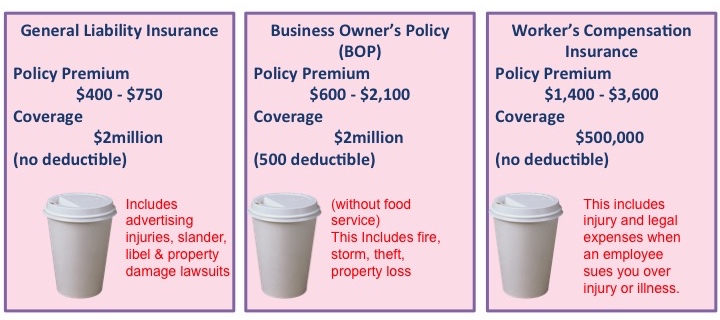 Disclaimer:
The amount posted above is not definite.This is only to give you a preview on how much you might pay. Basically, your premium would entirely be dependent on what kind of business you have, your industry, your age and a lot of varying factors that insurance companies would take into consideration. (c/o Insureon)
Smart Idea for a next step
Significantly, as a Small-Business Owner, the next best thing you can do is to get a Comparison Quote from all possible Insurance Companies and find out what best works for you and your employees.
Don't risk paying any tax penalties just because you were cutting short in your insurance budget. Make sure you are properly insured. Put on your insurance helmet as you strive forward in expanding your business. This may arise a lot of confusion for a starter but I curated the following tips when deciding what to get as you go along: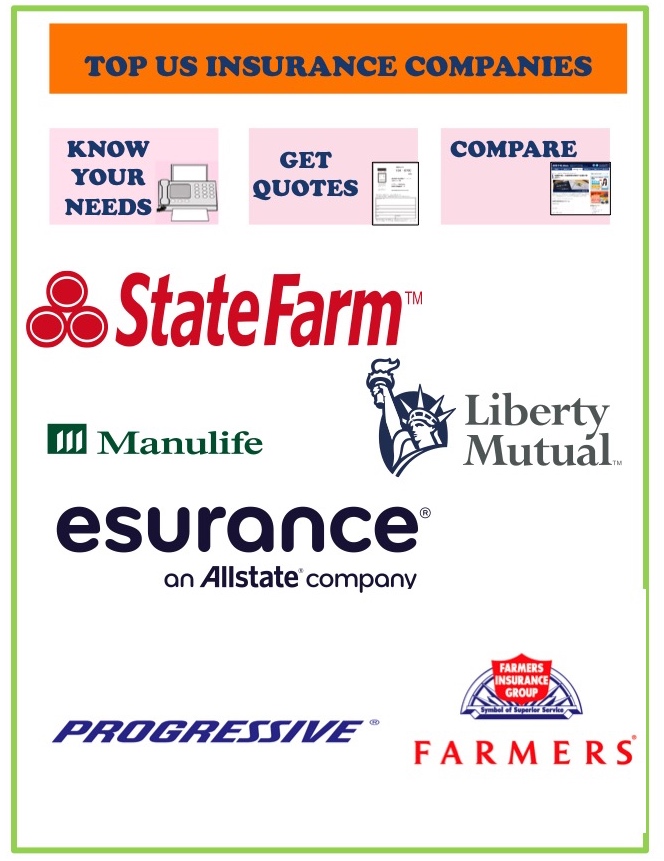 1.Be very specific about the type of insurance your business needs.

Don't just shop around for insurance and take everything. Although it's never wrong to be overly protected because life is an expert in giving us unexpected things. Still, you have to be definite about the areas you want protected. Make sure your insurance company has a good understanding about your business so that they can address your needs efficiently.

2.Don't hesitate to compare insurance companies and weigh in your options.

The more options the better. You can use comparison sites to view best deals and multiple choices. Shop around for the best insurance quotes. There are a lot of packages you can choose from. Getting insurance packages can also lessen the cost and its an ideal choice.

3.There are also add-on or riders you can stipulate to your policy.

Specifically designed for you and your company. The important thing is that you get the right coverage and Pick the right broker.
Getting insured doesn't automatically mean you will now be secured. This may not mean a cheap deal but strive for reliability. You must be able to depend on your insurance strongly.Quality trumps quantity.Nobody wants anything to go down south.
A good merchant always has a Plan B. Happy trading!
Visit {Statefarm Website} Visit {Liberty Mutual Website} Visit {Manulife Website}
Visit {Esurance Website} Visit {Progressive Website} Visit {Farmers Website}