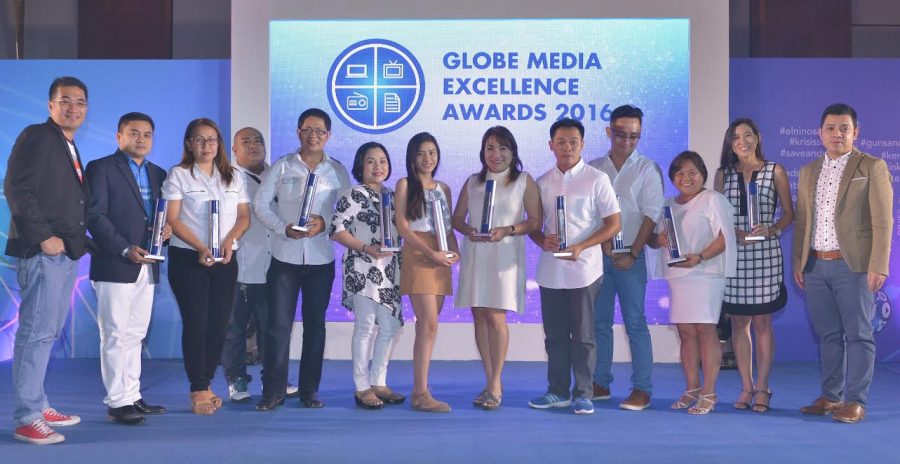 As part of the week-long Cebu Press Freedom Week celebration, leading telecommunications company Globe Telecom announced the winners of the 5th Globe Media Excellence Awards – Visayas who have shown exemplary communication skills in promoting sustainable development and bringing social issues to the attention of the public via print, broadcast, or digital media.
The outstanding media professionals and digital media practitioners were commended during the awarding ceremonies held in Radisson Blu Hotel on September 22. They bested 777 other entries in the 12 categories.
On her opening remarks, Yoly Crisanto, Senior Vice President, Globe Corporate Communications reiterated the critical role of media organizations and online communities in forming and shaping public opinion makes it imperative for organizations like Globe to institutionalize an award-giving body that recognizes outstanding, incisive, and impactful reportage.
She added that as Globe commemorates the value of press freedom in driving a progressive nation. Globe looks at GMEA as an opportunity to give back to their media friends and to their blogger and influencer partners, the honor that they deserve as we collectively create a world that is purposive and wonderful.
For this year, GMEA was anchored on Globe Telecom's commitment to the United Nations' Sustainable Development Goals to help create a Wonderful Philippines. The winning entries did not only embody quality and relevant content but also focused on any or a combination of four areas such as care for environment, care for people, positive societal impact, and digital nation.
For four consecutive years, Ador Vincent Mayol of Cebu Daily News who wrote "Wrinkled Hopes" bagged the Reporter of the Year for Print award. Mayol also received the Reporter of the Year for Online News Portal award together with his editor Rosemarie Borromeo for the piece "Shining through the haze".
The Reporter of the Year for TV went to Estela Grace Rosit of TV 5 and her editor and videographer Joveniano Yap for "El Nino sa Sugbu" while Runelyn Jamolo of DyLL Radyo ng Bayan Iloilo was named Reporter of the Year for Radio for "Bayanihan kontra maternal deaths."
Explanatory Story of the Year for Print was awarded to Sun.Star Cebu's "Breaking Child Labor" written by Cherry Ann Lim while Explanatory Story of the Year for TV was given to "Krisis sa Tubig" of GMA's Alan Domingo together with his editor Rod Prado and Clanz Gabutin and videographer Jun Solon. Meanwhile, the Public Affairs Story of the Year award was given to "Basura Bayloan og Grocery/Recycling of Waste Materials" of Atty. Ruphil F. Bañoc – DYHP RMN Cebu.
Julia Carreon-Lagoc of Panay News Iloilo took home the Columnist of the Year Award for "Big 3 little words: humane, just, fraternal" while Ferdinand Edralin of Cebu Daily News got the Photojournalist of the Year Award for his entry "State of Emergency."
Christian Vincent Literatus of Bisdak Explorer won Blogger of the Year Award for "Bisdak Explorer's Top 10 Free Travel Apps for Your Next Adventure"; Joyce Torrefranca was chosen as Social Media Advocate of the Year for "I got inspired by a kid: Daniel Cabrera"; and "Bacolod Needs More Plants in Commercial Areas" of Maria Sigrid Lo won the Social Media Campaign of the Year.
All winners received a cash prize and a trophy each while their editors also received cash prizes.
The distinguished panel of judges was composed of Ma. Theresa Sederiosa – Investment and Promotions Officer of the Cebu City Government, Ahmed Cuizon – Regional Director of LTFRB 7, Romelinda Garces – Communications Officer of San Miguel Brewery, Auke Idzenga – Founder of Alternative Indigenous Development Foundation Inc., and Donna Rose Ratilla – President of Philippine Chamber of Commerce and Industry Iloilo Chapter.
Globe Launches Free eLibrary to Benefit Over 15M Public School Students Nationwide
In commemoration of the National Teachers Day, the Philippines leading telecommunications company launches over a thousand educational e-books appropriate for K-12 learning which will be made available to over 15 million public elementary and high school students and some 500,000 public school teachers nationwide beginning September 30 as part of their Global Filipino School (GFS) program.
The GFS Library launch coincides with the National Teachers Day celebration of the Department of Education (DepEd) held at Ateneo de Manila University in Davao City where Globe is one of the participants.
"With the expansion of the Global Filipino Schools Program and awareness of the GFS Library around the country, public schools can more effectively make use of reading resources and promote digital learning to more students and teachers nationwide, particularly in schools where access to quality books is limited and usage of technology for learning is not maximized," said Fernando Esguerra, Globe Director for Citizenship.
GFSLibrary.com is a web-based platform that provides free and quick access to digital story books for children and young adults as well as textbooks on core subjects such as Math, Science, English, among others. The ebooks can be accessed via desktop, laptop or mobile device using any basic ebook reader.
The website is a component of the GFS program, a long-term Globe educational initiative that seeks to transform public schools into centers of Information and Communications Technology excellence and innovative teaching methods in order to set the stage for 21st Century Learning.
Globe also announces its partnership with three schools in Davao which will carry the GFS program. They are the Catalunan Paqueno National High School, the Carmen National High School in Carmen, and the Matti National High School in Digos City, Davao del Sur. The pact is in line with Globe Telecom's ongoing activity to expand GFS to all 221 school divisions of the Department of Education (DepEd) nationwide within a five-year period.
Under GFS, schools are provided with unparalleled online connectivity to give homeroom teachers access to limitless teaching and learning engagements available on the internet that will help further improve their craft and make learning fun and interesting for the students.
The schools are also given a Globe Digital Laboratory package containing netbooks/tablets, wifi devices, and a mobile cart with a built-in projector screen and workstation while teachers are trained on ICT education and project-based learning through the GFS Master Teachers Workshop and Online Coaching Course.
All schools under GFS are intended to become teacher training hubs and training partners of the DepEd Division Offices in conducting teaching workshops for neighboring schools of each division. The workshops include lessons on Digital Thumbprint Program cyber wellness advocacy which offers three exciting modules designed to increase students' knowledge of digital citizenship and cyber safety by taking a critical look at their online behavior and helping them develop insights into the influences of the online world and the choices they are making.
Teachers in select schools are also trained in science through Globe and Mind Museum's Science Wonder Workshop that is guaranteed to make classroom learning more fun, interactive, and interesting. The one-day workshop emphasizes the essential role of student participation, especially through experiments in teaching science. The teachers get a chance to practice doing hands-on science demonstrations which can be performed with readily available materials.
The activities are aided by The Mind Museum mobile app which contains guides to all experiments in the workshop as well as daily cool science thoughts to encourage curiosity. The app, which is open to all education technology platform, also gives teachers, students, and anyone interested in learning, access to over 250 museum exhibits anytime and anywhere. It deals with a wide array of topics and questions especially relevant to those who do not have the time, means, or opportunity to visit the museum. It is the first educational museum app in the country and promises a rich multimedia experience to anyone who downloads it.