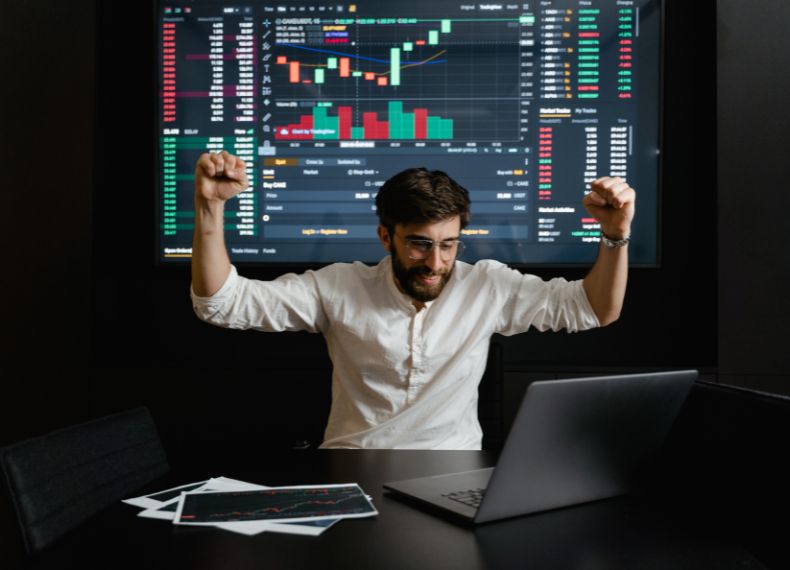 This guide has provided traders with the top 5 guidelines to help them make their forex trading journey successful and earn huge earnings in India.
The foreign exchange market, or the FX market, is powered by telecommunication technology. This allows the market to be active 24 hours a day, five days a week. It enables over-the-counter (OTC) transactions in currencies between two traders. Forex trading involves the act of buying or selling currency pairs to make a profit from fluctuations in the exchange rates. To make forex trading a successful activity, traders must make correct predictions of the exchange rate movements. In the Indian financial market, forex trading is a popular investment activity where more and more traders are joining the market hoping to earn huge profits. However, several traders tend to lose due to a lack of proper risk management strategies and trading plans.
This guide will delve deeper into the top 5 guidelines for successful forex trading in India to motivate traders to achieve massive earnings through forex trading.
1. Understand the Forex Market and the Risks Involved
Forex trading, or currency trading, is extremely volatile and dynamic, involving buying and selling one currency for another. Forex trading in India is regulated by the Reserve Bank of India (RBI). RBI is the only regulatory body in India that has set proper guidelines for forex traders to abide by while trading in foreign currencies. However, beginners in the forex market must learn about how the forex market works and the underlying risks and uncertainties. It is also important to understand the concept of currency pairs and their strengths and weaknesses, remain up-to-date with various economic and financial news and choose reliable top forex brokers in India to trade safely and profitably.
2. Develop a Trading Plan and Stick to It
After carrying out proper research on how the forex market works, traders can start developing trading plans, which should ideally include overall trading strategies and entry and exit points. They can use forex signal providers that alert traders to make profitable trading decisions. Nevertheless, once the trade plan is developed, traders must stick to it, irrespective of how the market behaves. This helps avoid impulsive trade decisions and keeps the traders on the right track toward their goals.
3. Use a Risk Management Strategy
Apart from developing a well-designed trade plan, building a risk management strategy is also an important step toward successful forex trading. Traders must understand that, like all forms of trading, forex trading also involves risks due to the volatile nature of currencies. Hence, they must have a risk management strategy to manage sudden changes in the market. It includes setting take profit or stop loss orders that automatically close a trade position as soon as the market moves against the trader's plan by a specified amount. In addition, traders need to diversify their financial portfolio so that they are not exposed to just one form of market.
4. Keep a Close Eye on Economic and Political Developments
Political and economic developments greatly influence foreign exchange prices, making the market highly volatile. Hence, traders must pay tension to these factors by monitoring inflation, interest rates, economic growth, or any other political developments that can potentially impact the currency's value.
5. Stay Up to Date with the Latest Technology
Irrespective of an economy's health, the forex trading market is an ever-changing and fast-paced environment. For this reason, traders need to stay up-to-date with modern technology that commonly uses charting software for forex trading and other financial tools to help traders analyze the forex market and help make sound trade decisions. Indian traders must also be aware of the latest developments and news surrounding the forex market since it can offer valuable insights related to the forex market.
Conclusion
Forex trading in India can be an excellent way of earning huge profits. However, like any other trading activity, forex trading also involves risks. Hence, traders must develop a proper trading plan, use risk management strategies, pay attention to political and economic developments, and be updated on the availability and use of modern technology to increase their chances of making money from forex trading.