This year's Asia-Pacific Economic Cooperation (APEC) Summit revolves around inclusive growth with the theme:
"Building Inclusive Economies, Building a Better World".
Economic ministers recognized the varying growth levels and widening economic inequality within APEC economies. Thus, work on structural reform has been underway and has been capped in the 2nd APEC Structural Reform Ministerial Meeting (SRMM) held on September 7-8 in Cebu City, Philippines.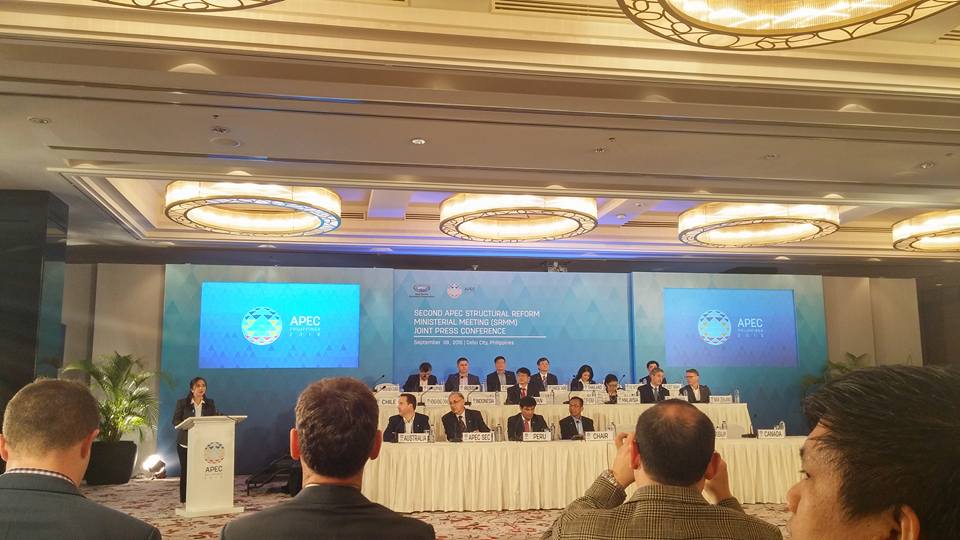 During the APEC SRMM, economic ministers, and high-level officials discussed about structural reforms along with new strategies and which direction to take in the future. The outcome of the SRMM is embodied in the Renewed APEC Agenda for Structural Reform (RAASR) which will implement the structural reform program until 2020.
Following the Leader's Agenda to Implement Structural Reform (LAISR) and the ANSSR, the RAASR was set forth to provide a solid ground for the needs and priorities of APEC economies.
Taking into consideration the sluggish global economy, the Structural reforms will aid and boost growth by reducing behind-the-border barriers, boosting productivity and inclusivity, increasing the ease of doing business, and improving living standards.
Renewed APEC Agenda for Structural Reform
Recognizing the disparity in terms of economic growth between APEC Economies, the structural reform agenda will provide greater inclusion of and opportunities for MSMEs, minorities, firms, and under-developed regions.
The main pillars of the RAASR is as follows:
1. More open, functioning and competitive markets
2. Wider participation of all segments of the population–MSMEs, youth, women, aging and disabled people
3. More social policies promoting greater inclusion and competitive markets, and enhancing economic growth
To evaluate the progress, Senior Officials will do the overall monitoring and assessment of the implementation of RAASR.
Structural Reforms to Facilitate Trade and Regional Economic Integration
In the SRMM, the Economic Committee (EC) was delegated to develop a policy framework, outline indicators including existing indicators to monitor progress of the RAASR across APEC member countries.
To promote engagement, the EC will also hold consultations with the private and business sector, and SMEs, in coordination with the APEC Business Advisory Council and relevant APEC groups. It will also facilitate the sharing of experience, skills and knowledge on the course of implementing structural reforms.
To achieve inclusive growth, APEC will hold capacity-building training and activities to assist APEC member economies in accomplishing the goals of structural reform. The activities are as follows:
1.) assisting economies develop objectives and measures of structural reform;
2.) assisting economies design and implement structural reform policies and projects; and
3.) preparing targeted activities on specific sectors or reform issues based on APEC meetings and reports.
As an outcome of the SRMM, every APEC member country will outline an action plan next year containing priorities, objectives and policies advancing the reforms.
In 2018, there will be a Structural Reform Experts Meeting for a midterm review of RAASR. This meeting will hold discussion between experts, EC representatives, and other relevant groups.
Five themes were agreed upon by the Economic Committee as follows:
1.) Structural Reform for Inclusive Growth; 2.) Structural Reform and Innovation; 3.) Structural Reform and Services; 4.) Tools for Structural Reform; and 5.) New Directions for Structural Reform in APEC.
Innovation
Acknowledging the importance of innovation as a driver of economic growth, reforms are needed, specifically improved market access, increased competition, ease of doing business, and collaboration with the private sector.
Meanwhile, the Economic Committee pointed out that trade in services is faced by unique barriers that are in many cases regulatory in nature. If a regulation is too restrictive and prescriptive, then it will hinder innovation.
APEC Services Coalition
One of the major outcomes in the SRMM is the formation of the APEC Services Coalition. The Coalition shows the key role of the services sector to productivity, and its spillover effects across industries and sectors. Majority of MSMEs in developing countries are in the service sector, thus, the latter is a crucial factor for inclusive growth.
Furthermore, APEC economies will benefit from foreign participation, exchange and competition, which will spur innovation, reduce costs, raise standards, and expand the range of choices for consumers.
In turn, APEC has recognized the challenges to the development of the service sector. These challenges are addressing restrictions to services and investments; prioritization of services in the development agenda of APEC member countries; balancing of competing objectives to regulation; reduction of unnecessary regulations that burdens service providers; and lastly, mitigation of the effects of regulation towards consumers of another economy.
Ease of Doing Business
Vital to economic progress is the ease of doing business. APEC Economic Leaders have been striving to minimize the impediments to trade and commerce by lowering of registration and transaction costs within the APEC region. It has been agreed on in the APEC EoDB Action Plan for 2016-2018.
By 2018, APEC aims to have a 10 percent increase in the five priority Ease of Doing Business areas namely: starting a business, approval of construction permits, cross-border trading, acquiring credit, and contract enforcement.
Tools for Structural Reform
APEC is developing a model legal instrument that will provide a more effective climate for cross-border trade and investments. With the adoption of this international legal instrument, there will be a more efficient cross-border transactions, simplification of procedures on international transactions, harmonization of finance, and closer economic integration between cooperating APEC economies.
Future Direction of Structural Reform in APEC
Considering the barriers and varying levels of development of APEC economies, structural reform is a continuous and long-term process within and among APEC states. Along with definite plans and priorities, it should be followed by concrete actions, steps and policies that promote economic growth and development. In November, there will be a Minister's Meeting wherein the Structural Reform Agenda will be discussed and finalized.
Reference: APEC SRMM Statement