The usual way of our life has shifted quite a bit in 2021. With all the recent quarantine restrictions, most people are supposed to work from home. And, if that sounds like a pleasant and brilliant idea, in reality, it's quite the opposite.
In real life, you face a lot of distractions in various forms. Netflix, kids, the fridge, dogs, and so on are appearing just when you need to concentrate on that project you've been working on. All the discipline you seemed to possess has evaporated.
Of even the opposite, if you're used to working in a big company and being surrounded by people and noise, shifting to a quiet apartment may seem overwhelming. There are definitely benefits for work efficiency by feeling like a part of the team.
Luckily, there's a solution to such a challenging problem. The concept of a shared co-working office space is becoming and more popular these days. Co-working spaces allow you to work in an office-like environment yet not rent the whole office itself.
If you're self-employed or just work online and are looking for shared office spaces in Singapore, you'll find this article handy.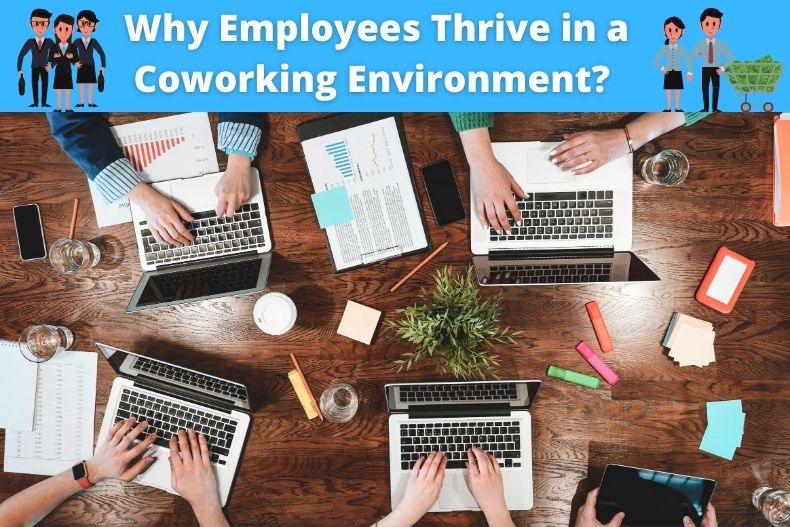 WeWork, SINGAPORE
WeWork is one of the most demanded shared offices in Singapore. With the number of branches worldwide of more than 500 locations, WeWork presents itself as an up-to-date co-working office.
Office spaces of WeWork astonish with their cutting-edge interiors, stunning artworks, and overall atmosphere. It's undoubtedly a great pleasure to work in an environment that motivates and inspires the clients. Also, their service includes 24/7 office space access, a well-stocked pantry with fruit, and pure fresh water.
Since we all understand how vital the health precautions are, WeWork prioritizes the well-being and safety of their clients. They ensure regular cleanings, sanitization equipment, and signage that help clients go about their working day safely.
The prices vary according to the locations. Though, here are a few options you may choose from.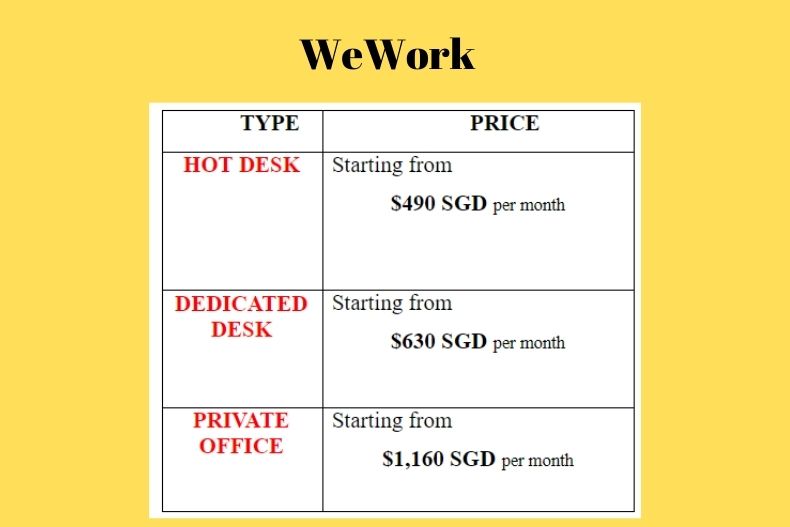 SERVCORP SHARED OFFICE IN SINGAPORE
There is no doubt that there's something special about this co-working space in Singapore. Servcorp really creates a unique atmosphere of cooperation. No matter your occupation, you'll find groups of freelancers or remote workers who will work together with you in a shared, communal setting.
Servcorp service offers a comfortable working environment with stylish and diverse indoor designs. Besides that, their company provides a business address to register your business, a receptionist to answer the calls in your company name, and a landline number.
Servcorp's spaces include working desks, chairs, and lockable storage cabinets.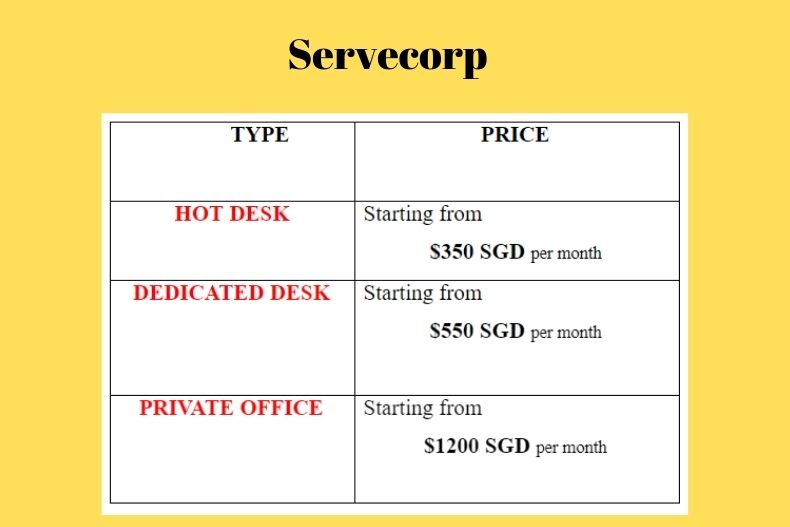 THE HIVE, SINGAPORE
Spread over 6 floor-building, this co-working and office space allows you to work in a quiet and convenient environment while looking at Marina Bay. The company's team is super-friendly and welcoming. Their motto is to always go the extra mile.
The space and community of The Hive encourage productive work, creative process, and efficient results. Their team really went the extra mile to create a beautiful rooftop café on the 6th floor. You can enjoy the work process while sipping a cup of fresh-made coffee.
Also, the location of this co-working office space is rather convenient. The Hive is located within just a 3 minutes' walk from the CBD.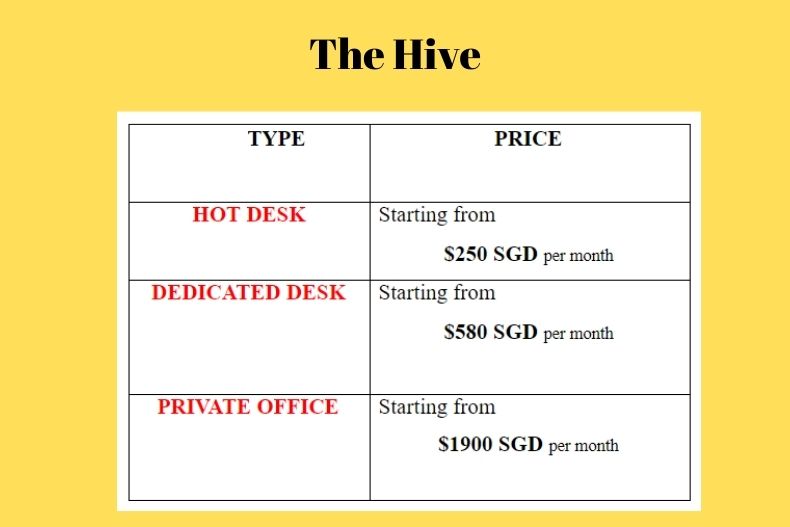 THE WORK PROJECT, SINGAPORE
The Work Project is creating and setting new standards for co-working spaces. Their award-winning product and designs are made to foster a hospitable and welcoming atmosphere that helps promote creativity and cooperation.
Their latest interior designs and unique luxurious forms have influenced the way people work in such a co-working space. We can confidently say that this office's design is not any less stylish and stunning than a 5-star-hotel.
The Work Project has 5 locations across Singapore, found in OUE Downtown, Great World City, and Bugis. The co-working spaces are all situated in prime districts and Grade A buildings.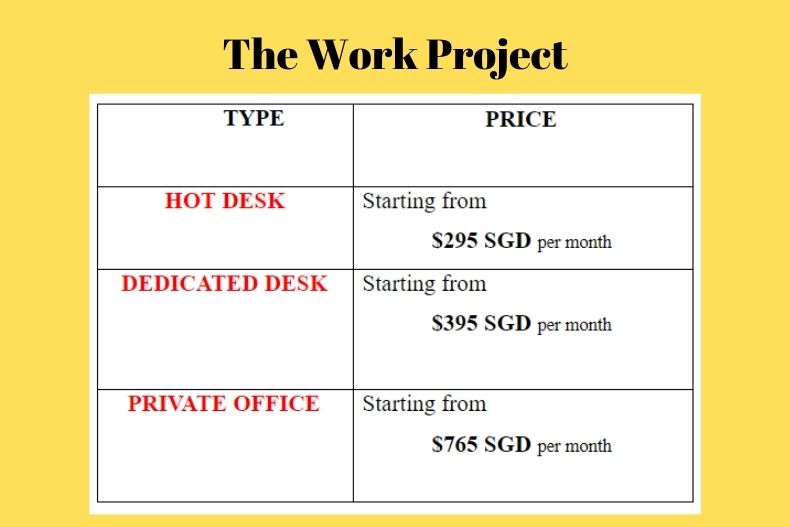 THE EXECUTIVE CENTRE
The Executive Office's spots are situated in multiple parts of Singapore. This co-working office is perfect for businesses where social interaction is essential. The open space concept is the specialty of the Executive Office. Their office spaces are also known as "office-without-walls."
There are also numerous options available to create an environment for successful projects and results. Some of them are business concierge services for your guests, clients, and meeting participants, complimentary coffee and Wi-Fi, and many more.
Prices start from $220 a month, depending on the outpost you choose.
Even though we're facing some radical changes to the way we're used to working, there are still various solutions. In some cases, it's even better to find a comfortable spot in the interior design of your dreams than continue struggling with your regular office building.
There are numerous co-working spaces scattered all over Central Singapore, including the central business district and the rest of Downtown Core. You can see the co-working office spaces in areas like Raffles Place, Marina, Tanjong Pagar, City Hall, Orchard, and more.
By the way, do not forget how beneficial it is to be surrounded by people from different backgrounds and professions. Studies show that we benefit more from talking to new people with fresh views and objective ideas. That's why you should definitely go for the idea of sharing a working space with lots of diverse individuals.