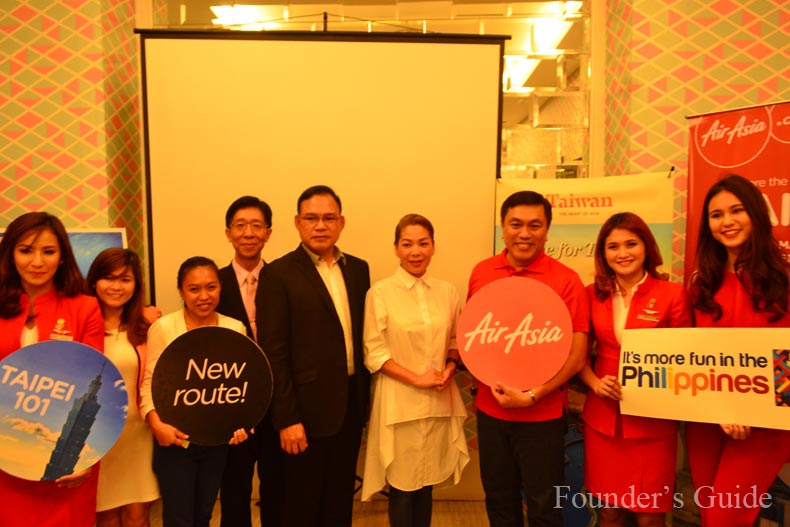 "Traveling is about finding those things you never knew you were looking for." As an avid traveller, the good news of more direct international flights from Cebu is a tremendous game-changer. We can all agree that it's a hassle to reroute to Manila most of the time when traveling abroad because the congestion and the scandals are not helping your agenda. So it's more than just good news that more and more air flights to international destination is being offered outside major zones.
AirAisia is going in full force with its business expansion as they officially announced that they will operate direct flights from Cebu to Taipei starting November 25. Taiwan, a small nation 180km east of China with a population of over 23 million is slightly located on the tip of Batanes,Philippines where our two countries lie closely together. Branded as the "The Heart of Asia", Taiwan is a perfect destination for travelers and explorers who would like to experience a rich fusion of Asian/Chinese culture with refined food culture and amazing cuisine. It also prides in the modernization of its society. When it comes to tech advancements, Taiwan is one of the few Asian nations to rise up to the challenge. It currently ranks as CNN's Top Food destination so it's an ideal choice for all the foodists out there.
Taiwanese Visa Application
Taiwan has recently eased visa requirements for Filipinos. In fact, applicants can now request visa online. For the local travelers, you can go to this link for your online application.
According to Jerry Cheng-an Chuang, Press Division Director of Taiwan Economic & Cultural Office, passport holders from Philippines, Cambodia, India, Indonesia, Laos, Myanmar and Vietnam who are permanent residents of Australia, Canada, Japan, South Korea, New Zealand, (those with Schengen visa), United Kingdom, United States, or holds a visa or a resident card from any of the countries mentioned that is either valid or expired within 10 years from the date of expected arrival to Taiwan will now be eligible to apply online for a Taiwan travel authorization certificate, FREE OF CHARGE.
AirAsia Promotional Flights to Taipei
To celebrate the launch of direct Taipei flights, AirAsia is offering promotional fares for online booking from as low as P888 for Cebu-Taipei with travel period between November 25, 2016 and March 2017. Further details can be found here.
Besides Taipei, the malaysian low-cost airline announced earlier this year that they will also increase flights between Cebu and Kuala Lumpur from 3-4 times weekly effective October 29. Plans of more direct international flights from Cebu is currently planned. Locations such as Incheon, Beijing, Bangkok, Vietnam and Narita are some of the prospects being discussed according to Department of Tourism Official Mr. Erwin Balane.
Partnership and support from the Department of Tourism, Mactan Cebu International Airport and Taiwan Economic Cultural Office (TECO) converged at the formal event held at Vikings, SM Cebu by AirAsia officials yesterday.
AirAsia PH CEO Capt. Dexter Comendador expressed his excitement and urged the government administration as well to intensify the advancement and reformation of local airpots like MCIA to foster more flights and encourage convenient access to tourist destinations all over the Philippines. Comendador stated that Philippine airport's capacity lack in infrastructure and emergency powers serves as a bottle neck in the airlines' plan for growth and development. The need to modernize domestic airports is their outcry to the government. It is noted that at present, AirAsia has direct access in Cebu and Kalibo and have future plans to open in Davao and Puerto Princesa soon.
Flight Schedule for Cebu to Taipei
The much-needed connectivity between this two will now be served as AirAsia will be offering frequent flights every Wednesday, Friday and Sunday.
Travelers can enjoy the plethora of night markets, the iconic Taipei 101 building, Taroko Gorge, the shopping district of Wufenpu, the legendary Sun Moon Lake Route in Taichung, the Love River in Kaohsiung and many others.

To be updated with the latest promotion and activities, follow Airasia via twitter @airasiaph, facebook facebook.com/AirAsiaPhilippines, instagram @airasiaph and on viber public chat @airasiaph