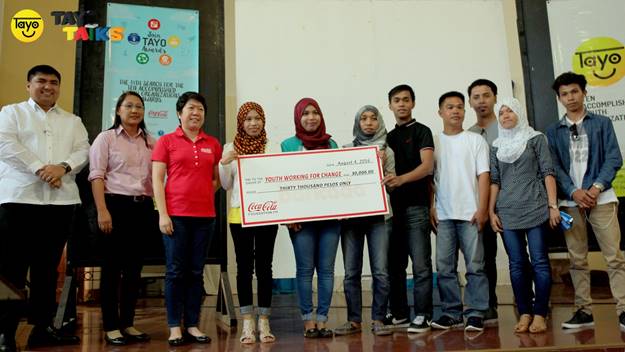 Now that the government is propagating a nationwide development and not just about centralized projects in major cities, it is time that a group of young volunteers in Basilan are taking on the challenge of changing lives in the small province. The development of a simple method that enables access to water towards the upland communities is the goal of Youth Working for Change.
This year's Ten Accomplished Youth Organization (TAYO) Awards' Coca Cola Barkada Awardee. The Coke Barkada Award is a special recognition for youth organizations whose goals are aligned with the sustainability initiatives of the Coca Cola company. Since 2011, the beverage company has been knee-deep involved on programs that help communities achieve its thrust of 100 percent water replenishment by 2020. The Coca Cola Agos Program is one of the charitable advocacies that brings water access to various rural places around Philippines. With the aid of a mechanical and sustainable hydraulic pump. Youth Working for Change has already installed water systems in Lamitan and Tipo-Tipo towns. This October, the group's President Nasiba Salip vice president Fatima Asad, and adviser Rico Tura, received their plaque and P30,000 prize from Coca-Cola Foundation president Cecile Alcantara at the Western Mindanao State University in Zamboanga City.
As life in underdeveloped country such as the Philippines, it is given that there are still a lot of areas especially in Basilan that has a difficulty in accessing water. Moreover, the development of water infrastructure in the island is also halted due to security risks in the area.
What Youth Working for Change dreams
In order to get moving with better projects, Tura wants to officially and legally register the organization with the Security and Exchange Commission to make it a legal company. By becoming a formal organization, it will be easier to enter into agreements with other stakeholders, Tura said.
Although its impeding that the current safety situation in Basilan will not be changed sooner, they aim to at least improve the lives of the local dwellers by addressing other important aspects. Water is such a basic necessity in every human being's survival and fighting for this kind of advocacy will really create a huge impact in the society. The TAYO Awards caps the country's premier search for outstanding youth organizations.
The search for nominees to the 14th TAYO Awards is ongoing and deadline for submission of entries is on September 15, 2016. Interested applicants may visit www.TAYOAwards.net for more information.
About The Coca-Cola Company
The Coca-Cola Company (NYSE: KO) is the world's largest beverage company, refreshing consumers with more than 500 sparkling and still brands and more than 3,800 beverage choices. Led by Coca-Cola, one of the world's most valuable and recognizable brands, our company's portfolio features 20 billion-dollar brands, 18 of which are available in reduced-, low- or no-calorie options. Our billion-dollar brands include Diet Coke, Coca-Cola Zero, Fanta, Sprite, Dasani, vitaminwater, Powerade, Minute Maid, Simply, Del Valle, Georgia and Gold Peak. Through the world's largest beverage distribution system, we are the No. 1 provider of both sparkling and still beverages. More than 1.9 billion servings of our beverages are enjoyed by consumers in more than 200 countries each day. With an enduring commitment to building sustainable communities, our company is focused on initiatives that reduce our environmental footprint, create a safe, inclusive work environment for our associates, and enhance the economic development of the communities where we operate. Together with our bottling partners, we rank among the world's top 10 private employers with more than 700,000 system associates. For more information, visit Coca-Cola Journey at www.coca-colacompany.com, follow us on Twitter at twitter.com/CocaColaCo, visit our blog, Coca-Cola Unbottled, at www.coca-colablog.com or find us on LinkedIn at www.linkedin.com/company/the-coca-cola-company.