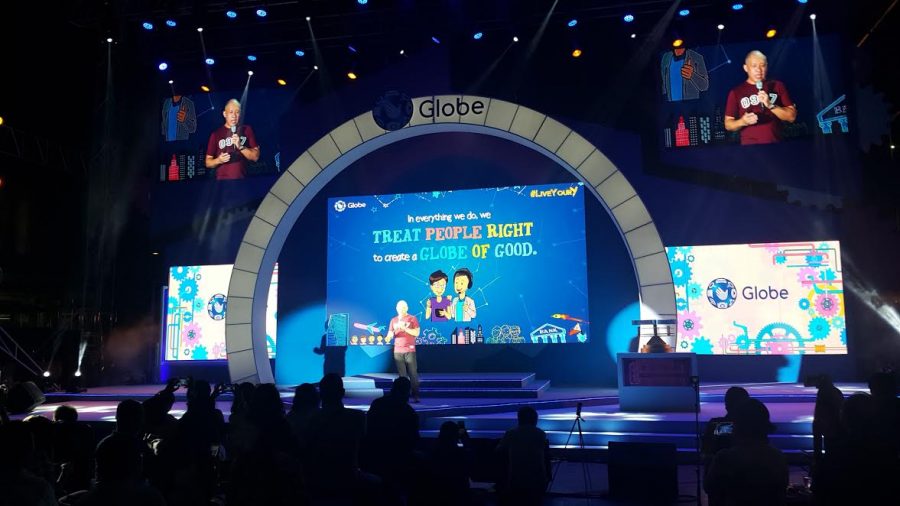 Beyond achieving success and becoming the country's leading mobile communications provider, Globe Telecom embarks on a purpose-led transformation for a more sustainable organization, steps that admirable companies globally have likewise taken.
At the recent Wonderful World of Globe XII event held at the Globe Iconic Store in Bonifacio Global City, Globe president and CEO Ernest Cu unveiled the company's purpose of 'Treating people right to create a Globe of Good'.
Globe President & CEO Ernest Cu revealed that it is anchored upon its new corporate vision of leading a Philippines where families' dreams come true, businesses flourish and the nation is admired, the company hopes to fulfill its vision by creating wonderful experiences, helping its customers overcome challenges and discovering new ways to enjoy life.
Following its massive network modernization program in 2011, Globe saw unprecedented business growth driven by game-changing initiatives including a digital lifestyle play, innovative offers and content partnerships with iconic global brands. Globe is also aggressively rolling out LTE coverage in major business districts and key commercial areas in the country, intending to give the country first world mobile internet experience.
"Our 60% share in mobile data revenues showcases the relevance that we have brought to the industry. We've changed the way people consume mobile content in this country because we have made it accessible, affordable and convenient for customers to subscribe to fantastic services. In music for instance, people are now more inclined to do streaming rather than torrenting," said Cu.
Not content with being an industry leader and game-changer, Globe is taking its performance and impact to its customers to a higher level. "How do we take it to the next step? Early this year, we decided to take on an infinite goal. Reaching a desired market share and beating competition are finite concepts. We have decided to create a new purpose which will redefine Globe in the years to come," he declared.
"How can we treat people right? By giving them wonderful experiences, giving them choices, helping them overcome challenges and solving their problems, making their life easier, helping them enjoy life more, giving them great customer service, treating them the way we want to be treated and helping them make their dreams come true," he explained.
Cu further emphasized Globe's effort in maximizing the use of these idle 700 MHz band in fulfillment of its commitment to the National Telecommunications Commission to improve the overall internet experience of its customers.
In addition, Globe also began rolling out a capacity expansion program for its corporate data network to address the bandwidth requirement of its enterprise clients as they make use of various data solutions to improve business efficiency, enhance productivity, and boost competitiveness, Cu disclosed.
Globe also plans to extensively deploy fiber optics to make home broadband experience at par with mobile internet or even better. To date, the country is facing challenges in delivering fast and reliable wireline internet experience due to lack of fiber connectivity owing to right of way and permitting issues with the local government. Globe hopes to work closely with the government to address such issues.
Cu stressed the company's new purpose is expected to further enhance the company's circle of happiness philosophy: that happy and engaged employees deliver wonderful customer experiences and strong business growth for happy shareholders. He said that when employees are committed to serve customers, this translates to a strong brand experience that people love and connect with.