As you probably know videos perform extremely well in marketing and attract more interest as well as increase viewers' engagement. Considering that it should come as no surprise that the same holds true when it is used in marketing emails.
Research has shown that including video can increase the open rate by about 20% and the click through rate by up to 50%.
With that in mind it makes sense to experiment with using videos in your marketing emails, but before you do it is important that you know how to do so.
Here are 3 Main Ways to Include Videos in your Next Email
Linking to the video
Essentially this is the most commonly-used method as it doesn't run into compatibility issues. If you choose to use it you'll place a link in your email that readers can click on to view your video wherever it is hosted. Rather than simply including a text link however, it is a common practice to insert an image in your email with a 'play' button that contains the link.
Animated GIFs
Although they went out of style for a time, animated GIFs are currently hot once again and many marketers are using them as a substitute for videos. The benefit of GIFs is that they tend to be widely compatible – though they aren't universal. Also if you are sending GIFs via email you will have to be careful and make sure their file size isn't too large.
HTML5 embedded videos
Some of the newer email clients support HTML5 embedded videos, meaning that the videos can be streamed directly from the email. While this method does look great, unfortunately it isn't widely compatible – though the list is growing day by day.
As you can see it will be up to you how you choose to include videos in your email, though you should take care to make sure that the subscribers that you send it to can view it if you do. Additionally you may want to use Movavi Video Converter to convert videos into a universally compatible format, and perhaps even compress them too.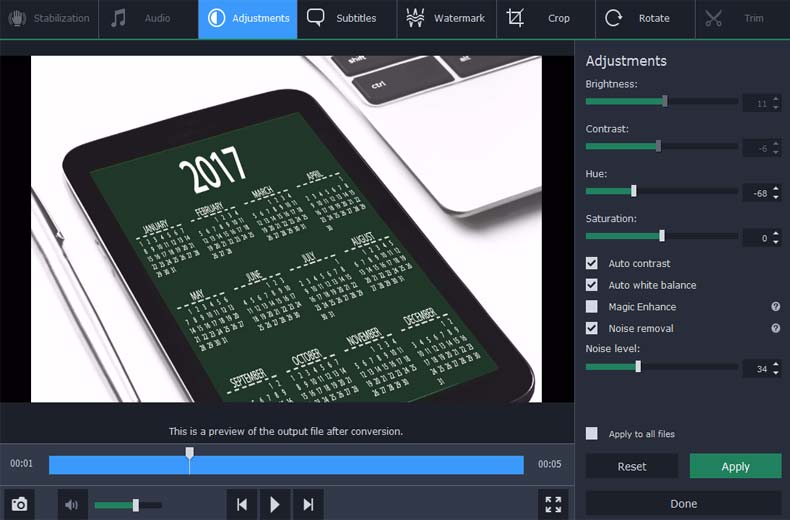 Not only can Movavi Video Converter act as a MP4 converter so that you can make sure your videos are universally compatible, but it also has tons of other useful features. In particular you can use it to create animated GIFs out of video clips, grab screenshots, extract audio tracks, improve video quality, cut and join video segments, or insert captions.
With these features it will be easier to tweak your videos to have a more perfect look before including them in your emails. Moreover, Movavi Video Converter is designed to be intuitive and easy to use, so you will find that you're able to put its features to work even if you have absolutely no experience whatsoever handling videos in the past.