It sometimes feels like tracking and staying up to date on debts and payments is like playing whack-a-mole: You make a payment on one credit card only to have statements for two more cards that slipped your mind pop up right behind it. If you've found yourself juggling payments for multiple debts—like credit cards, student loans, and personal loans—then a debt consolidation loan might be your best bet. Having all of your debt consolidated into one payment can help prevent you from falling behind on payments, allow you to pay off your debts quicker, and even help lower your interest rates. Let's take a look at the qualifications for getting approved for one.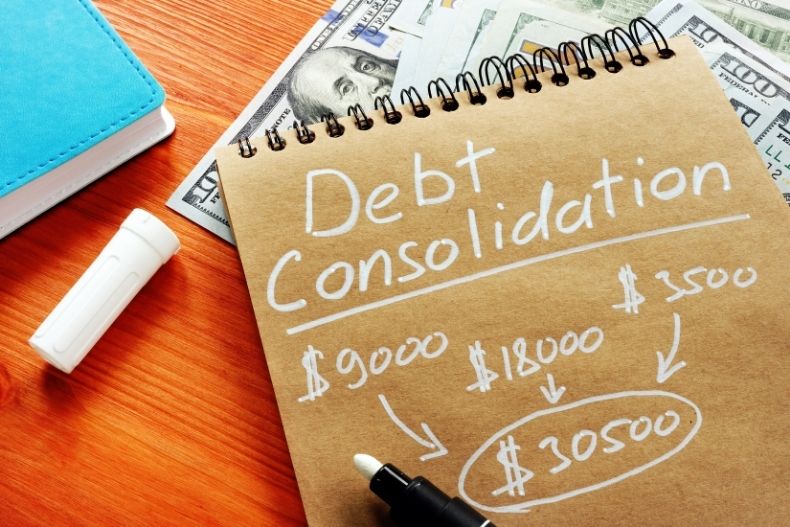 What do you need to qualify for a debt consolidation loan?
There are four major qualifications needed to get approved for a consolidation loan:
Proof of income – Just like any other loan or line of credit, lenders want to see that you've got money coming in and are able to pay them back.
Credit history – Your credit score and a proven ability to make payments on time can help make you a more attractive candidate to lenders.
Financial stability – This is like a combination of your proof of income, credit history, and the general economic landscape. Lenders will weigh the risks of offering you a consolidation loan to determine whether or not it's a financially safe decision.
Equity – In some cases, lenders might require you to offer up collateral like equity in your home, car, or other assets in the event that you default on your loan. These are called secured loans.
Five steps for debt consolidation loan qualification
Step 1: Check your credit.
The first thing you'll want to do when preparing to apply for a debt consolidation loan is check your credit score. Because you want the lowest interest rate possible on the new loan, it's in your best interest to build your score. Simple things like catching up on late payments and paying off small credit card bills can help push your score into a more desirable range.
Step 2: List out your debts.
Next, you'll need to organize a list of all your debts. Use this list to calculate the total amount you owe across all of your credit cards and loans. This will help determine how large of a consolidation loan you'll need and what size payments you'll be making once approved.
Step 3: Research lenders.
After determining the size and scope of your consolidation loan, it's time to start shopping around for a loan that's best suited to your needs. Online lenders, banks, and credit unions all offer consolidation loans, each with their own spread of pros and cons. Online lenders offer options for both borrowers with good and bad credit, but bad credit might lead to higher-than-expected interest rates. Traditional banks are more selective about their credit score requirements, but they might also be flexible for current customers. Credit unions require a membership to borrow from but offer competitive rates even if you have bad credit. If you've got bad credit, you may want to find a co-signer.
Step 4: Apply for a loan.
Once you've decided the size of your loan and where you'd like to borrow from, it's time to apply. General paperwork and application rules are likely to apply, so you'll have to prove who you are, where you live, and how much money you make. Be cognizant of things like application fees and penalties for late payments.
Step 5: Make on-time payments.
Finally, after being approved, all that's left to do is close on the loan and begin making payments. Depending on the structure of your loan, you will either need to begin paying off your old debts with the money from your new loan, or simply begin repaying your consolidation loan if your lender disperses the loan for you accordingly. Either way, be sure that all of your old debts are paid off in full and on time.