Most of us spend eight to ten hours of our day working. But how many of those hours did we actually stay productive? With so many forms of distractions, it is not surprising if we tend to become unproductive at work. However, if we minimize these distractions then we can stick to our goals. To become more mindful despite being bombarded with deadlines, a little help from technology wouldn't hurt.
Technology can be leveraged to help us accomplish more. With that in mind, we've gathered five apps that can accelerate your productivity.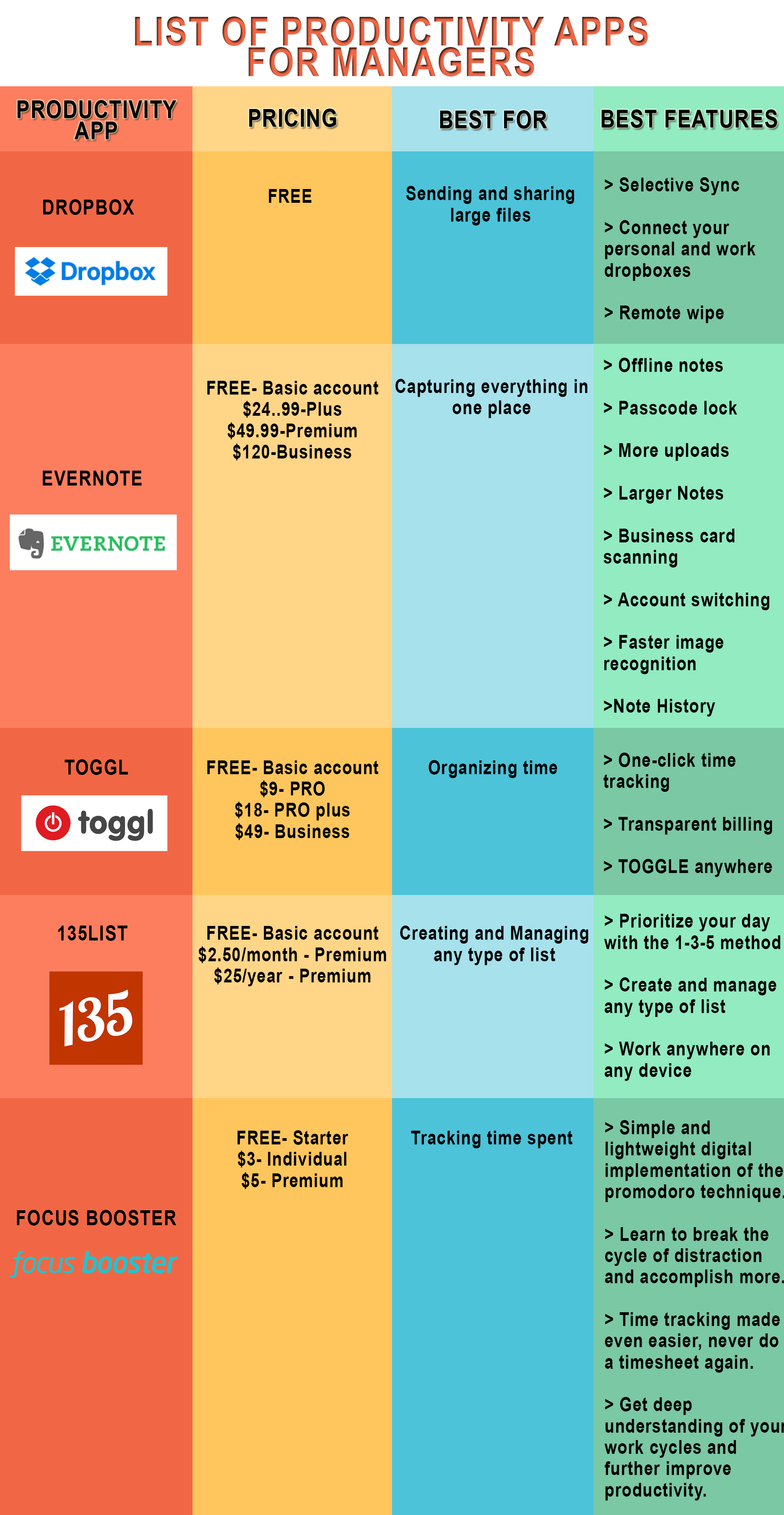 Dropbox
Make file sharing and storing supereasy with Dropbox, the free cloud storage service. Documents, videos, files, photos, this tool is ideal for all sorts of data. Connect all of your devices be it desktop, laptop, or even mobile phone, and synchronize files stored on Dropbox account across all the connected devices. Want to share files with others? Just create a link to the dropbox folder, and you're done. A complete 'no muss, no fuss'
Evernote
Stop forgetting important things. Start taking notes with Evernote. This cross-platform app has been designed particularly for taking down notes, archiving documents/files, and organizing them. Unlike the conventional way of taking notes on a post-it, the app allows creating notes in various text formats including web pages, photographs, handwritten ink notes, memos, and even with files attached. Compatible with various operating systems, Evernote comes with amazing features like online syncing and backup creation.
Toggl
A really popular online time tracking software, Toggl is a handy tool for managing and tracking billable time. It is super-easy to get started. With this tool you can keep track of time through tags or projects and share the detailed time-tracking report with clients and senior management. You can sync the time entries with projects even when offline. Not just that, Toggl works nicely with Asana, Trello and other popular project management tools.
Focus booster
This app is based on the principles of the pomodoro technique for individuals who procrastinate and feel overwhelmed by tasks. It is designed to enhance your focus and remove any anxiety you might have with time.