The strength of being true to oneself. Marketing power that knows the younger generation inside out.
The actions of young people have always been difficult for older generations to understand.
Representing Generation Z, Hikari Asahina, the CEO of Seamint. Co., Ltd., is an influencer who provides marketing support and engages in educational activities.
Social media is a powerful tool for entrepreneurs, regardless of generation. However, to achieve results, it is important to communicate in a format suitable for social media and tailor the approach to the target audience. Hikari Asahina shared her experiences as a young entrepreneur and provided valuable tips on SNS marketing that resonate with Generation Z, which can be immediately applied.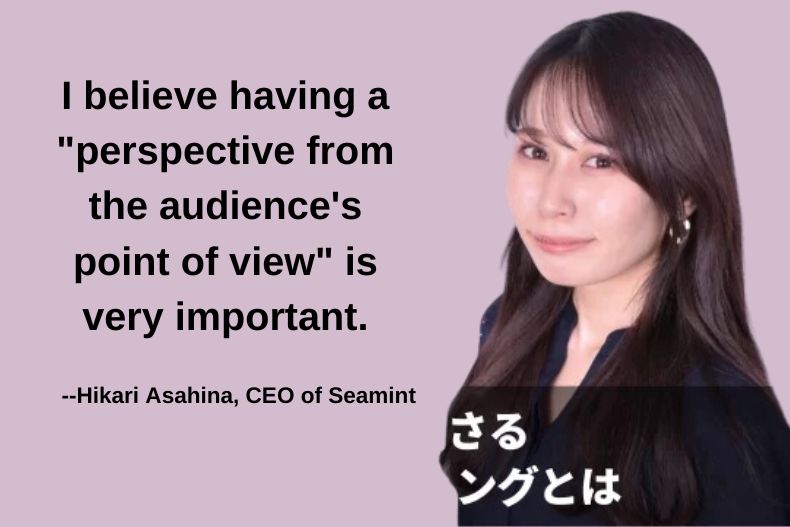 About the interviewer, Mr. Kosei Okubo and interviewee, Mr. Kazuhiro Mizuno
Mr Kosei Okubo
Founder and CEO of Sogyotecho. As an executive of a major IT venture, Mr. Okubo noticed common challenges faced by entrepreneurs after starting their businesses. In response, he devised the company's guidebook called "Sogyotecho" (Entrepreneur's Handbook). The printed version of the handbook has accumulated a total of 2 million copies, and the monthly web visits exceed 1 million, making it the highest in the field of entrepreneurship in Japan. He is known as an "entrepreneurship concierge," providing services such as developing the Sogyotecho app, offering free entrepreneurship consultations, serving as a standing committee member of the Cabinet Office's One-Stop Consultation for Company Establishment, and teaching classes at universities. He is also well-known for his daily entrepreneurship-themed T-shirts.
Hikari Asahina (あさひなひかり) 
CEO of Seamint. Co., Ltd. Born on July 24, 1998. 24 years old. Hikari Asahina is the representative director of Seamint. Co., Ltd., a company specializing in planning and marketing focused on Generation Z. At the age of 19, she organized an event for girls and generated sales of 25 million yen. Based on this successful experience, she began working as a "#10代マーケター" (teenage marketer). After working as a sole proprietor for 30 companies, she founded the predecessor of the current Seamint. Co., Ltd., called Neorea Co., Ltd., in 2019. Currently, she is managing the company in its fourth period and is also conducting research on "Generation Z" while attending the graduate school of Keio University.
Entrepreneurship as a sole proprietor! The concept of "non-sales sales" is creating buzz.
Okubo: Please tell us about the background leading up to your entrepreneurship.
Asahina: I didn't have a specific intention of starting a business; it just happened naturally. It all started when I was in high school and working as a freelancer. Initially, I was a sole proprietor, but as I received more job offers and expanded my team, our sales were doing well, so we decided to incorporate the business.
I never imagined myself becoming a business owner… It was quite surprising. However, I've always had an entrepreneurial spirit because I've always loved the process of going from 0 to 1. It might have been there even before we officially registered the company.
Okubo: Were there any challenges you faced during your entrepreneurship journey?
Asahina: Building an organization was definitely a challenge. Even now, I find it quite challenging! It was especially difficult during the early days of our startup.
At that time, our team consisted of all female university students, including myself, and I had a strong desire to be liked by everyone. It was difficult for me to give instructions and express my true feelings. I guess you could call it the "fear of communication."
However, we have overcome that challenge as we are now in our fourth period. Currently, I'm contemplating about the kind of organization I want to build and how to effectively disseminate our guiding principles.
For me, building an organization has been the most challenging aspect of entrepreneurship.
Okubo: If there are any key factors that contributed to your success or things you are glad you did during your entrepreneurship journey, please share.
Asahina: I believe it's the concept of "non-sales sales"! We never engaged in traditional sales activities such as telemarketing or email campaigns. Instead, we utilized social media and press releases to acquire clients through a "non-sales sales" approach.
Word-of-mouth spread from there, and we were able to collaborate with various major companies.
"Target analysis" and "Perspective from the Audience's Point of View" are important for SNS management
Okubo: Which social media platform is good for SNS management? And what combinations work well?
Asahina: Ideally, if you have the capacity, it's best to be active on all platforms! That's what I sometimes think. Each social media platform has its own characteristics and strengths.
It's not as simple as saying TikTok is for younger audiences and Twitter is for adults. It's important to carefully consider how to engage with users on each platform and how to resonate with them.
Okubo: What is the first thing to focus on when starting with SNS?
Asahina: For me, it's about creating a character! What kind of character should your account have? This applies to both personal and official company accounts.
Running an account means you have some goals you want to achieve. I think it's important to carefully think about how to achieve those goals through SNS management.
In addition, creating a character that can resonate with the target audience on SNS is crucial.
Okubo: Are there any secrets to success in SNS management, like "If you do this, you will succeed"?
Asahina: It's difficult to generalize, but I believe having a "perspective from the audience's point of view" is very important.
If you want to increase the followers of young people but have an older person managing the account, it won't grow…!
That's why we assist a lot of companies with SNS management specifically targeting young people and Generation Z.
Having a "perspective from the audience's point of view" allows you to naturally understand what's trending and popular on social media.
I think this ability is incredibly powerful.
SNS with infinite possibilities. Will AI influencers play an active role in the future?
Okubo: Please tell us about the potential and greatness of SNS.
Asahina: From a personal perspective, there are two things that I find amazing about SNS.
The first is the ability to express one's own worldview through SNS.
The second is the ability to discover and connect with people who cannot be connected in the real world.
In this era, anyone can express themselves, and others can show their appreciation through likes. The fact that many stars have emerged from SNS is evidence of this.
I'm really looking forward to seeing various stars being born on different SNS platforms in the future!
Okubo: What are your thoughts on the recent development of generative AI? Do you think it can be utilized?
Asahina: Oh, it's really amazing, isn't it…? I think we will see the emergence of AI influencers on various SNS platforms in the future.
The key is how to design characters that embody "human-like" empathy and emotions, and how to manage them in a way that keeps users engaged, not just focusing on branding.
I believe it will become a trend, and I'm excited to see how it will become established. I also anticipate the occurrence of events where AI influencers post PR campaigns!
Having a deep understanding of generational differences and demonstrating skills in the field of education.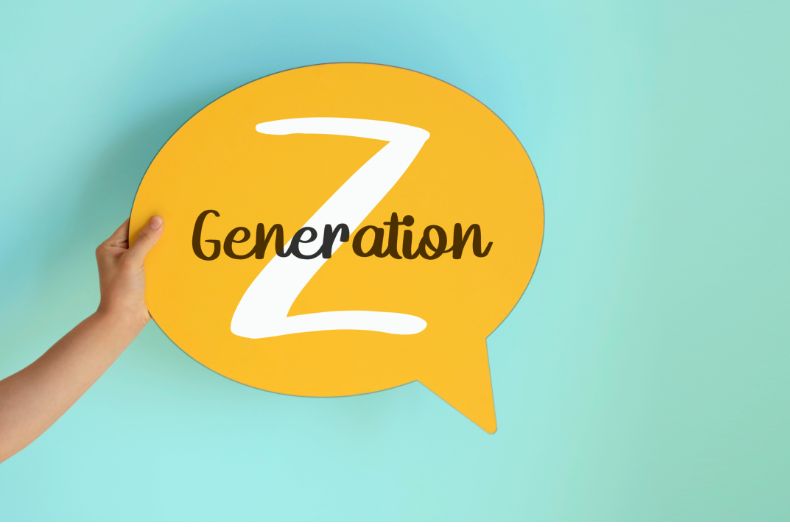 Okubo: Could you please tell us about the behavioral characteristics between Generation Z and older generations?
Asahina: One characteristic that I think sets Generation Z apart from older generations is their focus on "well-being." As an entrepreneur myself, I've noticed that many senior entrepreneurs have clear goals of "going public" or pursuing mergers and acquisitions.
On the other hand, many of the Generation Z entrepreneurs around me are more focused on how to run a business while prioritizing well-being. They emphasize whether they and their employees can work happily and satisfactorily.
Also, since they have learned about SDGs (Sustainable Development Goals) and sustainability in their education, there is an increasing number of social entrepreneurs among them.
Okubo: I've heard that you're also engaged in educational activities. Could you tell us more about what you do?
Asahina: Regarding educational activities, I'm involved in two things. First, I am a teacher for the business course at Shibuya Girls' International School, which was established in spring 2023.
I teach business-related topics such as the entrepreneurial lifestyle and marketing to first-year high school students, providing a broad understanding of the business world.
Secondly, I work as a guest lecturer. I give lectures on entrepreneurship at middle schools, high schools, and universities.
I visit my former schools from middle and high school, as well as other schools across the country through the "MAKERS High School Visiting Lectures" project.
Discovering the Joys of Authenticity: Finding Fulfillment in Embracing Your True Self in Work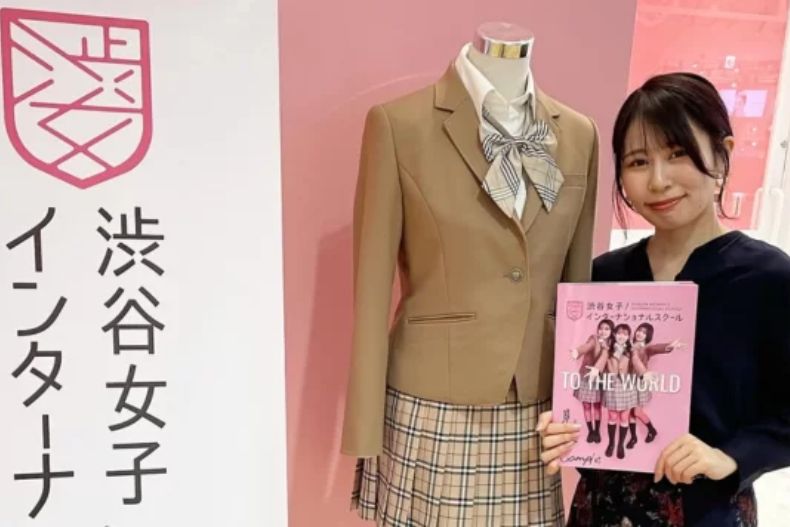 Okubo: If you have any message you would like to convey to other entrepreneurs, please feel free to share.
Asahina:  It's a tough question… I believe entrepreneurs often experience more moments of solitude compared to other professions. I have felt that way myself on several occasions. Many entrepreneurs find themselves in an environment without a boss or colleagues.
However, I also believe that entrepreneurs have many unique and irreplaceable moments of inspiration and significance that can only be experienced by them!
There are challenging times, but I hope we can all strive together to shine as entrepreneurs and embrace those special moments.
Okubo: Can you tell us about your future dreams and aspirations?
Asahina: My dream is to always work for real women, embracing their true selves. When I was a high school student, I worked on projects targeting high school girls, and as a college student, I focused on projects for college girls.
During those experiences, I realized the joy of working on projects that resonate with women who share the same perspective and experiences as myself.
In the future, I want to continue working on projects for real women by understanding the insights of my own generation, the "Z Generation," and engaging in planning and marketing endeavors.
Disclaimer: This article is an English translation of the original content published on the website sogyotecho.jp, which is the parent company of the Founders Guide website. The translation aims to provide information to English-speaking readers while maintaining the essence of the original article. Please note that any discrepancies or inaccuracies in the translation are unintentional. For the most accurate and up-to-date information, kindly refer to the original article in Japanese on sogyotecho.jp