The emerging technologies for human resources will see a continuous growth throughout 2020 and beyond. Many businesses and organizations turn to technology as new technologies are proven to provide efficiency and increase productivity especially during this time of pandemic. 
Technological advancements will make the work of humans considerably more efficient, interesting, challenging, and valuable. However, while the evolving relationship between AI, automation, and humans will have a significant impact on businesses and organizations, some people are concerned about the possible decrease in job security.  With this, companies need to structure their teams, design jobs, and plan for future growth according to their resources and needs. 
Here are a few of the top HR technology trends and developments that are expected to grow within the next few years: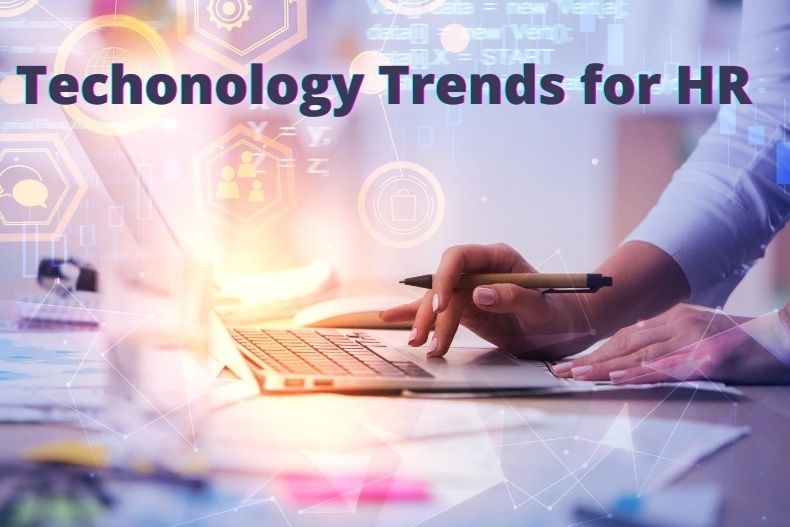 Self-Service Technologies
Self-service technology is one of the most important technology platforms to make human resource functions more efficient. This should include both employee self-service (ESS) and manager self-service (MSS) tools. Self-service technologies are designed to make HR information readily accessible by the right individuals.
Adopting employee self-service (ESS) and manager self-service (MSS) tools will help improve human resource service, reduce labor costs, and shift the responsibility for handling routine transactions from HR to employees, managers, and job candidates. Self-service technologies often include digital assistants and AI-driven chatbots, so employees will no longer call or email the HR service center for answers to routine questions.
Benefits of Self-Service Technologies
Employees enjoy improved speed and access

Workers can access HR information anytime and receive faster approval for leave requests 

Employees no longer need to submit forms or email requests to HR for common information such as their leave balance and pay data

Managers are able to analyze workforce statistics on demand, review employee schedules or time-off requests, collaborate with peers on performance reviews, and help make hiring decision

Managers can view and update staff information, manage department activities, post job openings or leverage recruiting tools anytime, anywhere

This tool brings new convenience and efficiencies to both employees and employers
Things to consider when using Self-Service Technologies
There are things that you need to consider when using self-service technologies. Companies should provide employees with adequate training in using the tools to prevent the risk of errors. Security risks can also arise when broader access is granted to sensitive HR data. Further, chatbots or virtual assistants won't be able to fully answer employees' or candidates' inquiries, especially for concerns that are specific to certain employees. At times like this, the services of a human HR staff are still needed.
Artificial Intelligence (AI) Adoption
The use of Artificial Intelligence is expanding rapidly, and you can expect its application in human resources management to continue to grow in 2020 and beyond. Intelligent automation is used to combine AI with automation to allow machines to sense, understand, learn, and act, either independently or with human assistance. Intelligent automation can perform manual tasks and also make intelligent decisions. AI with intelligent automation capabilities can understand processes and their variations, so they can be deployed across all repetitive manual processes to boost efficiency, productivity, and innovation.
AI for hiring
One of the most common roles of AI is to help with the recruitment process. AI can help identify top candidates for a job opening. AI-driven algorithms are used to help with a candidate job-match so you can find the best person for the position. 
AI for HR service delivery
Chatbots, which are often used in self-service technologies, are AI-driven. Natural language processing (NLP) is responsible for training the AI to understand human language, tone, and context for effective use of chatbots. NLP is a crucial capability for AI systems as organizations continue to automate HR service delivery with chatbots.
Virtual Reality
Many companies realize the effectiveness of using virtual reality for learning and development. In fact, virtual reality training has been around for quite some time. Virtual reality training provides participants the opportunity to learn in a virtual work environment and see simulated realistic consequences when a mistake occurs with low to zero risk. The aviation and healthcare industries were among the first to adopt virtual reality training. Because of this, virtual reality training has become one of the most important HR solutions for many companies.
Benefits of Virtual Reality Training
The use of virtual reality in training is more effective compared to video and text-based materials

Virtual reality allows companies to safely train their employees in risky and dangerous situations

Using virtual reality as part of the training process is a sign of an emerging and innovative company

Virtual reality training provides an opportunity for the hiring team to see candidates perform in the role they are seeking to fill before hiring them

Virtual reality's supportive environment creates realistic activities for employees which are a good source of foundational training to allow them to advance in their career
HCM Solutions
Most modern companies are using human capital management (HCM) solutions to help manage and maintain the organization workforce. As business strategies and teams grow more active in keeping pace with recurring change in companies, HR technology should also adapt in these innovations, especially when it comes to providing employees with more user-friendly and efficient experiences. 
HCM solutions provide automated processes for payroll, employee performance reviews, employee recruiting, attendance, training, project management, career development, and so much more. The use of HCM software benefits the business and human resource functionality. 
Virtual and Remote Work Technologies
Companies begin to expand the use of remote workers and continue to invest in the technologies that make remote work possible. The COVID-19 pandemic opens various possibilities and innovations that allow companies to manage work-from-home employees. The technologies that are needed by businesses to manage their remote workforces include the following:
Virtual Private Networks (VPNs)

– Virtual Private Networks provide a secure communication channel through public internet connections.
Voice over Internet Protocols (VoIPs)

– Voice over Internet Protocol helps businesses lower communication costs and increase team flexibility. VoIP provides employees with access to their office phone calls from anywhere. It also allows users to send instant messages, forward calls to mobile phones, teleconference with clients and co-workers, and more.
Virtual meeting platforms

– Virtual meeting applications have been very useful not only for remote working, but also for distant learning and personal use. 
Cloud technology

– Cloud optimization provides companies with easy access outside the office. The cloud service providers offer data storage and computing power services — both are crucial to remote working. 
Work collaboration tools

– Businesses still need to use communication and management tools to provide feedback and help manage remote workers. Some businesses also need timecard software technology (like TimeClock Plus, TSheets, and Nettime Solutions) to help track remote employees' work hours.
Malware protection

– While most computers and laptops come with standard antivirus programs, businesses need to invest in updated business-efficient security solutions) to help protect their data.
Cloud Technology
The use of cloud technology allows centralization of HR and business data to make it easier to access, organize, and manage — everything from onboarding to payroll, feedback and promotion, and more. When the candidate and employee data are stored in one location, it improves turnaround time by reducing back-and-forth communication between departments. 
Cloud technology allows the authorized individuals to access, manage, and control certain information to provide more efficiency and productivity to the business. Further, cloud-based HR systems can help improve communication and transparency within the company, which helps enhance employee engagement and retention. 
Data Privacy
HR leaders and technology solutions play a vital role in finding the right balance between employee trust and data privacy. Employees' personal data should be treated with utmost privacy while maintaining the needed transparency required by the company. By employing the right data privacy technology and integrating it with the company's policies, HR will be able to provide the right level of transparency, as well as the right level of protection for employee data.
New Wellness Technologies
Companies are expected to take care of their employees and HR finds a way to help keep their people healthy and provide them with wellness benefits. Fortunately, there are new technologies that make it easier to access therapists and mental health professionals. Also, there are workout apps that can help keep the employees stay fit and active. These wellness technologies are extremely helpful especially during this time of pandemic where most gyms and fitness centers are not yet open.
Important Considerations
When adopting new technologies, the company should provide sufficient training to employees on how to use these technologies to better enhance overall performance. While the use of new technologies will lessen the tasks of human employees, it's important to consider that even the most advanced technologies may still be prone to error. Human intervention may still be necessary, especially when dealing with specific employee concerns that cannot be handled even by the most advanced AI-driven bots. Moreover, companies must be prepared to make significant investments for these new technologies and ensure that they can be integrated with the current policies and systems used by their business.