If you wish to succeed in today's modern world, marketing your business is critical. Therefore, promoting your company to the online world is of the utmost importance.
Traditional marketing channels, like newspapers, television, billboard ads, and others are still somewhat important, but not as much as their digital counterparts. The methods of promotion are more or less the same, but how and where it's all done differs.
This means that the goal of the promotion hasn't changed because companies want more potential customers that are interested in what their business has to offer. What's changed is the approach and the possibilities that every digital marketing agency will bring to your business.
The Methods Are Different, But The Goal Is The Same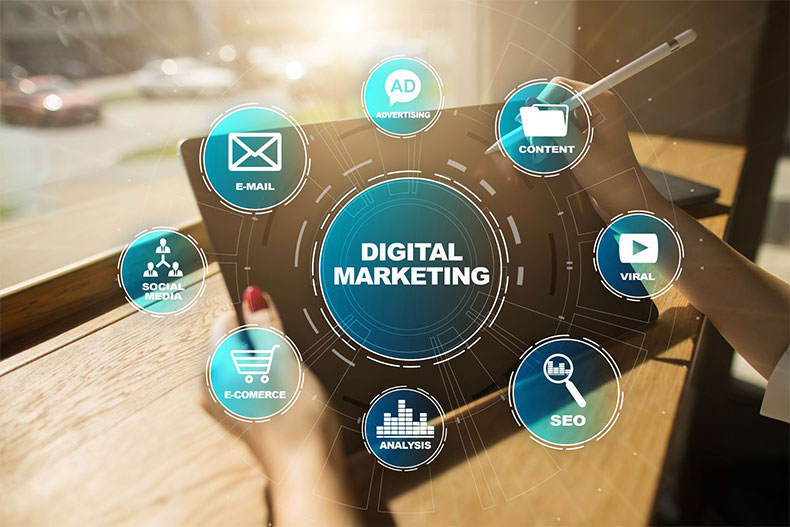 While the way marketing works switched from manual to digital, everything has become much more comfortable and more accessible than it was before. Remembering how marketing a company has been done in the past, you'll realize that businesses around the world are in a much better position today.
In the past, marketing agencies had to collect all the data manually, and creating lists of potential customers was hard and daunting work.
Today, with modern technologies, the internet, and computers involved, all this can be done in mere minutes.
That being said, here are some of the best digital marketing methods every business should use to reach their goals:
Build A Site

Sometime before the digital era, having an office was crucial since that was the place where all the work was done. Today, all this is different. Various businesses around the world can function normally without having an office whatsoever. The world is turning to a point where most things will be done remotely using the internet.

By knowing all this, people have realized that their website is their office. Thus, having a webpage that's fully developed to perfection is critical.

Additionally, people must be aware that their business site has to be entirely SEO optimized. It should also be filled with quality, relevant, and engaging content that'll keep potential customers interested in their company or products.

All this can be achieved by providing people with something they'll like and something that'll keep their focus on your site. Whether you decide to fill your web pages with multimedia content or with relevant blogs and other materials, never skip on frequently adding new content.

Lastly, make sure to have a user-friendly UI. A great UI will help all your visitors to easily navigate through your website, making their experience even more enjoyable.

Email Marketing

Email communication is still the most used form of business and personal communication preferred by people all around the world. Throughout the world, more than 200-billion emails are exchanged daily. By 2025, this number is expected to be much more significant. Therefore, the implementation of email marketing is an essential step in your digital marketing campaign.

Investing in marketing efforts is critical for every business today, and this includes email marketing as well. Email marketing is the most affordable and easiest digital marketing channel that'll help you advertise your business quickly and with fantastic results. The return on the initial investment in email marketing sequence is enormous compared to all others.

If you already have an email list of potential and existing clients, all that digital marketers need to do is to come up with a stunning email. The email should call potential clients to action and present the company's services and products.

Social Media Channels

As many of us have noticed so far, social media platforms have an essential role to play in our everyday business. Companies can engage potential clients, as well as the existing ones, using some of many social media networks, like Twitter, Facebook, Instagram, LinkedIn, and others.

Social media allows businesses to tell their story to the community in a modern and attractive way. Providing your followers with engaging content about your company in any multimedia form will make them want to learn more about your company. Hence, it's critical to be active on social media and to provide your followers with relevant and quality content of any sort.

Social media platforms also provide their business users with the possibility to advertise their business by implementing social media ads, like LinkedIn ads, Facebook ads, etc. Most of these ads are not free, and platforms have pre-made packages available for their users. That way, every business can choose how much it wants to invest in social media marketing and advertising from the beginning.

SEO Optimization And Content Marketing

As we previously mentioned, content is an essential element for a successful marketing campaign. Without relevant and quality content, chances for acquiring more potential clients and keeping the existing ones that are interested in your business are meager.

Creating content is essential, but it's also not an easy task. That's the main reason why you need to hire professionals in the field of digital marketing. They'll help you with content creation as well as further instructions and assistance.

As content is one of the most critical elements of every great marketing strategy, SEO is the second best. With adequately optimized content by the latest SEO standards, your website and social media pages will rank highly in search engines. Achieving this goal is what every successful marketing campaign today can do.
Conclusion
Compared to how it was a couple of decades ago, marketing has significantly changed. Using some of the best marketing channels of today, modern trends allow companies to build some of the best marketing campaigns. If everything is done appropriately and in a timely fashion, success is imminent.