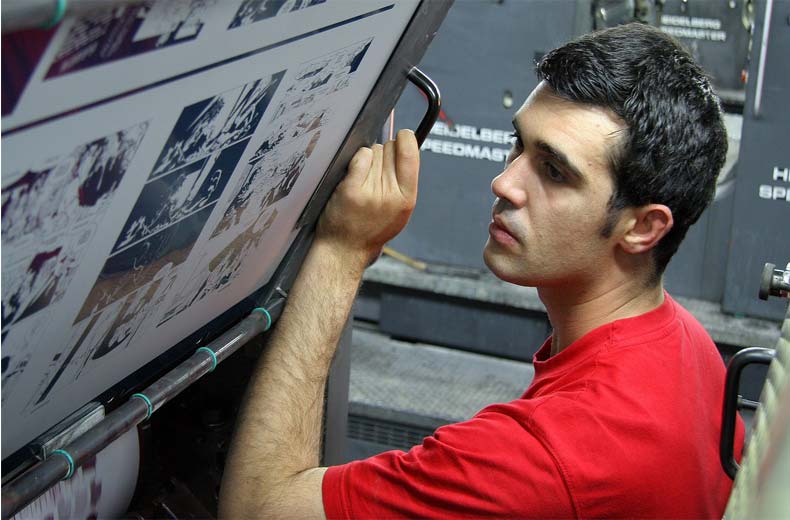 The printing industry is so irresistible to entrepreneurs for one simple reason—the entire industry runs on limitless possibilities.
Entrepreneurship itself is about latching onto a great idea and then catapulting it into a business. In a similar way, the printing industry is the vehicle that transmits your idea to a receptive public.
When most people think of the printing industry, the first thing that springs to mind is advertising, and for good reason.
Print media and advertising offer enormous benefits like the ability to non-obtrusively reach out to millions of people at one go or target a key demographic to your sales campaign. Again, limitless possibilities.
Buoyancy of the Printing Industry in the Digital Age
Even in the age of digital marketing, the printing industry isn't giving any ground. Commercial printing and large print runs are on the rise as last year saw the longest period of sustained growth in commercial printing shipments since 2010.
This indicates that offset printing is being used all around the world by thousands of different businesses as part of a diverse range of advertising initiatives.
Unbelievable ROI
Why the enthusiasm for huge print runs? Because print advertising offers an incredible return on investment as it manages to yield a huge amount of ad impressions (or views) at a stunningly low cost per piece of advertising. Companies also save more the more they choose to print, and industrial printers themselves benefit from economies of scale.
So, how big is the printing industry? The printing industry in the United States alone provides $85 billion in annual revenue and contributes nearly a half-million jobs to the overarching economy.
There are also over 48,000 printing businesses in the United States catering to a wide range of other businesses that want to spread the word about their product lineups and latest promotions. Franchise print shops have also made it easier for entrepreneurs to get their foot in the door.
Signs, Banners, Vehicle Wraps, and Promotional Items
There are a few things that a brick-and-mortar storefront needs in order to attract and retain customers. One of those essential things is an attractive sign out front that features a company's name and logo.
Banners
Banners are another way of cost-efficiently conveying a company's brand out to the larger public. You arguably get the most flexibility with banners since you can use banners for one-off promotions or hang up durable vinyl banners around your store year after year.
Signs and promotional banners are the perfect real-world advertising medium for business owners in a range of industries from hospitality and retail to real estate and healthcare. Franchise print shop owners find that the B2B business never really stops.
Vehicle Wraps
From the perspective of return on investment the best marketing might indeed be mobile. Vehicle wraps get a lot of attention with a small amount of cash since a high-quality vehicle wrap in a popular area gets tens of thousands of views per day for fractions of a penny each.
Those are numbers that even digital advertising can't touch. Vinyl vehicle wraps can last years and can pay back in a big way; a company gains 1,000 distinct ad impressions from customers at a cost of only 15 cents. Unbelievable.
Promotional Items
The printing industry is thriving thanks especially to the continued popularity of promotional items.
Just to give you a scope of the promotional products industry, eighty percent of consumers nationwide own between one and ten promotional products, and over half of those products (53%) create a more favorable impression for the advertiser. Here are a few more statistics on the effectiveness of promotional products for creating more business.
Know that digital printers and franchised print shops can print a company's logo on just about any promotional product out there.
Shirts, pens, mugs, cups, and bags are all fair game. Speaking of bags, did you know that about a third of U.S. consumers (31%) own a promotional bag and that each promotional bag generates 6,000 ad impressions? Those kinds of numbers excite business owners, printers, and entrepreneurs all at once.
A Stable Yet Innovating Industry
A lot of companies have design ideas or might even have their logo ready to go. The only thing that they're lacking: Digital printers that have the equipment and expertise to bring their advertising dreams to life.
The solution might be an innovative new approach known as web-to-print, or simply Web2Print. Web-to-print is also sometimes called remote publishing since it allows businesses to upload their print designs to a cloud service and have that design printed in bulk for, say, an upcoming promotional event.
The print industry really does have all of the ingredients that entrepreneurs relish: Business necessity, a great track record, incredible ROI for other businesses, and a commitment to innovation in the future.