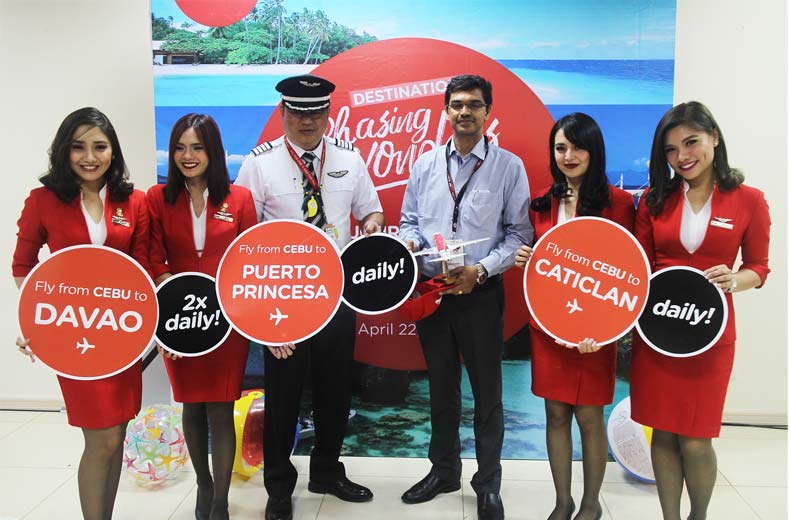 Upgrade your summer adventure and chase the wonders of the Philippines as AirAsia begun servicing new routes from and to Boracay, Cebu, Clark, Davao and Palawan.
Last April 22, 2017, the first AirAsia flight from Davao to Cebu took off from Francisco Bangoy International Airport at 10:40am with Philippines AirAsia Director of Flight Operations Captain Gomer Moneal as the operating pilot, together with Captain Bernardino Perez and flight officer Leonardo Orendain,
"From highlands to islands, AirAsia is officially welcoming summer with new and increased connectivity from Davao and Cebu to Boracay and Palawan and onto the northern part of the Philippines via Clark Airport in Pampanga," Captain Monreal said at the send-off ceremonies held at Davao airport grounds.
Aside from the twice daily flights between Davao and Cebu, AirAsia also formally opened daily flights from Davao to Boracay; to Palawan at 3x weekly and to Clark at 4x weekly using Airbus A320s or jets which can accommodate up to 180 guests per flight. AirAsia also maintains 3x daily flights between Manila and Davao.
On the same date, April 22, 2017, AirAsia flight flight Z2522 from Davao arrived in Cebu Mactan International Airport on time at 11:45AM with almost a 100 percent load and was welcomed by a water salute from Mactan Cebu International Airport management.
A press conference with the different media outfits in Cebu, together with the officials from GMR-Megawide Cebu Airport Corporation (GMCAC) followed.
During the said conference, Captain Monreal invited more people to travel with AirAsia. Aside from their impeccable airline services, Monreal shared the strong family values of AirAsia which is evident on how the airlines treat their passengers.
Monreal also disclosed that AirAsia Philippines plans to open more flights from Cebu which remains as one of the top tourist destinations in the Philippines.
AirAsia has been painting Cebu and Davao skies read and we are delighted to announce that more and more red planes are on the way as we expand and grow operation in Visayas and Mindanao. There is so much growth potential here for business and tourism with AirAsia's seamless connection now available for domestic travels and very soon for international expansion," Captain Monreal said.
Also present at the conference is the chief commercial adviser of GMCAC Ravishankar Saravu.
"From the airport point of view, the new flights will make it easier for people to travel. It will also support Cebu's economy and will allow other cities in the Philippines like Manila to grow further," Saravu said.
A ceremonial ribbon and cake-cutting ceremonies took place during the press conference spearheaded by Captain Gomer Monreal and Ravishankar Saravu.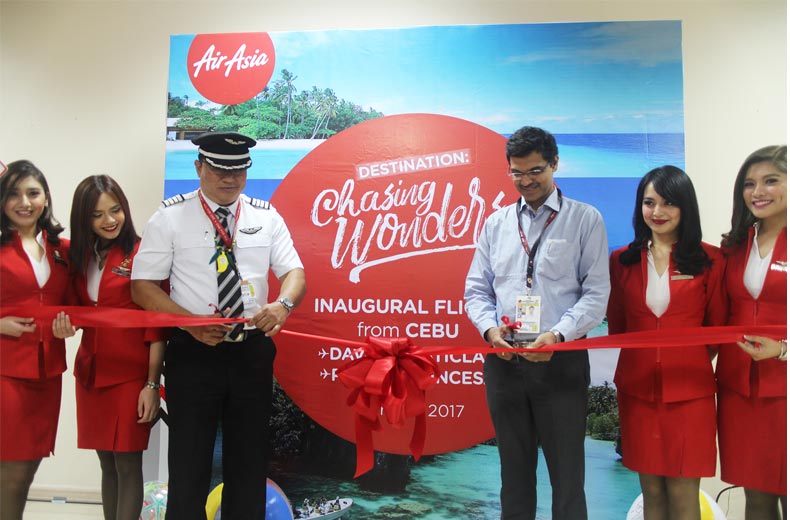 From Cebu, AirAsia added two new flights to Davao daily, and to Palawan and Boracay via Caticlan daily.
Meanwhile, flights from Davao to Clark officially recommenced last April 23, providing Davaoenos access to Northern part of the Philippines via Clark International Airport in in Pampanga.
To celebrate the launch of six new domestic flights, AiAsia is offering promo fares from as low as 788php, all-in now available at www.airasia.com for booking until April 30 valid for travel between September 5, 2017 to February 8, 2018.
AirAsia also unveiled its latest "Santan" in-flight food featuring notable Asian flavors for only 180php with a choice of drink.
Plot your destinations around the Philippines with AirAsia and discover the secrets and stories of the Philippine islands.
Visit AirAsia's official website and social media accounts to keep in touch with its latest promotions and activities.