Staff productivity at work is crucial to your company's success. Two of the most important factors that affect one's productivity are proper time management and the ability to work efficiently. However, while you want to increase your employees' productivity, you also need to make sure that they look after their personal well-being and that they don't overwork themselves.
An employee's work ethic is essential to his overall productivity — this is the reason why you should select your people carefully during the hiring process. You have to ensure that you're only hiring those who have good attitudes at work and those who know how to work smart. However, hiring the right people with the right skills and attitude will not guarantee better productivity. As the owner of the company, there are things you can do to help your staff become more productive.
5 effective Ways to increase staff productivity at Work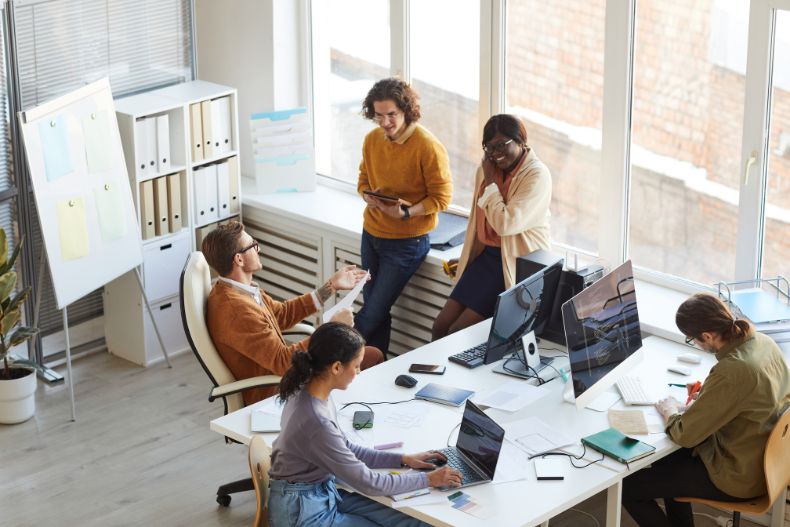 1. Provide Continuous Training
No matter how skilled your people are, there are things that they should be trained for — such as your business processes. This is especially important for newly hired employees. Your company may have certain procedures that are not experienced by the new hires, and it's critical that they are introduced to such procedures properly to minimize potential errors. After all, inaccurate execution of procedures may lead to repetition of work, and this will decrease one's productivity.
Aside from new hires, the company shall also provide continuous training programs to their other employees to ensure that their knowledge and skills are updated as necessary. When employees are properly trained, they are more confident at work and they are more likely to execute their tasks correctly.
2. Invest in Good Equipment
Office equipment is another important factor that affects one's productivity. This is specifically applicable to those who rely on the efficiency of technology to stay productive. Make sure your equipment is as efficient as you want your employees to be. The last thing you want is an outdated computer that only slows down the work of your staff instead of speeding it up. 
Investing in new equipment will not only help your employees become more productive, it will also lessen your costs on maintenance and repairs. 
3. Provide a Conducive Working Environment
The environment that one works in plays a vital role in ensuring staff productivity. If you want your employees to perform efficiently, you should make sure that their office is safe, clean, comfortable, and conducive for working. 
The place should have enough space for your employees to move and do their tasks comfortably. It should also have enough space for your equipment and files, and the temperature should be just right — not too warm nor too cold.
4. Invest in Time Tracking Software
A time-tracking software is a good investment, especially for business owners who want to monitor important business insights and staff performance. Some time tracking software can also monitor leave requests, project progress, overtime, even payroll and expenses. Consider investing in one if you want to ensure employee efficiency and effective performance. 
5. Incentivize Productivity
Depending on your industry, you may also consider giving incentives to employees who perform productively. Rewards boost productivity, and employee recognition is one of the key drivers that keep employees motivated at work. 
Create a rewards and recognition program to keep your employees more engaged, competitive, and invested in your business. After all, rewards and recognition can make people happier — and happy employees are more driven to produce great, high-quality work.
Keep Employees Motivated
When employees know that their company genuinely cares for their career advancement and personal well-being, they will become more motivated to do their job efficiently. As a business owner, you should be proactive in making sure that your employees have all the resources they need to make continuous progress and stay productive. 
People are the most important asset in your business. Make sure they are competent to do their job and have the drive to provide high performance. Remember, staff productivity will help increase your business profitability and it's crucial to your company's success.