Welcoming new employees into the working environment can be really daunting, for both them and you. Not only do you want them to instantly feel like they are part of a team, but you want to set the right tone for the working culture in the office. 
Working culture has evolved quite rapidly over the last few years, and more particularly since the global pandemic forced most of the international workforce to work from home. Company culture has become more and more important, with more focus being put on the work-life balance. 
In fact, more and more companies are taking a less formal approach to their workforce, and are looking to encourage employee satisfaction and engagement. 
Fun onboarding packages have become increasingly popular over the last few years. Not only does it reflect a fun, open company culture, but it provides the employee with a sense of belonging in the company. With this in mind, we took a look at some of the best ideas and vital components that should make up the onboarding packages.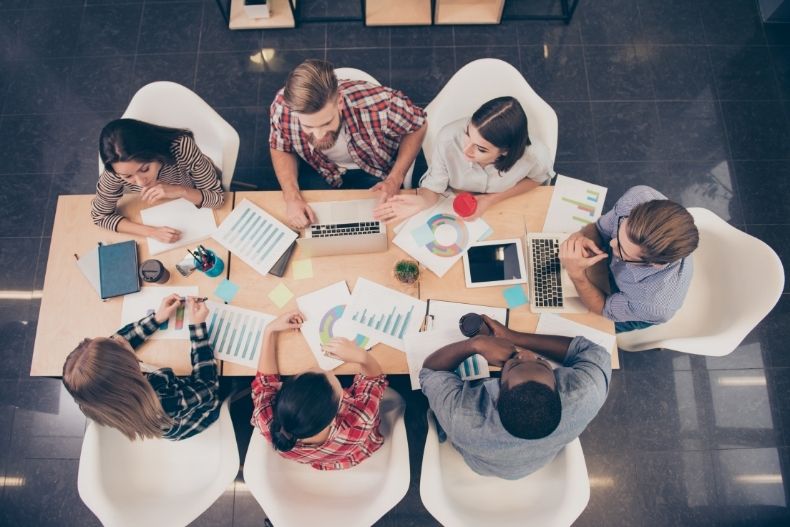 Useful Tech Items
Apart from the necessary items like their laptops, work mobiles and work-related software, to really welcome your employees, you can throw together a package that includes items like headphones, USB chargers, power banks or a branded mouse for their laptop. 
Not only will these help them perform at their role, but they will create a sense of inclusion, with a cool twist. These are great for start-up companies and tech brands hiring new employees. 
We simply loved the "I Work At A Tech Company" kit, suggested by SnackNation. This employee welcome kit comes with a microfibre cloth and rechargeable LED ring too, perfect for those super techie employees.
Tasty and Nourishing Snacks and Drinks 
There are thousands of companies that are starting to focus on the health and well-being of their employees. Creating a company culture where employees are encouraged to be healthy, eat well and exercise can be tough. 
But, it can be made easier with a welcome kit packed with nutritious snacks and healthy drinks. From gluten-free granola bars to mixed nuts and dried fruit, the options are endless. Power juices and smoothies are also a great addition to a kit. 
Not that big on the health train, but still want to treat the employee? Why not add in some coffee or matcha latte mix or decadent triple-chocolate brownie snacks that could really win over the new employee's heart. 
Cool Items for Their Desk 
There is nothing that makes an employee feel more at home than having a few items for their desk. From a branded or funky mouse pad to a desk calendar or swanky diary, office supplies are endless. 
If you really want to make a good impression and have a bit of budget available, a designer pen, or custom stationery can really set the right tone with the employee. If this seems too excessive, why don't you consider a succulent or plant to pop on their desk? Not only will it give the desk a lovely, homely feeling, but it is a personalized gesture that will not be easily forgotten. 
Thinking even more out of the box, now that employees are working remotely, and most are working from home, why don't you send remote employees packages to their homes?
It is even tougher in these times to create a sense of unity and encourage inclusion in the company. These small gestures might just do the trick. Once again, a lovely plant or branded notebooks can really connect them to your brand. Branding necessary stationary or laptop bags would also be a thoughtful inclusion. 
Branded Merch
There is nothing that says "welcome to the team" more than some branded items. Look at the basics. Golf shirts, t-shirts or even hoodies are a great item and can be worn during company outings or team buildings. 
Caps are always a winner. Not only does the employee feel like they are part of the company, but it helps you with brand awareness and reach should they wear it out and about. 
Branded stickers are a fine addition for them to add to the surface of their choice, while branded bags, laptop bags, laptop sleeves, mousepads, journals and calendars can all come in practical use. 
You can even extend this even further to branded USBs, water bottles, coffee mugs or holders and even key-rings. The sky is really the limit for branded items, especially if you choose items related to your brand. 
Vital Employee Documents
Now that we have covered some of the more enjoyable aspects of the onboarding package, let's take a look at the necessities that you need to include.  Remember, they are new to your office and company and will need some guidance and guidelines to work with to get them settled. 
Make sure you provide them with their contract and any company guidelines in the pack. They will need to know a bit more about the rules of the office, when breaks can be taken, and what values the company holds. 
So, include terms and conditions, confidentiality documents, and any emergency contacts if you have. Speak to your HR department for any government guidelines and workplace etiquette documents that you can add. Just keep in mind, it is the first day and you don't want to overwhelm or intimidate the new employee. 
Practical Necessities 
Their work tag or entry tags are a must. Whether it is for the parking lot, door to the office, or for their personal office, you will need to ensure they are provided with access. If everything is key and tagless, assist them with the entry codes, or fingerprint system. 
Business cards are a great addition to the package for new employees, especially your client-facing staff. Employees usually wait a number of weeks for their business cards, and fresh in the job, may not be too familiar with the companies contact information. This could be a great sales tool for both you and your new employee.
Training and development reading materials should also be included in the package for new employees who need to take on a new skill or learn new processes on the job. Company guidelines and team structure charts will also be useful in order for the employee to understand the organizational structure. Process bibles or operational books are essential in order for the employee to understand their role. 
Last Thoughts
In order to ensure a new employee really fits in, consider a team meeting or outing for the team to engage outside of the office environment. This will allow everyone to get to know each other and to integrate personalities. 
You can also create fun surveys for everyone to fill out to get to know each other a little bit more and include everyone on an instant team chat like Slack. Make sure you create a general conversation or "watercooler" to encourage employee engagement.