Every entrepreneur knows that building and maintaining healthy relationships with their customers is paramount for the success of their business. Give customers what they want and need, and you'll win their hearts forever – or for as long as you keep up the good work. Let them down once and they won't give you a second chance – plus, they'll make sure everyone else finds out about their unpleasant experience with your company. To put it simply, customer satisfaction can make or break a business. 
This means you simply can't leave customer satisfaction to chance. You have to focus your efforts on meeting and exceeding customer expectations, and providing them with the best experience possible every time they interact with your company. 
If you want to keep your customers happy and coming back for more so you can grow your business further, these foolproof tips will help you achieve your entrepreneurial ambitions.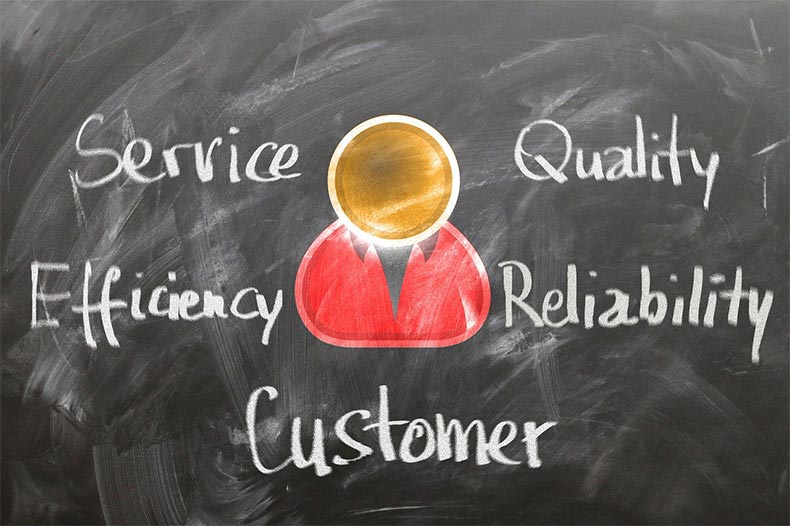 Ask for feedback and act on it  
Customer feedback is one of the key elements for building great customer relationships. When you interact with your audience, you have to remember that communication is a two-way street. You must give customers the possibility to express their opinions at every touchpoint. The more you know about their thoughts and wishes, the easier it will be for you to offer what they need. 
However, collecting feedback only solves half of the equation. The other half requires you to act on the feedback you've received. Customers have to see you're actually listening to what they have to say and you're willing to make improvements based on their suggestions. 
Provide the support they need 
Whenever a customer needs you help, you have to be on call. If they can't contact you immediately or if it takes ages for you to get back to them with an answer, this will negatively impact your relationship. The goal is to make it as easy as possible for customers to reach out to you, and that can only be done by offering multi-channel support. 
You have to be present across all the channels customers use to interact with your business. A combination of live chat support, social media support, email support and phone support is the best recipe. Reassuring your customers that you'll be there when they need you, ready to answer their questions and provide the guidance they require will establish you as a reliable and trustworthy business. 
Show them you care 
You have to think of your clients as people and make them feel they're more than just a number. A cold and impersonal interaction with a customer support agent is enough to earn you some negative reviews. It's important to show customers you care about them and their needs. 
When it comes to creating more personal interactions, the secret lies in the details. You have to pay attention to the small things. For example, using background music when your customers are put on hold can make the experience more pleasant. You can simply search for music on hold download and select the tunes that will keep them entertained while they wait. Positive language and a friendly tone can also work wonders for improving customer interactions and their perception about your company.
Provide quality products and services 
It goes without saying that without quality products and services, all your efforts to attract a loyal customer base will be in vain. You might be thinking that the products/services you provide are flawless, but if your audience believes otherwise, it's time to take notes. A product is only as good as the public thinks it is, so if they spot any issues with your offering, they'll be quick to judge you for it.
And even if your products and services are excellent, there's always room for improvement. So, keep on trying to make your products/services better and make sure your public agrees with the improvements you're making. 
Follow up with your customers 
Let's say a customer has purchased something from your company and everything went well from start to finish. What are you going to do next? If the answer is nothing, you're not doing things the way you're supposed to. Just because a client had a nice experience with your company it doesn't mean you've earned his loyalty forever. 
You have to work a bit harder for that, meaning that you have to follow up with your customers. Following up is not complicated and it will make a world of a difference in customer satisfaction levels. You can do that by sending a thank you note to your clients, asking them to evaluate their experience with your company, keeping them posted on what you're doing etc. Basically, follow-ups are meant to keep customers engaged and interested in what you have to offer.                    
Do more than just the bare minimum 
You have to keep in mind that average doesn't cut it if you want to stand out from the crowd. And when you're surrounded by a touch competition, standing out is your only chance you've got to become relevant and stay in the lead. 
So how can you get customers to notice you and choose you over and over again? It's simple and it's complicated. You have to give them something they can't find elsewhere. This means you have to be a little extra. You can give away special offers, create loyalty programs, surprise your audience with little gifts etc. Anything that can put you in the spotlight in a good way will do. 
Be proactive, not reactive 
When it comes to creating and nurturing customer relationships, you're the one who has to take the first step, every time. Don't wait for customers to come to you with feedback or in any other way. You have to go to them. 
Spot your weaknesses and address issues before they can affect your customers. Improve your products and services before someone gets a chance to complain about them. Ask your customers what else they need before they ask for help. In short, be proactive, not reactive, and your customers will notice it and reward you for it.