Are you have problems getting and retaining customers? The problem might not be with your offering but with the service level that you provide. Reports show that 84% of people will stop doing business with a company because of a poor experience.
Meeting customer expectations is essential if you want your business to stay successful online. Follow the seven tips below to meet your customer service expectations and give your customers the service they deserve.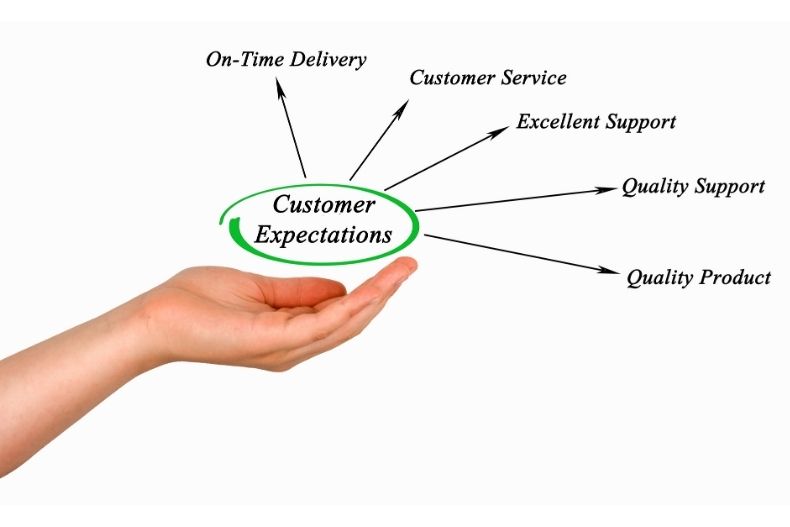 Focus on Quality Support Responses
Yes, speed is essential when dealing with customer issues. However, you don't want to sacrifice quality in an attempt to solve the most customer support cases.
Make sure your team has the resources they need to solve customer problems quickly and efficiently. You don't want them to waste time trying to find what they need to solve your customer's problems.
It helps to have online resources your team can turn to to find answers to common problems. This resource will help your team answer customer questions successfully without needing to do much research themselves.
If necessary, you may need to hire additional employees to deal with customer problems. Check with your team regularly to see if they are overwhelmed. If they sacrifice quality to get answers quickly to customers, it might be time to hire more help.
Tell People What to Expect
There's something to be said about not having expectations. If someone goes into a business transaction not expecting much, exceeding customer expectation isn't hard to do.
The problem is that people won't always like what they see. Not every one will work with a company if they don't expect much from the interaction.
Managing customer expectations means people who buy from you should know exactly what will happen. You should always be honest about your interaction and always do your best to give people what you promise them.
When you're true to your word and meet your expectation, it builds trust with your customer base and leads to more loyal customers.
Reach Out for Feedback
Some businesses might be able to get away with making a quick sale and moving on from their customers. These businesses rely on sales volume to keep running. Repeating customers aren't necessary for staying in business.
If you want to keep customers and have them buy more from your company, you need to form relationships with them. One of the best ways to do this is to ask for feedback from people who buy your products.
Asking for feedback lets your customers know that you appreciate them and you're working to make your products better. If people know that your products are always improving and you'll work with them to make things better, they'll be more likely to buy from you again in the future.
Reward Loyalty
Your customers have a lot of options on the internet. The chances are that you aren't the only company in your industry. You're going to have constant pressure from your competition for your current customers.
Even if someone is happy with your products and services, there's no guarantee that they won't move to another offer if they find a better deal. You have to make it worth someone's while to stick with your company.
One way to do this is with a loyalty program. Loyalty programs are a way to reward customers when they work with your business. Give your customers perks like discounts and free items when they've been with you for a while.
Provide Customer Resources
Not every customer wants to get in touch with an employee whenever they have a problem. Some problems are quick and straightforward and don't need human interaction to resolve. The question is, how do you provide this service without talking directly to people?
You can decrease support work for your team and improve your customer experience by providing FAQs on your website for your products. These pages should contain common customer questions and answers.
A search feature is also useful in this situation. A customer won't need to dig through your website to find an answer to their question. They can do a quick search to find the solution they need immediately.
Use Chatbots
Your team won't always have the time to get in touch with customers as soon as they have a question. If you have a lot of support tickets, this will cause considerable delays for your customers. If you want to provide immediate support on your website, using an AI chatbot will solve this issue.
Chatbots can provide answers to common questions customers have. It shows up as a box in the corner of your website on all your pages. All a customer has to do is open that box and type the question they have.
Your chatbot will free up time for your support team to answer more complicated questions. This means your customers will get quicker answers, and your team can provide better support for the people who need extra help.
Optimize Your Website
Having a great looking website is only part of the equation if you want a successful web experience. A nicely designed website won't always give people the information they need to decide to buy from your company.
You'll need to run tests on your website to figure out what changes you need to make to improve your conversion rates. Using heatmap software is a great way to accomplish this task.
A heatmap provides an overview of the hot spots on your websites. They'll show you whether or not the critical parts of your website are getting attention.
You'll use this data when creating split-tests for your site. A split-test is a small change to colors, fonts, or wording to see if your conversion rate improves. A heatmap shows you if your changes result in more attention to the information you want your customers to see.
Meeting Your Customer Expectations Is Everything to Business
You only have a limited amount of time to get someone's attention on the internet. If you fail to meet customer expectations with your web presence, you won't be able to get new customers' attention. Use the tips above to ensure your customers are satisfied.
If you want to learn more about managing your online customers, head back to our blog. Our latest posts cover the latest tips that will help you build your online business.