Introducing and making yourself visible in a large room full of unfamiliar faces is going to be a hard task. But, if you are attending networking events like tradeshows and conferences, you need to find a way on how you can do these. You should give importance to creating relationships when you attend networking events because these are where you can meet potential business partners and prospects.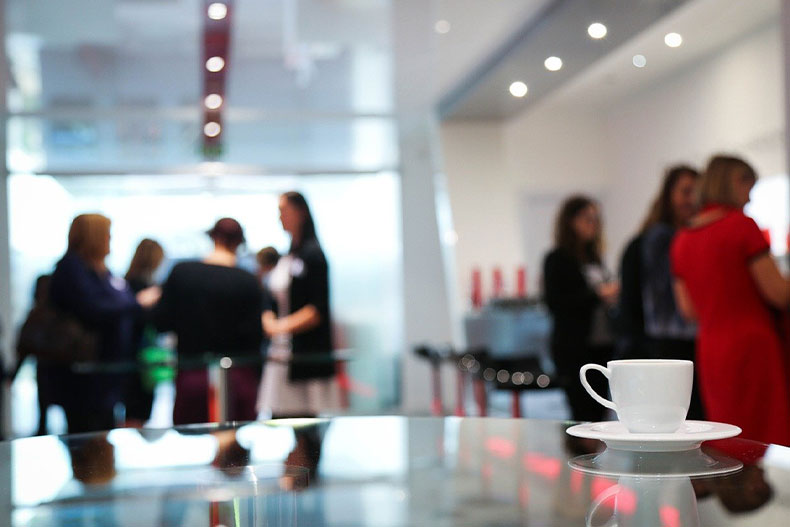 You are not attending a tradeshow or business conference not only to gather information. You are there to make connections to expand your business' reach in the future. You should not overlook the great networking opportunities that these events offer. To help you improve your networking for your next trade show, here are a few important tips you can follow.
Study the Attendees Beforehand
Before you attend a conference or trade show, make sure to study the attendees, especially those who you are interested to make contact with. Find out who their CEOS, marketing team, and communication managers are. Who are the right people to approach?
Lastly, find out about the attendees who will be participating in other events during the trade show like presentations or public talks. There is a chance that you are going to bump into these people during the event.
Review & Identify Your Target Market
Review the users on your app, online store, website, or social networks if you are into eCommerce marketing. Create profiles of your potential customers and see if there are attendees that match these profiles. Do you intend to catch the interest and attention of middle-aged men or young female entrepreneurs? You need to explore every combination to avoid wasting your time and effort on the wrong market.
Connect to People on Social Media
Make sure to add new acquaintances as contacts. You can also send invitations to them through social media. This can double the chances of them accepting you and following you. After doing this, engaging in a conversation and scheduling an appointment, meeting, or call becomes easier.
Bring Business Cards
Bring business cards and keep them in a pocket you can easily reach and elegantly access. Make sure that your business cards contain your company's information and your own contact details. At the same time, immediately put business cards you receive from other people in a different pocket to avoid mixing up your cards.
Meet New People
Conferences and trade shows offer great opportunities for creating new connections. Do not just hang out with your associates and friends when attending networking events. Do not sit beside people you have already met when you go to conference sessions. Sit beside different people instead.
Some attendees stick to their spots during conference sessions but when in fact, no seating is assigned. Move around and do not just stay in one place. Make sure to talk to the people around you. You can read on how to start a conversation at networking events.
Meet Other Exhibitors
Thousands of people attend trade shows and having a booth allows you to meet a lot of people and find new prospects. But, do not forget to meet and socialize with other exhibitors too. They are there to create new businesses as well as meet new people like you. You can also get new ideas by meeting the competition rather than socializing with the attendees only.
Allocate time to visit each booth when you attend a trade show to meet other exhibitors and exchange business cards. They are the ones you want to contact for a follow-up when the event ends.
Maintain an Open Attitude
If you want to charismatically network at conferences and tradeshows, be warm, don't be intrusive, and most importantly – maintain an open attitude. Ask questions and allow other people to talk to demonstrate your interest in them.
If you show interest in them, they will also show their interest in you. Ask how you can help them before offering them a business card. Talk about their schedule as well as their products'/service's prices and the rest will follow.
Volunteer to Present
If you are attending a conference or tradeshow with workshops, volunteer to present. This is a great way to gain more exposure and allow your expertise to be known. But, for you to gain this opportunity, you need to plan in advance. Make sure to meet the event coordinators beforehand.
Conclusion
Once the event ends, make sure to follow-up on your new acquaintances because this is the critical process. Otherwise, all of the advice we gave in this article will be worthless. Set a time for making phone calls, email exchanges, or lunch meetings. But first of all, make sure that you have a display booth design that will appeal to your target market. To get you started, you can check out Aplus' trade show booth designs.