Nowadays, there is growing demand from the public for environmentally-friendly products and services. As a result, companies of all sizes now have to implement sustainability practices into their day to day business operations. It is a requirement of environmental responsibility and essential to staying ahead of rivals in a competitive market.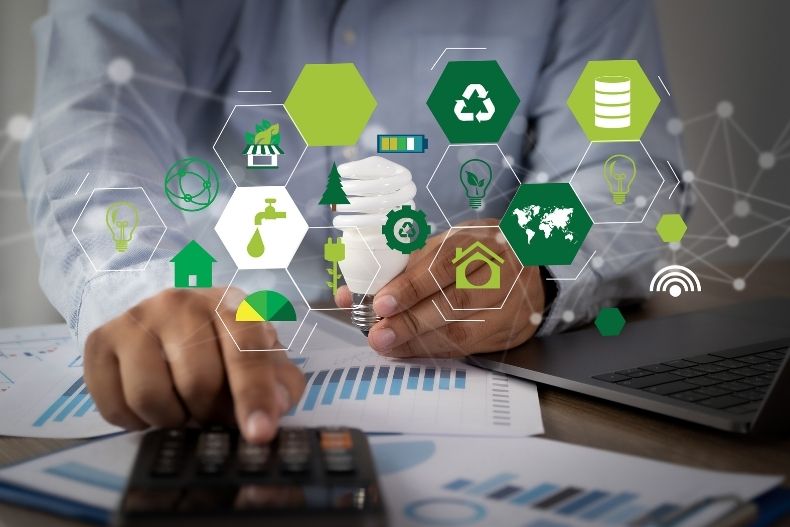 Sustainability is a buzzword word that has been around for some time – and continues to grow in importance and value. Consumers, however, are no longer appeased with just a simple sustainability policy at the bottom of a website. Instead, they now want evidence of how a company is currently and in the future aims to improve upon its environmental responsibility.
Research conducted by Deloitte, a global professional services network, reported consumer trends in 2020 revealed that sustainability is a crucial consideration for several consumer segments when making their purchase choices. They recorded between 1 in 10 and 1 in 3 agree with this statement. This report shows how essential it is for brands to engage with consumers and promote their sustainability practices.
The opportunity for companies selling direct to consumers is obvious. However, there are as many opportunities as challenges for businesses trying to market to other companies using sustainability-focused messaging. Supposing a company already follows legitimate environmentally friendly practices – how can they navigate the everyday obstacles of selling sustainability to companies and be successful with their messaging?
Perfect Audience Targeting
A company must also be trying to target an audience from which the business will benefit the most. When marketing sustainability to other companies, two main dimensions to consider when targeting are the company and the buyer.
Identifying the right company – A business that openly promotes green initiatives is more likely to gravitate towards suppliers who share the same values and goals. Determine the companies by conducting a comprehensive search on the websites of the target market. This way, it is possible to uncover those who have published environmental objectives with defined targets.
It is also possible to uncover these companies by looking for any connections they may have with third-party certifications. These bodies may include the International Organization for Standardization (ISO) or the Forest Stewardship Council (FSC). Including this type of search into a new client target plan will substantially improve the chances of their sustainability messaging finding its way to a receptive audience and positioning the business appropriately.
Pitch to the right buyer – Once potential buyers have been identified, the next stage is to plan who the best individual or team is to reach out to. While the company has been researching various like-minded environmentally-minded prospects, there is a chance that the procurement and purchasing teams are not the people at the prospect company that are concerned most about sustainability.
Generally, procurement and purchasing managers are focused on checking boxes to ensure budgets are kept. They are often more focused on price, inventory, and reliability, resulting in their day-to-day jobs being easier and targets being met. With this in mind, if a company sells mostly to procurement and cannot beat the existing vendor on service, price or quality, the sale stands little chance of converting successfully.
If this situation appears, it is better to take a top-down approach and find a way to sell sustainability benefits to the director, VP or C-level executives. This is because they tend to be the champions of sustainability causes. In addition, those in positions of authority that influence management and procurement may be able to argue the environmental reasons for buying a more expensive product or service. Even though this may be easier said than done, the extra pitch work will pay off if high-value accounts fit this mould.
Get Specific About Your Sustainability Efforts
A business will not stand out in today's market by simply talking about a sustainability commitment with vague terms or buzzwords. The number of companies now competing to be recognised as sustainable, green, or environmentally friendly has shot up. This has resulted in customers recognising legitimate, sustainable businesses over those just putting on a pretence. Insubstantial claims and pointless buzzwords are not going to resonate with potential customers.
For a company to break away from this pack, they need to drop the buzzwords and emphasise tangible and specific benefits that truly matter to their buyers. For example:
Do the shipping and/or sourcing systems result in reduced water consumption or fuel use? If so, how much?
Will the product/service help the customer reduce their carbon emissions, and by how much?
Does the company use recycled materials in their facility or products, and how much waste is eliminated as a result?
Does the product avoid the use of toxic or hazardous materials that competitors might use?
The Environmental Impact of Switching To The New Product or Service
It is worth putting in that extra effort for customers and quantifies the environmental impact they will achieve by switching to a product or service. An excellent way to do this is with a FAQ section on the company website or develop a sustainability calculator that allows them to use their own numbers to see the positive impact for themselves.
Some companies provide specific documentation on its practices and their impact. This is much more impactful than simply stating that the company has invested in renewable energy companies to supply their power. For example, a company could make a note of all the practices, materials, and processes that make their product or services environmentally friendly so it is evident to the customer.
When calculating the exact impact on energy, resources or footprint, it is helpful to promote the number to potential customers using various visual aids. Create videos, images, and infographics to illustrate the advantages in a simple format. These benefits can then be easily promoted on a business website and other marketing channels such as social media and sales collateral.
Establish A Long-Term Commitment to the Environment
Many brands out there take ownership of the extent of environmentalism they have achieved, so it is essential to look at what they have done to earn their distinction. Some of these companies may have scaled their sustainability efforts in ways that small and medium businesses will not yet be able to achieve. However, this should not prevent those striving to commit to the environment, and they should market the sustainability efforts they have achieved so far.
Whether the company has a long or short history of environmentally-minded practices, it should be made a prominent part of their message – it will help to differentiate them from those who have not yet jumped on the bandwagon. If there is no substantial history to draw from, the business can still tell its story of how and why it first adopted sustainable practices to demonstrate its commitment and add texture to its green mission.
Build Green Corporate Partnerships
If not already done so, a business should research the recognised environmental associations, certifying bodies and organisations in their industry. It is sensible for businesses to allocate a budget to join or become certified by industry authorities that align with their practices and values. Once associated, these alliances ought to be validated through aggressive promotion.
Social verification can be an effective tool, so if a company can point to certification or membership from a recognised name (such as B-Corp or EPA), they will have a powerful advantage over competitors who cannot achieve these public links. An excellent method to do this is by using the business website and social media platforms – this can draw attention to the various eco corporate partnerships they belong to.
The Takeaway
Unless public attitudes towards climate issues drastically change, the demand for sustainable business practices will continue to surge. This means that more businesses will have to make every effort to meet this demand, but companies will start to become competitive with marketing their sustainability message. As a result, green marketing practice will evolve and become more sophisticated.
Since companies are sharpening their targeting now, this will enable them to stay in front of the competition and avoid vague useless buzzwords. This will also support the environment and open up some lucrative business opportunities through the use of digital marketing. Being aware of the next big sustainability issue and allocating resources to ongoing innovation is essential – it will result in the company positioning itself ahead of the competition, attracting new businesses and keeping loyal customers.