If you've never understood the appeal of AlDub, don't worry you won't be forced to. However, you don't have to be a fan to notice that the accidental tandem is making waves practically everywhere. They've landed endorsements deals from food and beverage companies, telecom and banking, as well as household products. Below we've gathered proof of their viral power.
Reasons why AlDub is a global phenomenon with the golden touch
International agencies are starting to take notice
Twitter VP for Media, Asia Pacific and Middle East, Rishi Jaitly, proclaimed AlDub to be a "global phenomenon" after setting a new global record of 41 million tweets.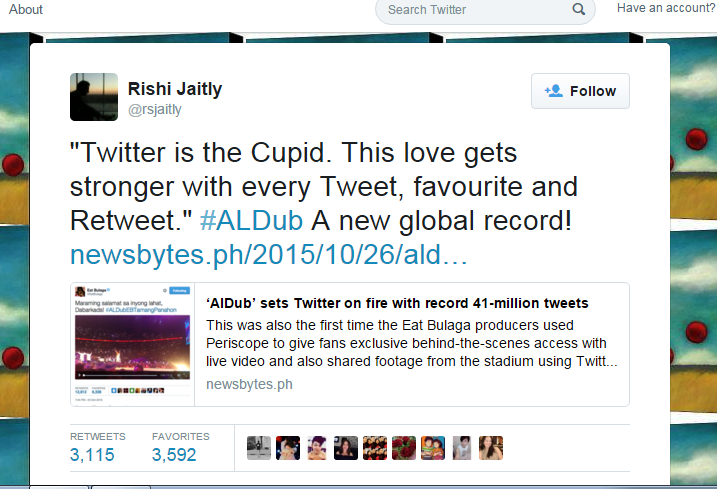 You can hear Jaitly talk more about AlDub in his interview with Rappler.
BBC then followed suit and proclaimed AlDub to be a social media phenomenon about love and lipsynching. BBC trending also released a video on the cute little hand wave that the couple popularised. Recently, the duo's interview with Rico Hizon was featured on BBC News.
In Bloomberg's October 29, 2015 "Brandstanding" segment, iSentia Social Media Manager Ehden Llave Pelaz and Rishaad Salamat of "Trending Business" discussed how the 'AlDub' Phenomenon has taken twitter by storm. Bloomberg declared 'AlDub' to be a gold mine with a global reach spanning five continents. "Anyone who gets associated with this couple sees a remarkable increase in business."
Buzzfeed joined in on the fun and created a hilarious video on how Americans Respond to #AlDub. A buzzfeed contributor also paid tribute to Yaya Dub's partner Alden Richards, providing 20 reasons why he's the ultimate bae.
The hacktivist group Anonymous took advantage of the AlDub fame when its Philippine arm targeted Maine Mendoza's social media accounts. When fans expressed outrage at the hacking, they then released an apology through their Facebook page.
Everything AlDub touches becomes gold
The golden touch of Philippines' sweethearts AlDub does not only make advertising campaigns viral, they convert to sales, too!
McDonald's Philippines
Take for example McDonald's, whose move to make the couple brand ambassadors yielded more than 470% increase in sales after they released their #ALDUBKoTo commercial.
McDonald's applied the split screen dubsmash format that AlDub is known for in their television commercial, which garnered almost 5 million hits on youtube. It spawned a second ad and also a spin-off with Yaya Dub's 3 grandmothers (Lola Nidora, Lola Tidora and Lola Tinidora), who are also enjoying their own fame. In fact, Lola Nidora has branched out and starred in her own advert from BPI.
Nestle Bear Brand Adult Plus
Bear Brand takes advantage of the split screen in a clever way, forming new words when Alden and Maine put their placards side by side.
Unlike Mdco, Bear Brand didn't release any report on sales. However, their video became viral with over 4 million views on Facebook and over 300k likes.
Hardieflex
When AlDub's first meeting was sabotaged with a wall that fell down between them, Hardieflex turned that memorable scene into an ingenious marketing move.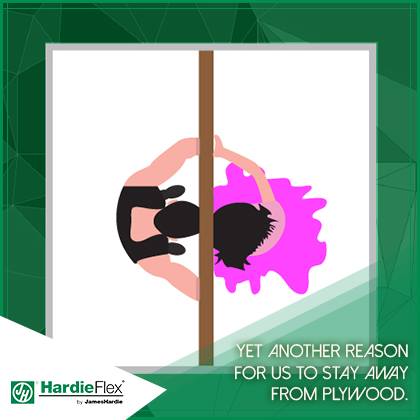 Although Hardieflex didn't disclose any dramatic increase in sales, their image had over 3500 likes and was shared 1,640 times.
O+ USA
What makes the AlDub phenomenon amazing is that even individual endorsements sell.
Maine and Lola Nidora starred in a hilarious ad for O+ USA that tied up the traffic in Manila with the phone's long battery life.
Proof of Maine's effectivity as a product endorser? O+ Ultra was sold out.
AlDub has also invaded print media
Apart from being brand ambassadors for Zonrox, TalknText, Hapee, Belo, Downy, Tide, Rejoice, and Coca-Cola, AlDub was also featured on multiple magazine covers for the month of November.
YES! Magazine dedicated November's issue to the phenomenal love team through a 136-page special feature with over 200 photos of the people who were involved in their noontime segment. When Preview magazine released the first look of their cover with AlDub, the image got 11k likes in less than 24 hours.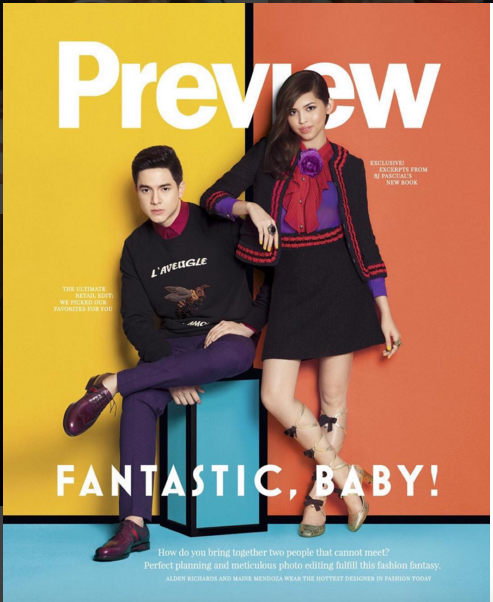 AlDub also scored solo covers for November, MEG for Maine and MEGA men for Alden. The couple is also on the cover of Reader's Digest's holiday issue in December.
#AlDub is not enough to make posts viral; relevance still counts
Some people assume that they can ride on the AlDub wave and that anything with #AlDub will go viral. That isn't always the case. Relevance still counts. An apt example of this is 6 reasons why you should pick up client courtship tips from Alden Richards of #AlDub. Anyone with knowledge on SEO can spot the spammy links a mile away especially from conspicuous keywords like million-pesos properties. It makes no sense and you can tell from the comments that readers think so, too. The mere 175 shares tells a lot about the article.
Compared to that, 7 Values Real Estate Brokers Can Learn from #AlDub is able to strike a better balance by digging into the values espoused by the kalyeserye and relating it to the real estate profession. This article got 518 likes on Facebook and was shared 757 times.
Bottomline: If you want to jump on the AlDub viral bandwagon, do it the right way.
What's next for AlDub?
Aldub's latest project is a movie titled, My Bebe Love, which is predicted to make a killing at the box office when it hits theaters this month. Will this transition from the small to the big screen mean more films for Maine and Alden? What will happen when the AlDub characters get married? Will fans ever tire of this fictional fairy tale?
Nobody knows if AlDub's momentum will wane or burn brighter with each new project and endorsement. One thing is certain. AlDub has made an indelible mark in the entertainment industry and even sparked the world's interest. At this very the moment, the future looks bright for the global phenomenon.