Restaurant marketing has evolved.
Newspaper advertisements, fliers, and yellow pages are not enough. The world is going digital with their marketing efforts, it's time you did too.
The competition out there is increasing with each passing day. Your patrons are spoilt for choice.
Don't worry. You can push the odds in your favor and outshine others in the industry. But it will take vigorous efforts from your side.
Digital marketing is an ongoing process. It needs to be treated well on a continuous basis. The better you perform your strategies, the higher will be the chances of your ranking better on the search results.
This just means that when someone is finding restaurants similar to yours, you could be the first one they come across. You can use tools like Rankwatch to get all the data you need on your website ranking and more.
However, this won't be enough. You must understand, today, there are plenty of factors that an individual considers before finalizing the spot to eat.
How the food looks, how are the reviews, is the place Instagram worthy (a social media platform), and what are others saying about it are some of the many factors that people in the digital era consider. Word-of-mouth is simply not enough.
You can showcase it all and build yourself an online portfolio for social proof using proper marketing strategies. Here's how you can do it: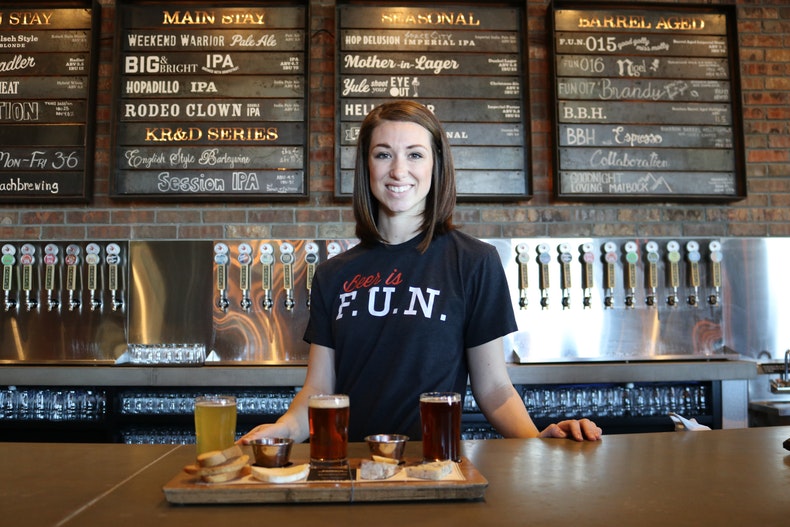 Build a website
First thing's first.
Building a website is your entry into the digital world. Think of your website as a replacement for your brick-and-mortar restaurant on the web.
Your website is the face of the company. It's important you showcase your brand's value and story with the help of your website. This is because when a consumer comes across your brand name, the first thing they do is research.
They want to know how credible you are and the website is the first thing they judge you upon. Hence, creating a website should be your priority.
Now, what kind of information should you be sharing with your potential customers? Everything they would have gotten to know had they physically entered your restaurant.
So, your website should have your menu, special offers, location, and hours of operation.
Additionally, you should also be adding your brand's story, about your team, the specialties, and the origin of your business. These things help your customers understand your brand's origin. The more authentic you are, the better.
For many, food is an experience itself. And, when they know the timeless tales and who is cooking for them, it promotes transparency and helps gain customer's trust.
Moreover, chances are your customers will not always be using a desktop/laptop to go through your website. They might even use a smartphone, for instance. Thus, it's important for you to ensure your website is responsive and optimized for mobile phones.
Lastly, your customers first eat with their eyes. If you post low-quality, randomly clicked photos on your website, it will be a huge turn-off. Hence, you should invest in getting the pictures of the food, your restaurant, and your staff clicked professionally. It'll be worth every penny.
Please note, if you are not producing your content for the website on your own and hiring an agency instead, make sure you have any one of the duplicate content checkers handy. Duplicate/plagiarised content can lead to hurting your brand image.
Maintain online branding
Every physical restaurant has a vibe.
While some might seem warm and cozy, others might exude elegance and sophistication. These emotions are felt because of the interiors, the colors, and the fellow guests in the restaurant.
How do you induce that same feeling in the digital world? By working on your brand identity, which should be cohesive with your physical restaurant.
Brand identity is more than just your logo. It's your tone, colors, typography, messaging, photographs, videos, and more. All the elements of your brand identity should complement each other if they actually need to work out for you.
Your brand identity helps you differ from others. It enhances your recall value and helps you maintain consistency.
When working on your brand identity, you should always start by defining your target audience. What kind of individuals would you like to serve? What age group? Are they working professionals? What kind of energy do they prefer? And, more.
This will help direct your brand identity efforts. You should always start by designing your logo, followed by finalizing your color palettes and typography. It's also best to identify the kind of photos and videos that you would like to publish.
This brand identity should be reflected in your website design. Otherwise, no one will be able to relate to your website if they reach there from other sources like your social media accounts. Cohesiveness is inevitable.
Get listed on food apps
When you start marketing digitally, already established food apps become a crucial part. These food apps have taken over directories and yellow pages.
Today, consumers find their best spot to eat using these apps. They have everything they need to make the final decision in that app.
It's best to take advantage of this and partner with the various food apps. However, be careful with who you are choosing.
You should research and find out the local food apps that are working the best for others around you. You don't want to be using an app that won't bring any results. You have only so much authority in there anyway.
Make sure you are adding the right location, opening hours, and contact number.
To offer an impeccable customer experience, attend the calls you receive from the app.
Also, add good-quality, appetizing photos to your profile. This ensures you are keeping your customers hooked. Photos with fully plated food, good lighting, photos of the ambiance, and of people enjoying your dishes are a great way to attract the audience.
Just like your website, your profile on the food apps should also be outstanding. You never know who will come across your profile on what platform.
Use local SEO
Before you start attracting tourists to your restaurants, you need to make sure your restaurant is completely booked locally. This can only be done if your locals are aware of you and prefer your restaurant over others.
While preferring you over others majorly depends on the kind and quality of food you offer and the experience of your customers, awareness (or visibility) can be taken care of by local SEO.
Local SEO Services will help your website rank locally, which is exactly what you should be aiming for.
The first step towards local optimization is creating and updating a GoogleMyBuisness account. Make sure you are adding your local keywords, especially the ones with 'near me'.
When you do that and put in your continuous efforts, you will witness your restaurant ranking on Google as people search for restaurants in your location. Just make sure your restaurant has good ratings and reviews before you start ranking. It will leave a good impression.
Go social
Social media is perhaps the most crucial part of digital marketing.
In the past few years, we have seen social media quickly become an integral part of our lives and that of your customers. It only makes sense to leverage it to the fullest.
Social media is a game-changer when done right. You must understand it takes hours of planning and strategizing. Social media is not just about posting random photos. So, what exactly is social media for restaurants about?
Firstly, figure out the platforms you are looking for. The best one is Instagram, followed by Facebook, and then Twitter.
Your social media should look like the most appetizing and personalized pages out there. Food is about fun and excitement. It shouldn't be formal. You should invest in getting amazing, high-quality photos clicked of your food, staff, and your guests (with permission).
Share a few behind-the-scenes of the kitchen, photos clicked by your customers, and capture the essence of your ambiance.
Apart from that, you should use social media to share special offers and discounts. You can also host contests and giveaways to attract more audiences.
Make sure you are using the right hashtags, posting during peak hours, and putting effort into building a relationship with your audience.
Leverage influencers
Influencer marketing has proven to be a great strategy to attract the right kind of people.
There are plenty of food bloggers, food vloggers, food photographers, food critics, and more food professionals on social media today. It's best to leverage them.
More often than not, these bloggers and photographers have a great following. Think of influencer marketing as a referral plan on a large scale. Many of these followers consider influencers their friends.
Food influencers go around the top (or not) spots around the town and review the dishes. They even click pictures or make videos of them eating your food.
It's best to partner with a mix of macro and micro-influencers. This will help you expand your reach. You will get a chance to become visible in front of the audience of your chosen influencer.
Just be very careful when selecting one. Since there are many unethical practices (like buying followers), it won't solve any purpose if you don't choose wisely. You need to make sure that the influencer engages with his or her audience and that they have a good, genuine following.
Get into email marketing
Email marketing is one of the most overlooked forms of marketing, yet the most effective one.
Emails are a great way to reach working professionals. They open so many doors to improve your recall value.
You can use your website to collect email ids and other related data of your guests. You can also get their email ids by asking them to fill a form when they visit your restaurant.
Just like social media, you can use email marketing to make your customers aware of your special offers, discounts, or events, if you are hosting any. Emails are also great to share any new additions to the menu.
You can start a monthly newsletter with all the highlights mentioned in them.
But you need to be very careful when creating a strategy that circles email marketing. This is because you don't want to be looking like a spammer.
There are a lot of factors like the time you send it at, the responsiveness of the email, A/B testing of different variables, and more. Email marketing is crucial but very delicate.
Thus, it is often suggested to consult an expert when it comes to such strategies.
Request online reviews
Positive reviews on your profile are extremely vital.
Most consumers first take a peek at how others are finding your restaurant. If you have a very poor rating, chances are that customers will not even take a second look at your profile.
Online reviews are a part of your local SEO. The better the reviews, the more footfall you can expect.
You can request your customers to share their reviews on your service, food, and ambiance. This helps give others an idea of what to expect when they visit your restaurant.
Also, once you get a few reviews and if you find a few negative ones, don't leave them hanging. Make a conversation, try to talk to them on a personal chat, and then offer a better experience. Leaving them hanging would showcase you don't care about your patrons.
This can hamper your reputation publicly. Thus, it's better to try and solve customer issues.
Host events and contests
Inviting famous personalities over to your restaurant is perhaps the most famous gimmick.
This can help promote your restaurant and spread the word about it like wildfire. From jazz artists to singers, from comic standups to Oprah performers, all the leading restaurants have hosted many banging events. You can do that too.
The best thing about hosting these events is the traction you get.
Every personality has a social media account today (well, mostly). You can ask them to share about the collaboration on their social platforms. If they tag your social media account, you will have magnified visibility. This improves the chances of an increased footfall.
This is also another reason you should have an appealing and well-planned social media presence.
You can also host contests where your patrons can win free meals or discount coupons for your restaurant. This is another way to step up your reach digitally.
Use public relations
You will find many businesses not leveraging the power of the positive press. You shouldn't be one of them.
Be proud and share your success as well as achievements with your customers. The sole reason to do this is to improve your credibility and gain their trust in return.
Every award that you receive, every food critic article, milestones, or information about your staff, everything should be shared either on the website or social media, or both.
This is important to give your digital reputation a boost. You can also start incentivizing food bloggers that mention good things about you. Once this spreads around in their network, you might get more positive mentions.
Make sure you reshare or repost these positive reviews from influencers and bloggers on your social media, as discussed before.
Get on board with SMS Marketing
SMS Marketing is one of the best marketing channels for restaurants. Just like emails, you can get the required data by asking your patrons to fill an online or offline feedback form.
SMS often has a high opening rate and thus, is considered to be one of the most successful strategies for restaurants specifically.
You have to be very careful when working on the SMS campaign. Your SMS should have a short and clear CTA, a link where your guests can order online, and a phone number.
Your SMS does have a chance of converting well, but only if they are crafted well.
You can also share offers and special discounts you are offering using SMS marketing. In fact, you can also ask your guests if they are okay with you contacting them using WhatsApp, this will further help you get your foot through the door, if nothing else.
Don't miss out on paid ads
We have already discussed how useful social media marketing is. Now, you have an option to move on from organic reach and get the attention of more eyes.
This can be done using sponsored ads/paid ads. Paid ads are a great tactic that you can use to reach even a larger chunk of the audience.
When you plan on running ads, make sure you are only using your most appetizing and high-quality photos. If you use low-quality images, you will be wasting your money. Also, make sure that your content is pretty compelling.
By selecting the right audience and using the perfect messaging, you will be able to bring in an amazing ROI, and that's exactly what you need.
Paid ads can get a little time-consuming with regards to testing. To get the best results, you should test and optimize different variables. If you don't test, you wouldn't know what exactly is the problem with your ad. This can make it difficult to optimize your ads and get the desired ROI.
Conclusion
To conclude, we can say that restaurant marketing is not easy. However, when done right, it can certainly bring a great ROI.
In the world of marketing, social media has taken over. Thus, it should be the most important and well-planned part of your marketing strategy. Make sure you are leveraging email and SMS marketing as well. These methods could be a great way to share special offers and discounts with the audience.
You must understand that marketing is a continuous process and should be treated like one.