If your website fails to comply with the Americans with Disabilities Act (ADA), then you run the risk of getting sued.
You could lose thousands of dollars depending on how the lawsuit turns out. Not only that, but you run the risk of ruining your brand image, as well.
To help you keep this from happening, you will need to ensure that your website is ADA compliant and accessible to people with disabilities. And what better way to do this than to leverage the power of Artificial Intelligence.
The application of AI technology in the realm of web accessibility can give your website the features it needs to become ADA compliant, which is why AI will matter now and in the near future.
If you're ready to learn how AI can safeguard your business from ADA lawsuits, then read on to find out.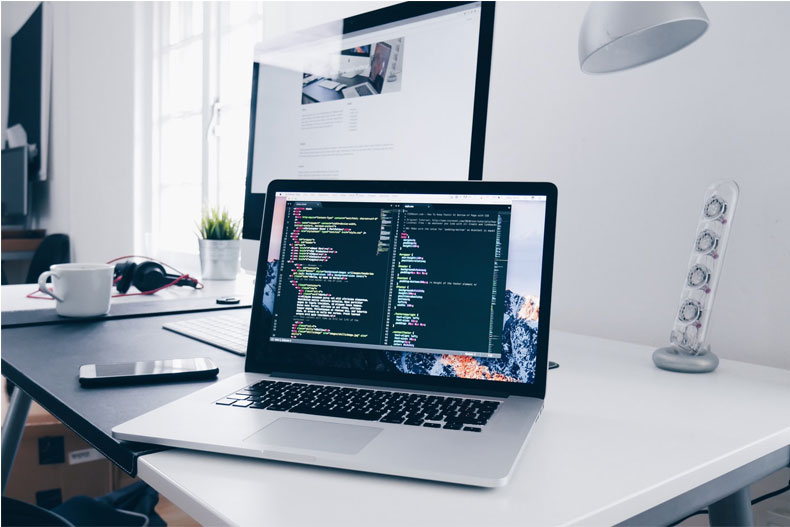 AI can power web accessibility platforms.
Modifying your website so it becomes ADA compliant can be expensive and time-consuming. After all, you'll need to make quite a lot of adjustments to your website content, elements, and functions.
You will also need to be mindful and be constantly tweaking your website when there are new content or updates, to make sure that there aren't any compliance gaps.
All of these can be a major time-suck for you — if you do them manually, that is.
When you leverage the power of AI-powered web accessibility platforms such as accessiBe, however, you have an automated web accessibility solution that will turn your website fully accessible and compliant with the ADA.
accessiBe uses machine learning to scan your website, understand it, and deploy an accessibility interface that allows your PWD users to adjust your site based on their preference.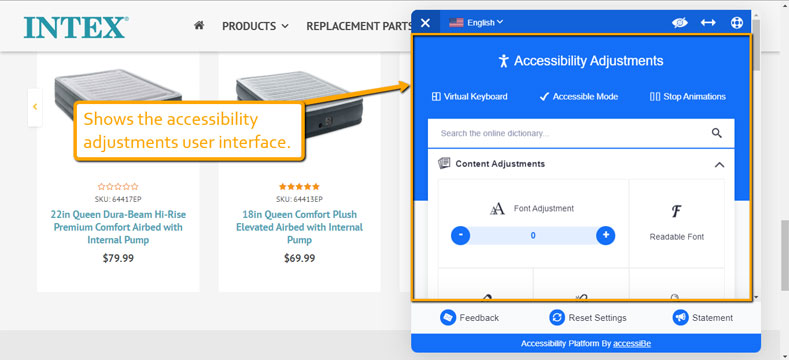 accessiBe's accessibility adjustments interface lets your users create a personalized experience by changing your website elements like your content font size, color and display, navigation options, and more.
This makes it easier for your website visitors (with disability) to navigate through your site with ease.
With accesiBe's AI technology, your website will be both ADA compliant and accessible to your disabled users.
AI can provide seamless keyboard navigation.
For your website to comply with the ADA requirements, it needs to allow your disabled users to navigate through your site effectively and with minimum to no human assistance, using keyboard navigation.
However, if your website isn't accessible and ADA compliant, site navigation for your users with motor impairments can be a nightmare.
AI-powered background applications can be your solution. The background apps can make your website PWD-friendly and ADA compliant — such as optimizing your keyboard navigation functionality.
For instance, your AI can ensure that your website is navigable using the Tab key alone for your keyboard users — even when you add new web pages, content, or blog posts.
It works by having AI technology scan your website and adapting any changes you've made so your users can browse through newly added parts of your site using keyboard navigation.
This way, your website maintains ADA compliance and accessibility at all times without you needing to manually do loads of coding to accommodate updates or new additions to your site.
AI can leverage image recognition technology.
Remember that for your website to be ADA compliant; it has to be accessible to different types of disabilities — including blindness and other visual impairments.
Making this happen, though, can mean that you need to make massive adjustments to your web design and loads of coding.
With both the AI and image recognition technology, you can optimize your website for screen readers — allowing your blind and visually-impaired users to consume the content on your website easily.
This works by using AI software that can scan, analyze, and "learn" your website structure, forms, element roles, images, etc., to make your site compatible with screen readers.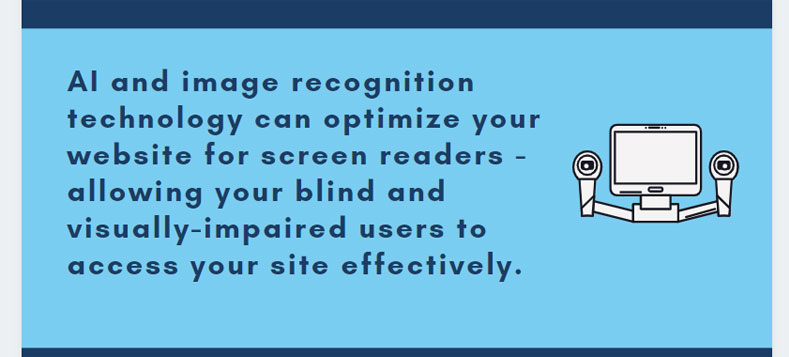 For example, using Optical Character Recognition (OCR) technology can provide accurate Alt Text descriptions to your web images and icons.
This allows the screen readers that your visually-impaired website visitors use to "read" your web images and other visual elements more accurately — which improves their experience on your site.
AI offers ease of access through facial recognition.
The primary goal of making your website accessible and ADA compliant is to make it easy and comfortable for your disabled users to use your website.
One of the best ways to do this is by using AI-based facial recognition technology on your website.
The technology makes it more convenient for your PWD users to access your password-protected content without needing to type in their credentials or CAPTCHA codes.
This provides your PWD users the ease that they need to access your website.
For instance, your visually-impaired users won't need to type in their passwords and credentials when they login to your website since AI-based facial recognition can allow instant access.
AI-enabled technology can identify multiple images of the same person from various angles.
Plus, it learns from previous interactions and experiences and makes data-based predictions to recognize the person in front of the camera — allowing for accurate recognition and ease of website access for your disabled users.
AI makes your web design elements accessible.
Web design elements such as your banner ad animations and popping colors can help catch the attention of your site visitors and eventually turn them into buyers.
However, if you want to stay away from accessibility-related lawsuits and improve the user experience of your PWD users, you need to ensure that your web design elements are accessible.
If you include videos on your website, for example, you'll need to ensure that they have closed captioning available to cater to your users with hearing impairments.
Doing this, however, means you'll need to spend time and energy on the process of captioning your videos.
This is where AI technology can come in handy.
AI-based automated closed captioning helps you do away with manually adding captions to your website videos.
AI speech recognition technology can conduct a contextual analysis to learn the phrases and words that have the same sound that you use in your videos.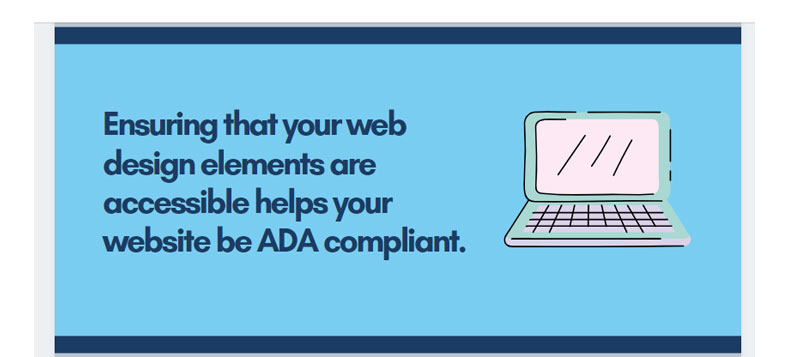 The technology also allows for trainable closed captioning that can master pronunciation nuances for more accurate visual transcriptions of your audio content.
This allows your website to cater to your hearing-impaired users by using AI that provides accurate closed captioning for your web videos – making your site both accessible and ADA compliant.
Are you ready to become ADA compliant with AI?
Leveraging Artificial Intelligence to make your website ADA compliant can spell the difference between you staying clear from lawsuits and have a fully accessible site that follows the law.
Not only can AI make your website PWD-friendly and keep you away from ADA lawsuits, but its application to various technologies will help you maintain ADA compliance at all times.
If you learned something from this guide, please don't hesitate to click on the share buttons. Cheers!