Running a single barbershop can prove challenging, but when a business decides to expand its network by opening a chain of barbershops, things can get even more difficult.
When business is going well, you can expect to take several bookings throughout the day. In the past, a lot of managers would have had to write down each booking, make contact with the barbershop's employees to tell them about the upcoming booking and make sure that the customer showed up to their appointment and paid for the service.
Thankfully, due to modern technology, you don't need managers and paperwork to ensure each client gets their haircut. Nowadays, you can rely on barbershop software that is specifically designed to help you run a barbershop chain. All bookings are made online, and the software will notify both the customer and the employees working at the shop about the upcoming appointment. You can sit back and watch the business run itself!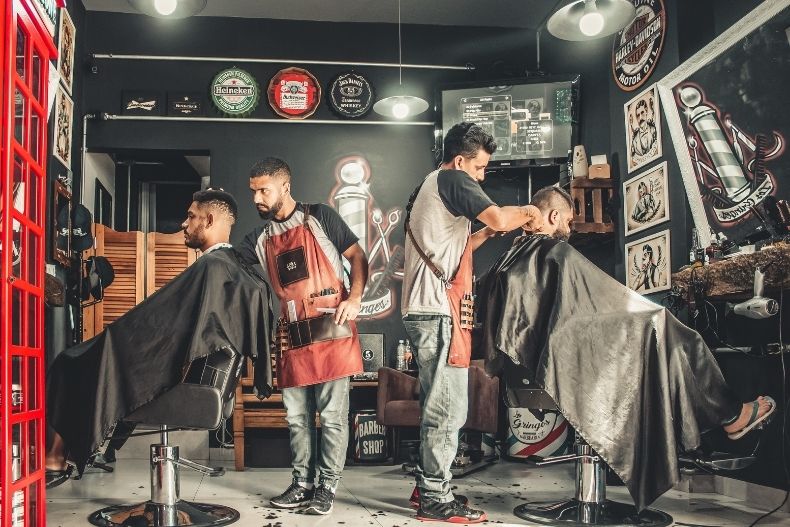 Salon Management Software will Allow You To Manage Several Shops at Once
If you are managing or you own a network of barbershops, spending each day in every single shop won't be possible. If the chain grows in popularity, you might end up opening stores throughout the country, so it is important to have a reliable management system in place.
Consider investing in a software package that updates itself when it is connected to the internet. Each barbershop should have a device that runs the software, and because it is connected to the internet, management will be able to review and edit information from any location. Running a reputable software package that lets you control every shop that is part of the chain without having to physically go to the store will help each barbershop succeed.
The system should provide you with useful insights that can help improve the business. The latest software available will provide you with statistics, which can be used to help grow the company.
Customize Pricing
If a barbershop offers some of their customers' special rates, without a system in place, keeping track is going to prove challenging. Find a system that allows you to change the price for certain customers.
If you are offering discounts (such as student discounts), or a promotion, it is important that you can change the price on the system. Keep in mind that it's difficult to customize the price on some software packages.
If each barbershop that's part of the network decides to charge their customers different rates it can damage the chain's reputation. It's advised to offer the same discounts and promotions in each store. The software will provide information about how much the store needs to charge for their services, and it will update them on discounts.
Software That Manages Each Barber's Schedule
The bigger the business, the harder it is to keep track of staff members. Investing in a salon management system will inform you and the employees when they are supposed to work, and when they have time off. With a click of a button, you will be able to see who is entitled to days off, vacations, etc.
You will be able to track sick days with ease. If some staff members are taking too many days off, you will be able to access this information through the software.
Barbershops that rely on traditional organizing methods often get confused, and they are unable to tell you who is entitled to holidays, or who has taken days off work.
You will also be able to access important information about who cut the client's hair. If a disgruntled customer has a complaint, you will immediately know who dealt with them because it will be on the system. If the customer would like to get a haircut from the same barber they had used in the past but they are struggling to remember their name, you can find out the information by accessing the software.
You Won't Have to Worry About No-Shows!
The best salon management software will send a reminder to both the client and the barbershop about upcoming appointments.
When customers don't show up, it can cost the barbershop a lot of money. However, forgetting about a scheduled appointment is normal, which is why the software will send an email, text message, or a message on a social media platform to remind them about their appointment. If the customer replies and says they cannot make it, then the system will automatically update so the barbershop is notified. Instead of wasting time and money, the slot becomes available again.
Barbers are no strangers to no-shows, and it can prove highly problematic, especially when they have a long list of clients to get through. Introducing a system that reduces the number of no-shows can benefit the barbershop.
Create a Website that Allows Clients to Make Bookings
Building websites from scratch is a lot easier than it used to be. Some scheduling software helps users create a modern website, and you will be able to add a booking system that allows customers to make appointments.
Although this might seem like a complicated process, some software helps users develop websites within minutes. As soon a client books a haircut, the booking system will be updated and the barbershop will be notified instantly. It will also handle payments, in case your clients opt to pay before their haircut instead of after.
Don't Forget About Social Media
Of course, social media is a great place to promote a chain of barbershops. You can post updates about new services, discounts, and working hours, but you can also encourage your customers to book appointments through your social media account.
Once they have booked an appointment, all you need to do is enter the details into the system and the appointment will be made. You don't have to call the barber directly, nor send them a message.
If you have a booking system set up on your websites, consider advertising your site on the chain's social media accounts. The downside with bookings made on social media is that they won't automatically be entered into the booking software. The person who receives the bookings will have to do it themselves, which is why you should promote your online booking system.
Conclusion
Even if your chain employs the best manager out there, they won't be able to be in two places at once. Running a chain of businesses is not an easy task, which is why the owners should look into a system that helps them manage the entire network from a remote location.
However, before investing the company's hard earned money on software that helps you run the business, consider downloading multiple trial versions first. Software developers that are confident with their products often allow potential customers a free demo version of their software. Although they might only provide you with a limited version of the product, you will be able to get an idea of what it is like to use the software. Consider asking people working for the company to try it out too, and don't forget to ask them for feedback. Keep in mind that they too will be using the software regularly.