Your office space is important, it serves an essential purpose, a place to work and complete vital business tasks. The space needs to encourage productivity and promote creativity, it should be clean, functional and conducive to long hours in the office working on important projects. An office spruce up can completely change the way you work and boost productivity and creativity.
Here are some effective ways to revamp your office on a budget, use all or some of the tips mentioned to completely transform your office space.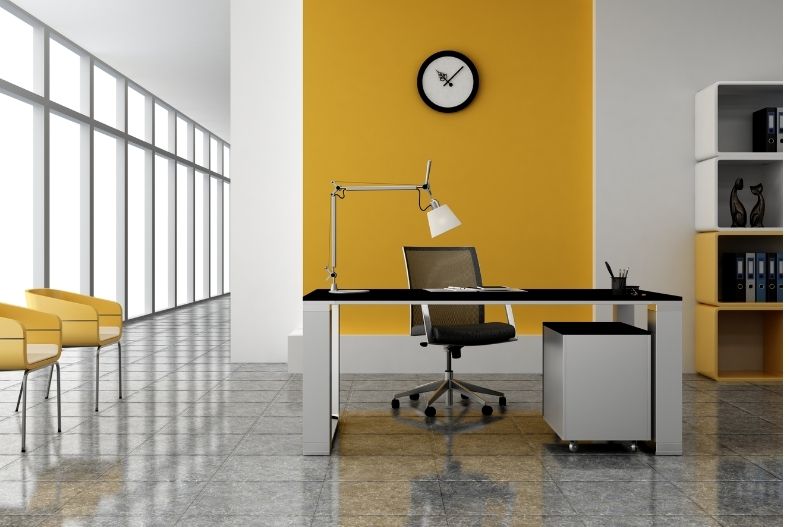 New Paint
The first step in revamping your office is fresh, new paint. If you don't have the funds to paint your whole office. Choose one wall, this will be your accent wall, the colour you choose will dictate the colour theme for your office space. For example, if you choose grey, you can choose complementary colours such as vibrant pink, yellow or turquoise.
Wall Art
Adding wall art is easy, low-cost and creative. Purchase wall art from your local department store, thrift store, flea market or online sellers. You can buy printable art files and print and frame them yourself, you can also create your own wall art if you feel like getting your hands dirty.
Clean Your Space
A deep clean will give any space a fresh, new vibe. You can either clean your space yourself or hire a professional commercial cleaning company to do it for you. Expert cleaners will provide you with an extensive deep cleaning service which will give your space a fresh new look.
New Storage
Office storage is essential, get creative with your storage solutions by purchasing old wooden boxes that can be revamped and painted. Ottomans are excellent for storage because they are multipurpose, they can act as seating as well as storage.
Fresh Flowers
Fresh flowers and green plants add vibrancy and renewed energy to any space. Choose bright colours and contemporary vases and pots to uplift and re-energize your office space.
Desk Lamps
Lighting is key, design your own lighting with office desk lamps, artificial candles and lampshades.
Functional Accessories
Choose functional accessories that are multipurpose as well as stylish such as modern desk organizers, file trays and drawers. Choose stylish pieces that compliment the theme of the room.
New Window Dressings
Blinds are excellent for office windows, they are clean, modern and functional. However, if you want a unique and stylish look, choose drapes instead of blinds. Although suggesting drapes might not be the most practical interior design advice for office space, it might be the best advice for anyone who wants a distinctive office space design.
Floor Rugs
Floor rugs are the budget-friendly way of revamping the floor, instead of retiling or installing new carpets, have the floor professionally cleaned and add some bold and colourful rugs instead.
Revamp your office space on a budget by trying some of the tips mentioned above. A lick of fresh paint, flowers, plants, art and accessories will help to transform your office space from drab to fab. A deep clean, and some functional storage additions will also add a new, fresh vibe to your office, a bit of imagination and creativity and you can certainly transform your office space into a place you love and cherish.