Although telecommuting was already on the upswing in the past, it has risen significantly these days, especially with more people now working from home. It's becoming an increasingly viable option in today's economy. While telecommuting is not necessarily more productive than working in an office, it can be much more convenient and effective for many people, and it can offer a number of advantages to employers as well.
If you work from home, you'll be able to focus on your business more than if you were working in an office. You can be sure that you're less likely to miss deadlines because of traffic jams or anything else going on, because you can actually keep your work going during times that you may be otherwise too busy to do so. The same thing is true when it comes to handling any emergencies that may occur at work.
Here are some great tips to stay connected while you're working from home: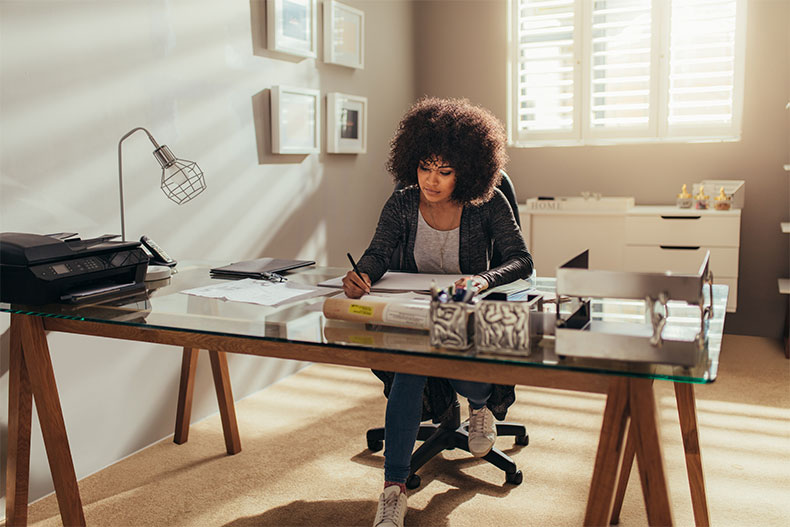 Use The Right Online Communication Tools

There are many programs that provide a way to stay connected with others while you're working from home, such as Microsoft Teams, Google Hangouts, Zoom etc. These online communication tools facilitate easy communication and collaboration between team members.

Google Hangouts, in particular, is an amazing cross-platform app for messaging created and released by Google. Hangouts quickly became a part of the Google+ community and was then integrated into the Google apps family. How does Google Hangouts work? The application is meant to be used as a way for people to stay connected without the need for a web browser. Hangout can be easily installed a desktop-based program, or as an app on mobile platforms like Android phones, and tablets such as the iPad and other similar products. Hangouts allows you to record videos, chat with people via your webcam, and even share videos on YouTube.

While using Google Hangouts, you should ensure that your computer and your phone are compatible. Make sure that both your phone and your computer have the latest updates. Otherwise, some of the features may not work, and you won't be able to view your pictures or share things with your friends. Make sure to check this before trying to upload anything or use the Hangouts app.

Set Up A Home Office

Productivity depends on your choice of working place. If you find a working environment that suits your needs and lifestyle, then your productivity and work efficiency will also improve. Thus, it's important to think about what type of working place you want to build as well as, its functionalities, location, and furniture.

The home office should be a place where you can relax and feel at home. However, not all working spaces have the perfect ambiance to keep you going throughout the day. A great way to get the best out of your working space is to optimize certain aspects in order to maximize the benefits they can bring. Here are some great tips you can try when you design your home office:

You should choose the desk that's suitable to your height, and that has enough space for you to move around easily.

As an alternative to using a corner desk, if you want more flexibility and convenience, then you could try placing a bookcase below it. This will free up more space for you to work, as well as give you a place for keeping supplies like paper clips, scissors, and other tools and files.

Your furniture should match your working style. If you plan on working long hours, then you'll need a comfortable chair that you can keep your body in for long hours while you're working.

Try to place your home office somewhere where there isn't a lot of traffic and where the location is serene. Sitting directly next to a door or a hallway will surely affect your concentration and efficiency, and may even create distractions. Try to place it in an area where you can work with complete privacy.

Try Renting A Coworking Space

You can also opt to rent a coworking space. It's basically a location where employees meet regularly to do work, collaborate, study, interact, have regular meetings, work on projects, work on other things, or just hang out and socialize. Most spaces are usually shared by several employees so that they can share their time, efforts, ideas and concepts. There are many great benefits to being able to do your work from a coworking space, such as the following:

It makes it possible for you to be completely focused on your project when it is completed.
You'll find that you are able to use a simple computer to do all of the necessary aspects of your job, and not have to worry about wasting time finding things.
It can be very convenient for you if you need to go somewhere else for a meeting or presentation.
Using an office space like this is important because it gives you the ability to be able to do everything from work to socialize and to collaborate with others. It also allows you to enjoy the perks of working in a professional environment.

There are various different ways that you can utilize a coworking room. You might choose to have a private meeting area that has your own chair and computer. If you want, you can create your own private computer desk and place the printer on its own stand. Another option that you have is to rent an entire room that is equipped with a desk, chairs, and even storage or filing cabinets.
Conclusion
Today, more companies are looking into allowing their employees to work from home. This type of setup offers many advantages. Many people like the freedom that comes with working remotely. Not only can you set your own hours, you can also work avoid traffic congestion and save time on commuting. No need to be at your desk by a certain time, no need to call for lunch, and no need to worry about the dress code.