Sales forecasting predicts the number of sales for a period of time and is one of the most important aspects of a business.
These days the future is becoming very uncertain. One day you can rule the business world with the highest market share like Nokia or face a huge loss and face crisis. So, it is very important to have a predictable revenue plan worked out. Sales forecasting is a process of predicting what the sales of a company might be for a fixed time period. It could be done weekly, monthly, quarterly, or annually. The process is done by using reliable data of the present and past. Forecasting is the combination of both art and science and helps the decision-maker of the company sketch out further plans for the expansion of the business. From investment planning to growth, everything depends on sales forecasting. It helps to estimate the probable ROI and the probable volumes of sale. Even marketing efforts are determined through sales forecasting.
Sale forecasting fuels business growth and has a huge impact on company valuation. But the bigger scene of this process is not always seen. But luckily we are passionate about this, so here are some reasons that will help you to understand the importance of sales forecasting: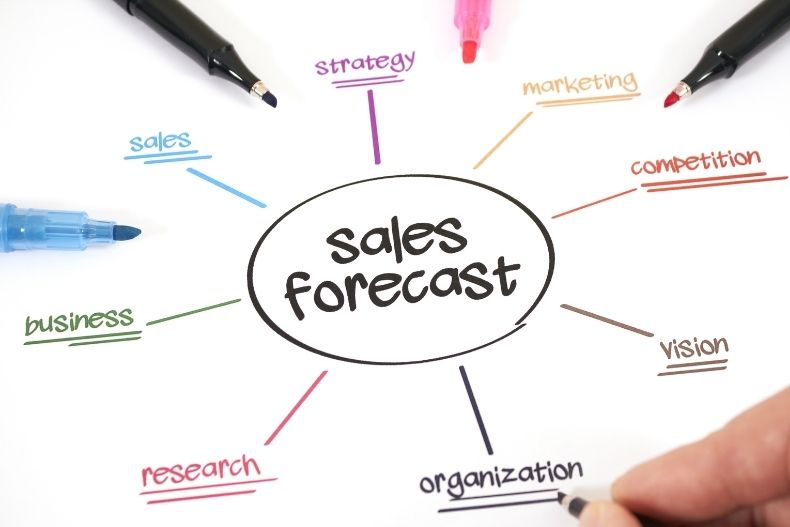 To Make Wise Business Investments
The moment you hit your predicted numbers and sales volume, your company can invest and grow confidently. You can invest in a new application, marketing campaigns, technology, and labor optimization but funds need to be invested in them. In cases like this, forecasting can help to understand when a business can get funds or sponsors or investors to invest in them.
With forecasting, you can understand at which time of the month you need the funds most. For example, if you have a great sales volume in the summer but less so in winter, the company can set aside a percentage of funds that can boost the growth trajectory for that specific portion of the year.
To Predict and Plan for Demand Throughout the Year
The process of sales forecasting is not just calling numbers. It helps you to plan for impending sales. The operation rhythm of the whole company depends on it. When it comes to producing products it is important to have numbers planned out. Forecasting depends on many internal and external factors.
Suppose that a natural calamity strikes and the demand for your product increases. You have to forecast in a way that you do not underproduce, or that you do not overflow the market and face a loss in the end. So, forecasting could help with overcoming temporary or long-term demand.
The forecasting needs to be done right. If the sales team also performs well, it will be a win for all. But forecasting incorrectly will result in distrust and everyone will lose.
To Improve Your Sales Process
Forecasting is solely related to sales numbers. Past behaviors of different aspects of your business will help to understand the condition of the future. Market, national income, investment opportunity, disposable personal income, etc. helps to determine the ways to improve the sales process.
It is important to take all economic conditions relating to business into account to understand how it would affect your business favorably or adversely. When you will understand how things work, it will be easy for you to identify the factors that work better. Past problems can be dealt with in the present and be better in the future.
Knowing the ways that have higher conversion rates and lower risks can help to gain a large volume of sales.
To Improve Company Morale
Accurate sales forecasting can lead to positive outcomes. The whole team is dependent on it, and it has a strong impact. Forecasting can help the team to better understand the market. Planning and decision-making fully depend on the predicted sales volume of a business. It also helps to identify problems faster and mitigate them.
Unexpected layoffs or project delays can occur due to inaccurate forecasting. Sometimes overpromising on the company budget or manipulating the financial statement of investments of the company can negatively impact your employees' morale. These can result in a high turnover rate or inefficient output.
To Quickly Identify and Mitigate Potential Problems
You can identify potential issues if there's a process of consistent forecasting in your company. Enduring past problems can be mitigated by sales forecasting. It can allocate resources for future growth and manage cash flow according to the paths that have been successful in the past. For example, if your company invested a good amount of money in marketing but has not seen a significant amount of sales growth, then this time either the money has to be spent on some other department or the target and demographic of the marketing campaigns need to be changed.
Having a forecast of what can happen due to the changes can be used to assist in decision-making and mitigating issues. Quick diagnosis of the problem affecting their sales forecast will determine the firm's share in the market in the future.
These were our points of view on sales forecasting. All of the different roles in a company depend on reliable sales forecasting. It is also seen that even after having accurate forecasting, growth might not be uniform. It sometimes can result in a decline. A forecasted plan always has a plan B and if nothing goes according to plan there is always room for adaptation.
But if there was no forecasting and suddenly a fall occurs, it would be a hard task to cope with it and save your business.
So, sales forecasting is important.