Planning is inherent to every business, irrespective of the field. It acts as the bridge between where you stand right now and the point where you want to be. Plans are a culmination of all available resources and ideas, structured to ensure optimum efficiency. Whether you're building your next website or planning an apartment building, project management's essentials remain the same.
Thus, project management is a practice of applying all available knowledge, resources, ideas, tools, abilities, and techniques to frame effective plans that can be used to achieve business goals.
Project-Planning:
As mentioned, project-planning is a critical business activity. To begin planning your project, you must have a specific objective in mind. Have an end-goal in mind, such that it can be compared to your actual result, to pin-point dissimilarities.
After you have identified your objective, you will see several ways (alternatives) to achieve your goal. List down all these alternatives.
Evaluate them on cost (financial viability), returns, and risk and choose the best alternative. This best alternative would function as your 'Core Plan' or 'Core Alternative.'
Let's understand how to build on this Core Plan.
Building the Core Plan
The core plan defines the key activities, dependencies, and timelines that will help the project adhere to the designated start and end dates and stick to the prescribed budget (cost).
A core project plan should include the following :
Scope Definition – What you want to achieve with your project, i.e., your project's aim.
Scope Plan – A scope plan is an overall estimate of the whole project, i.e., aim, objective, start and end dates, resources, skills, tools, and budget. It functions as a blueprint of the whole project.

The idea is to make your audience understand what the project is all about and what it hopes to achieve. Start with the goals and objectives you want to achieve and mention everything that will help you achieve them.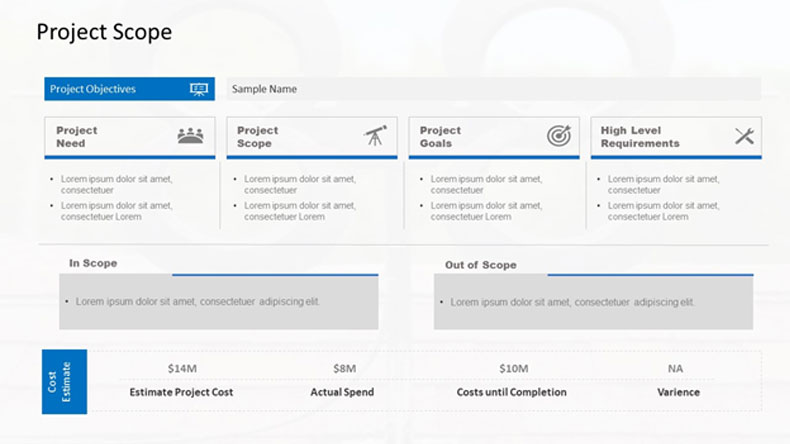 Source: SlideUpLift
Activity Definition – Define all your project's activities to make the reader/audience understand the project's journey, i.e., what tasks and actions need to be executed and when they should be implemented throughout the project.

Try breaking your end goal into small individual goals, which can be further divided into small activities and tasks.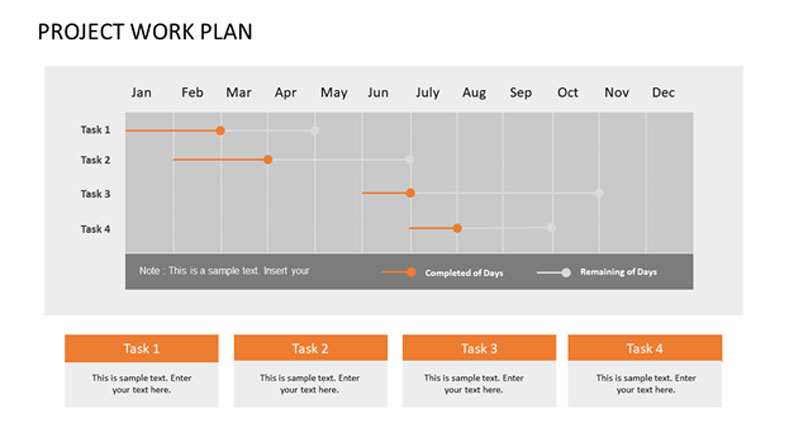 Source: SlideUpLift
Resource Planning – Resources fuel your project. You can't expect efficiency without managing how and when your resources should be used.

Define the number and type of resources needed and how they would be acquired. Explain how these resources would be allocated.

Allocate enough resources to every contributing factor to ensure a robust resource plan. List down all the tasks/activities of your project, find out the number and type of resources needed, and allocate accordingly.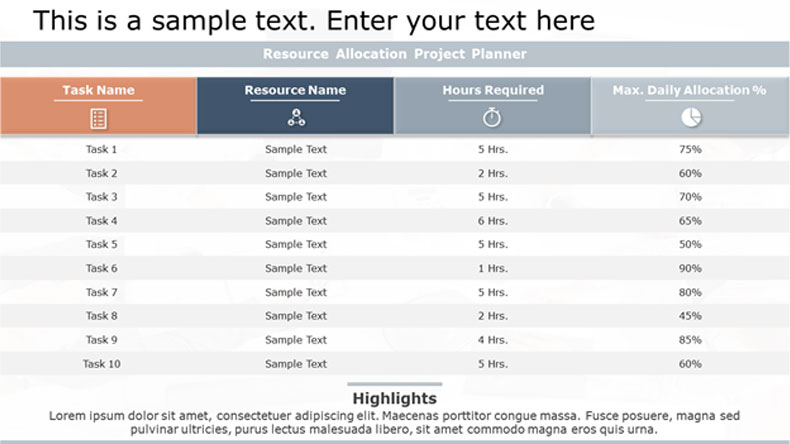 Source: SlideUpLift
Activity Sequencing – All your activities must be sequenced optimally. To achieve this, you must find out the dependencies of all the activities. After you have understood the linkage between all the activities, arrange them in such a manner that helps you execute them efficiently and effectively.

Sequence the activities such that it is efficient, quick, and feasible. Various tools can be used to achieve the same i.e., Gantt Charts.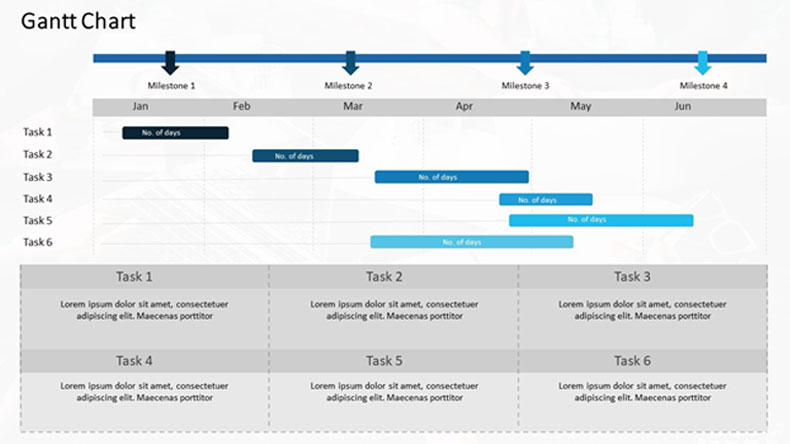 Source: SlideUpLift
Risk Management – The business environment is volatile and uncertain. You must understand every possible risk or uncertainty that may show itself later in the future.

List down all the possible future risks you can think of and plan to mitigate the same. Whether the change is due to money, stakeholders, markets, or a global pandemic like COVID-19, always have a Plan B.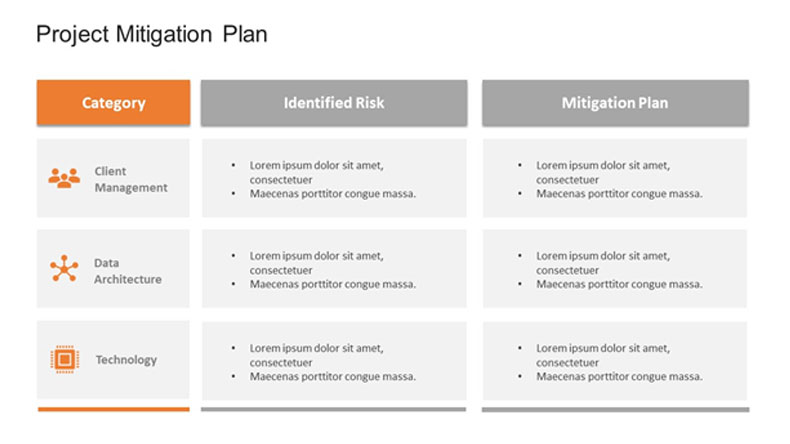 Source: SlideUpLift
Budgeting Plan – A budgeting plan will help you manage your project's finances and ensure that you don't overspend. Efforts must be made to keep your expenditure in alignment with the prescribed budget.

To mitigate an overspend, plan, and analyze multiple scenarios and try to find the optimum budget. Factor in all the important points that may lead to a misalignment later on.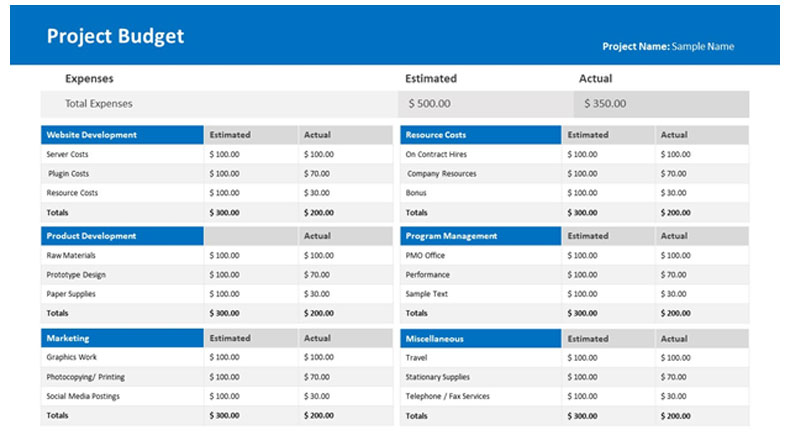 Source: SlideUpLift
Here is an example of a complete Project Management Template that you can use.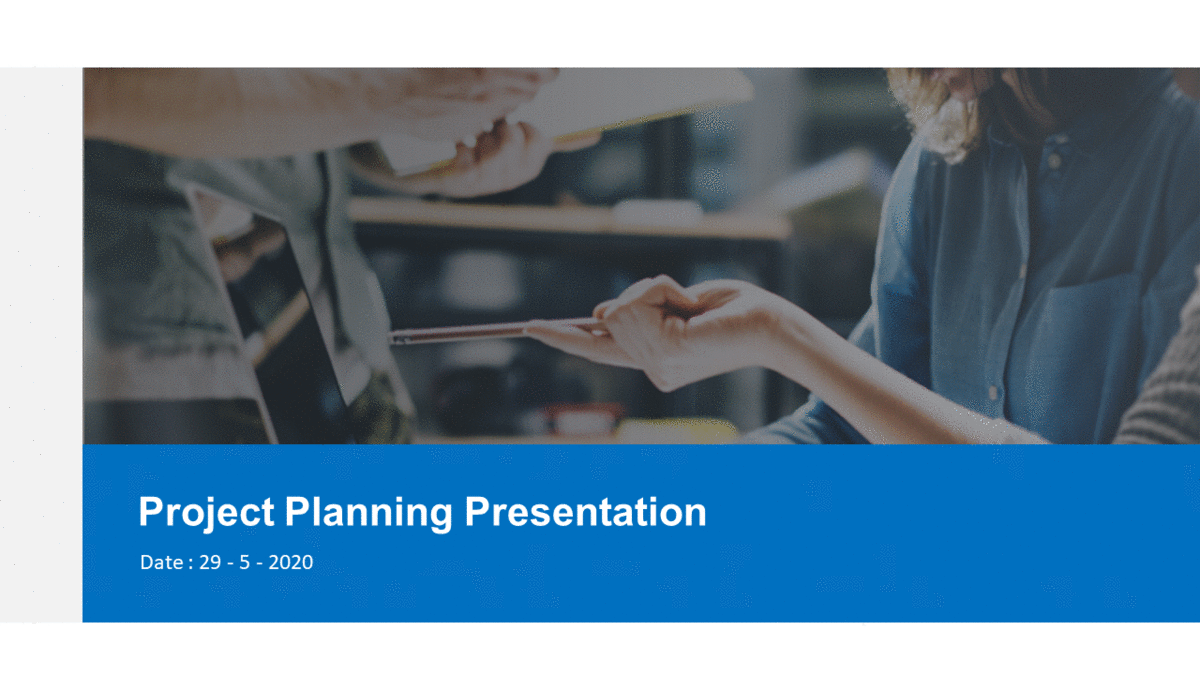 Source: SlideUpLift
Conclusion:
To sum things up, good project planning provides an idea about the project's overall goal/objective, the roles, responsibilities of all the stakeholders, and the project's overall feasibility. A Project plan helps give direction and structure to a project.
To download Project Management templates, you can head over to SlideUpLift that houses an extensive collection of project planning templates.