While many businesses have suffered as the result of COVID-19 spreading across the world, leading to business closures due to national lockdowns, it's not all doom and gloom. In fact, many creative and ambitious entrepreneurs have taken advantage of the current situation, with national lockdowns inspiring several people to finally take the plunge and start their own businesses. With uncertainty around what is going to happen with physical non-essential stores, restaurants and hospitality venues, many people have turned to online entrepreneurship in order to make the most of the current world situation.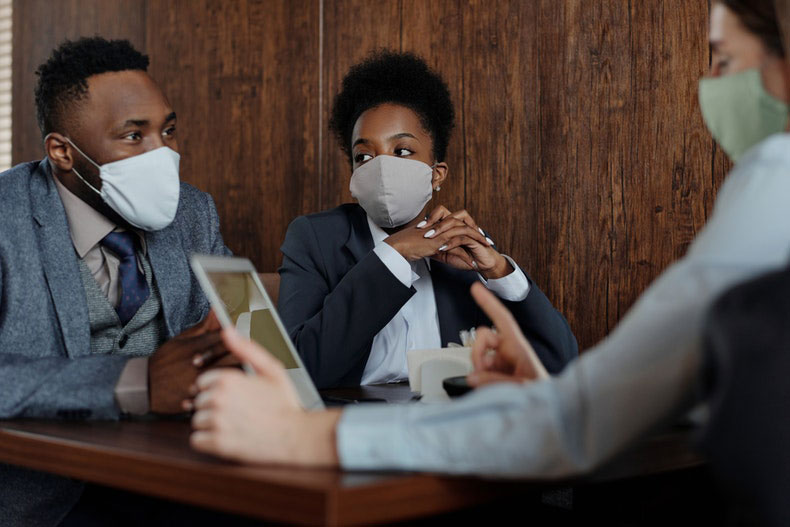 PPE Demand
The need for certain products has risen drastically as the result of COVID-19, providing new business opportunities for many aspiring entrepreneurs. For example, face coverings like the Virustatic Shield from VIRACTIV were in very low demand this time last year; however, we're now seeing a huge demand for face masks thanks to new laws regarding wearing them in public places. With the public in the UK now looking for safe and affordable ways to keep their face shielded while in public, new businesses like Viractiv have become necessary. Viractiv offers the best mask option for effectively preventing the spread of the novel coronavirus with a Virustatic shield designed to capture, kill and disable up to 99% of viruses including COVID19. With facemasks now mandatory for most people in public places, many people are turning to masks for sale like the one from Viractiv as they are eco-friendly, washable and reusable.
Demand for New Services
With COVID-19 and the national lockdown making huge and unprecedented changes to the way that most people do things in the UK, there has been an increase in demand for many new services both in the B2B and the B2C spheres. With lockdown forcing many people to work from home and kids to study at home instead of going to school, there has been a huge increase in demand for online video conferencing and communication services that have given entrepreneurs in this field the push to get started. In addition, with more people than ever before staying at home, delivery and online shopping services have experienced more demand than ever before. Now is an ideal time for aspiring eCommerce entrepreneurs to get their new business idea into the market with a huge uptake in online shopping over the past few months.
Unique Entertainment Businesses
With non-essential stores and destinations closed, travel tricky, and visits to pubs and restaurants restricted to people from the same household, many aspiring entrepreneurs have found a new opportunity to create businesses that help people stay entertained safely from home. New online games and creative ideas have been flowing since the outbreak of COVID-19 as the demand for things to do without going out has drastically risen.
COVID-19 is Changing How We Do Business
Along with creating certain new business opportunities, COVID-19 has also brought about several changes to the way that we do business. With stores forced to close, online business has boomed even more than expected. While online shopping was already becoming more popular than the high street, national lockdowns and the forced temporary closure of non-essential shops brought about an online shopping boom that nobody expected. As a result, there are now even more opportunities for entrepreneurs to start their companies online. COVID-19 may well mean the beginning of the end of the road for most high street shopping especially as people begin to realise the convenience and safety of online options in these uncertain times.
Job Security
One of the biggest issues brought about by COVID-19 was that of job security. While the majority of office workers have been able to work from home and those who work for essential businesses have been able to continue going to work, people who work in non-essential sectors or ran their own businesses in hospitality or entertainment have found themselves in a very precarious position. And with support packages like furlough for those who were unable to go to work during the lockdown period, and grants for small business owners unable to continue running their company coming to an end, more people are coming up with innovative ideas to continue making an income and enjoy job security despite the pandemic, which is inspiring a range of new, high-demand businesses.
Medical Field
COVID-19 has created even further demand for medical businesses. Not only has PPE for the general public now become an absolute necessity, but the healthcare service itself has seen a rising demand for hospital-grade personal protective equipment. Companies like CleanBox, which provide hospital-grade headset and equipment cleaning services using UV lights have not only been popular in the medical field itself, but also with a range of further businesses that can make use of this technology to keep their employees and customers as safe as possible. Engineering services have been in higher demand than ever before with a huge rise in the need for medical equipment like ventilators and oxygen masks to treat COVID-19 patients.
Non-Profits
Not all businesses started during the COVID-19 pandemic have been in response to the growing demand for new essential consumer goods and services. The worldwide pandemic has also seen an increase in the number of charities and non-profits set up in order to help those people in society that have been the most affected by the spread of the virus. During the national lockdown, local areas came together to create charities that worked to ensure that vulnerable people in society such as those who were shielding or people who were living on a significantly reduced income due to COVID-19 were provided with essentials such as food and household goods. Charities to support mental health and encourage vulnerable people to socialise safely have also increased.
Starting a Business During the Pandemic
Whether you have more time on your hands than usual due to the COVID-19 outbreak and want to use your extra time to do something productive, or are concerned about potentially losing your job in the future and want to ensure that you have a safety net in place, there are several great reasons to consider starting a business during this pandemic, with many services and products in very high demand. Conduct market research to determine a product or service idea that will not only enjoy high demand during the pandemic but also afterwards to ensure that you have a business idea that will remain viable. Online businesses tend to be safest right now and with threats of a second lockdown and local lockdowns already in place, selling your products online means that regardless of what happens you will not be affected by any potential upcoming closure orders for certain businesses.
In the UK, the COVID-19 pandemic may have wreaked havoc with certain business industries. But good entrepreneurs are known for being able to adapt and they have not let the pandemic deter them from going in a different direction – this, coupled with the fact that COVID-19 has brought about an unprecedented demand for a new range of products and services like personal protective equipment for the general public. If you want to be your own boss, there is definitely no shortage of business ideas that are likely to take off during these times.