For many small business owners, payroll is a necessary evil. While employees are entitled to be compensated for their efforts, the task of processing payroll can be arduous and tedious. For many small business owners, this task is the bane of their existence.
If you manage multiple staff members, it's well worth the investment to outsource your payroll processing. Here are six reasons why you should stop handling payroll in-house and leave it to the experts instead.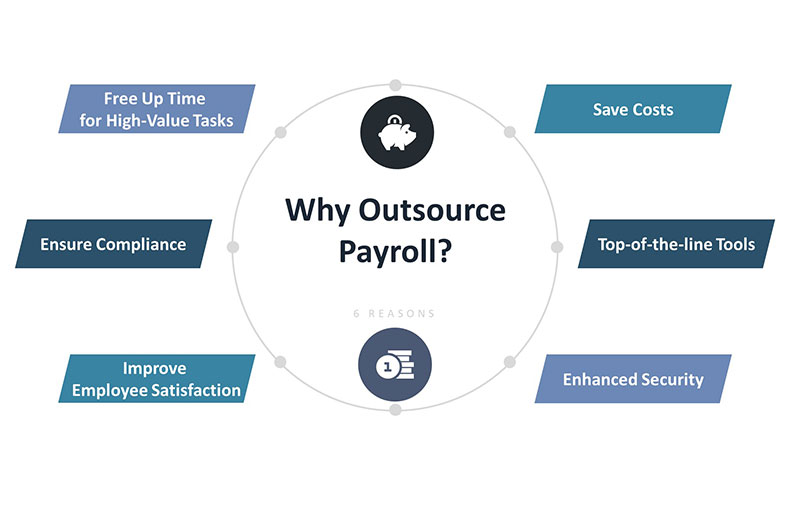 Free Up Time for High-Value Tasks
Business owners tend to wear quite a few hats. Many of the mundane daily operational tasks eat up one of the business's most valuable resources: time.
You may have heard the phrase "opportunity cost" before. This concept quantifies the time spent on low-value tasks that could be directed to high-value tasks. In this case, the low-value task is adding up timesheets, punching in numbers, and processing payroll. It's worth noting that a low-value task can still be necessary or important, but doesn't increase profits. The business owner could be spending that time pursuing new customers, developing new marketing strategies, or other high-value tasks that bring money back into the business.
If you evaluate the opportunity cost of handling payroll in-house versus outsourcing, you'll almost always find that outsourcing is well worth the investment.
Ensure Compliance
As a business owner, you can't be expected to stay up to date on ever-changing employment legislation and taxation requirements. However, it's your job to do so. If you fail to comply, you put your business at risk for hefty fines and lawsuits.
Rather than hitting the books, hand your payroll over to the experts. Their entire career is built around staying up to date with regulatory and compliance. By outsourcing, you ensure that your payroll is being processed properly every single time.
Improve Employee Satisfaction
Filing payroll incorrectly doesn't just put your business at risk; it can also derail your employee loyalty and morale. Many families live paycheck to paycheck and plan their bill payments around payday. If you make a mistake that delays payroll, your employees will be rightfully upset.
By outsourcing your payroll, you ensure that your employees are getting paid the right amount on time. This will reduce any friction with your employee relationships and keep your focus on morale and management.
Save Costs
There's a common misconception that outsourcing payroll will break the bank. In addition to the opportunity cost of processing payroll yourself, there are other factors to consider. Payroll outsourcing is often under $10 per person per pay.
When you go this route, you don't have to invest in expensive payroll software that will inevitably be out of date in a few years. Outsourcing will likely cost you less than setting up banking, checks, and all the other bells and whistles you would otherwise need to do it yourself.
Top-of-the-Line Tools
Outsourcing payroll means that you and your employees will have access to top-of-the-line HR system tools. Many payroll service providers have a robust dashboard that monitors everything from staff on leave to employee morale. You can track vacation requests and empower your employees to keep their information up to date.
Using this software in-house is not only expensive but comes with a strong learning curve. Many software options stretch far beyond what a small business needs and will be obsolete within a few years. By outsourcing, you get continued access to the best payroll and employee management tools available.
Enhanced Security
Outsourcing your payroll adds an extra layer of security to your business finances. By having the transactions handled externally and separating the finances from the rest of your business, you add a layer of fraud protection that will be useful in the event of an audit.
These are just a few reasons why you should consider outsourcing payroll. Look for a provider with a strong record of customer service and offerings that can be customized for your needs. Use payroll outsourcing to protect your business's most valuable resources: your time and your people.