There are many entrepreneurs who have faced challenging situations during the COVID-19 pandemic. One such individual who has overcome adversity and continues to take on new challenges is Mr. Takeshi Iguchi of Benners Co., Ltd. Mr. Iguchi founded his company at the age of 23 with the aim of addressing issues in the aquaculture industry. However, the entire industry was heavily impacted by the pandemic, and Mr. Iguchi was also forced to reassess his business.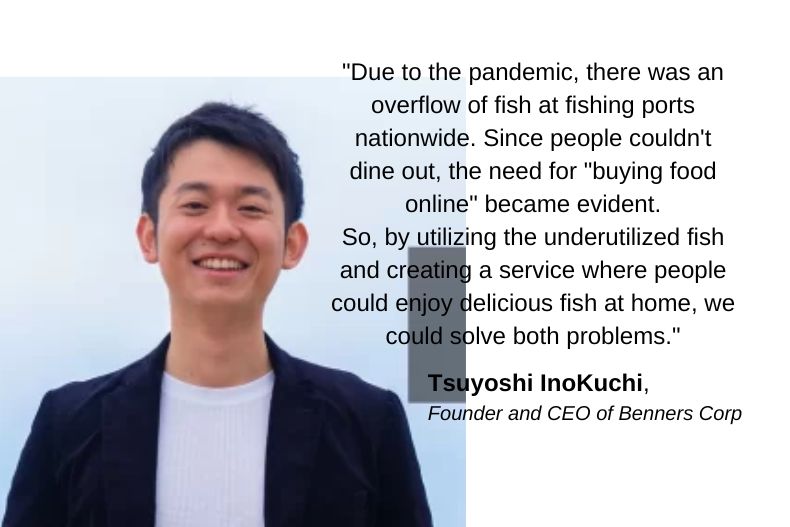 With courage, Mr. Iguchi made a bold transition from B2B to B2C. He launched a subscription service for meal kits using underutilized fish, which has experienced significant growth.
In this interview, Mr. Iguchi discusses how he navigated the COVID-19 pandemic after starting his business and what kind of business he aims to pursue in the future. The interview was conducted by Daiku Okubo from the Startup Handbook.
Note: "Underutilized fish" refers to fish that are perfectly edible but do not enter the market due to reasons such as being non-standard or not meeting certain specifications.
About the interviewer, Mr. Kosei Okubo and interviewee, Mr. Kazuhiro Mizuno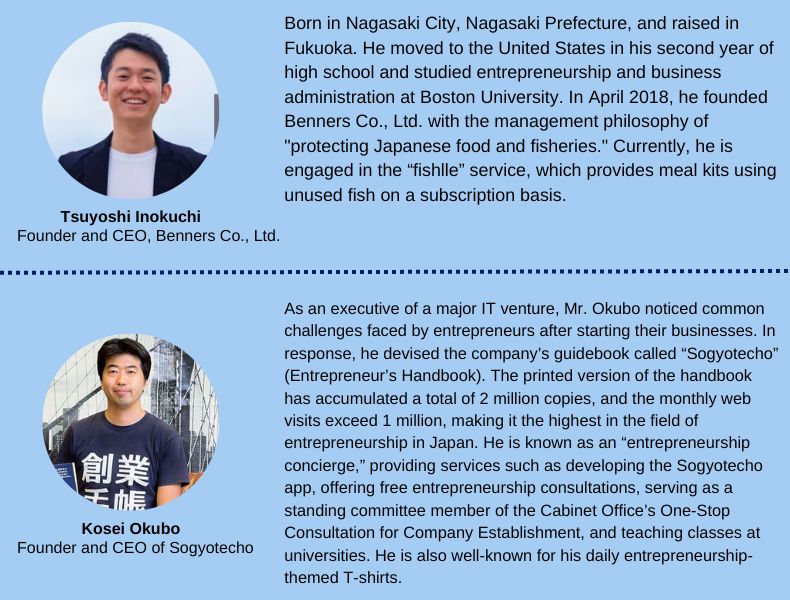 I felt a sense of fulfillment in the fisheries industry because there are many challenges, such as digitalization, that need to be addressed.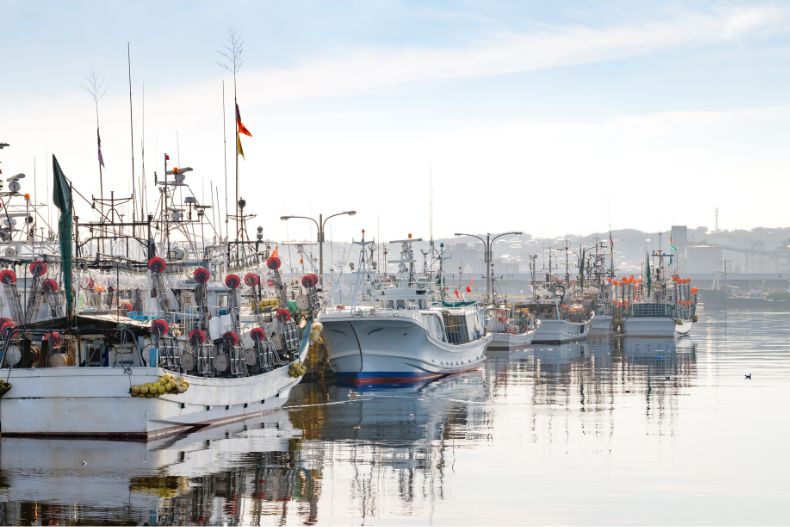 Okubo: I heard that you went to the United States as a high school student and studied entrepreneurship at an American university.
Inokuchi: I was in Fukuoka until my first year of high school, living a typical high school life. However, when I entered my second year, I decided to drop out and transfer to a high school in the United States.
I went to the state of Maine in the United States, which is located in the upper-right corner and just below Canada. I thought it would be interesting to go to a place where there were very few Japanese people. After graduating from high school, I stayed in the United States and enrolled at Boston University, majoring in entrepreneurship.
After graduating from university, I returned to Fukuoka and started my business at a startup support facility called "Fukuoka Growth Next." Actually, during the early stages of my entrepreneurship, I used to read the Startup Handbook. So, I'm really happy to be interviewed by you.
Okubo: Thank you very much. I'm also delighted. Actually, I have visited Fukuoka Growth Next a few times for seminars.
Did you always have a desire to start a business in the fisheries industry?
Inokuchi: Initially, I was interested in the field of education. I even planned a summer camp for high school students during my university days. It was because I myself had the experience of going to the United States through such a camp when I was in high school.
I considered starting a business in the education sector, but I couldn't come up with a profitable business model. I even went to venture capital firms seeking funding, but I was met with rejections.
When I thought about different industries, my attention turned to the fisheries industry. In fact, my father and grandfather both worked in fisheries-related jobs. Although my current business is not directly related to that, I had a familiarity with the fisheries industry from the past.
Also, from an entrepreneur's perspective, I felt that the fisheries industry had many challenges. For example, even now, they still rely on phone calls and faxes, and digitalization is lagging behind. The distribution channels are complex and not optimized for efficiency. I found a lot of challenges in the industry, and that's where I felt a sense of fulfillment, so I chose the fisheries industry.
Taking advantage of the COVID-19 pandemic as an opportunity, we made a bold decision to transition from B2B to B2C.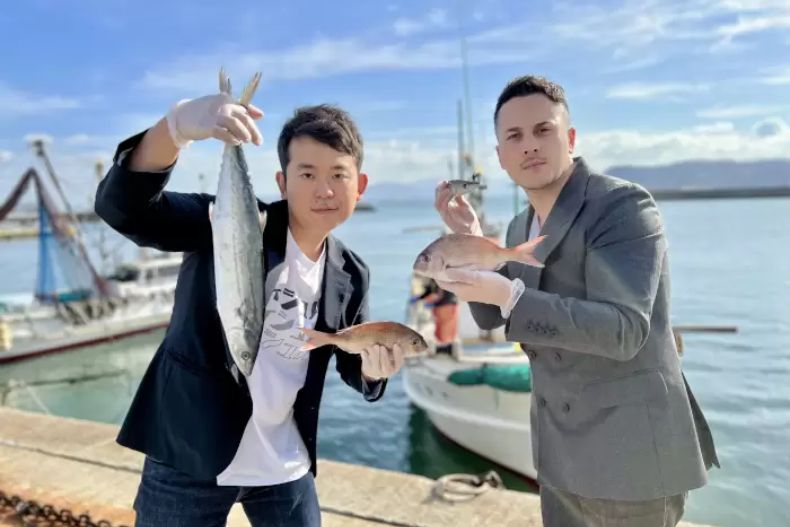 Okubo: Did you start with a fish subscription service from the beginning of your entrepreneurship?
Inokuchi: Initially, I wanted to reform the distribution structure of fish, so I started with a B2B platform business.
However, the B2B platform business didn't go smoothly, so we temporarily stopped it and transitioned to B2C. Transitioning from B2B to B2C was a significant decision, but due to the COVID-19 pandemic, we had no choice but to do so.
Okubo: What were the challenges you faced in the B2B business?
Inokuchi: The B2B platform business had few new entrants, and I thought there was an opportunity. However, there were countless businesses already operating in the industry nationwide, making the competition fierce. With fierce competition, the profit margin was also limited.
Additionally, there was a prevailing mindset in the industry that said, "If we're still managing to operate, why change anything?" To get them to accept new systems and ways of thinking, it takes time.
There was a problem of requiring a significant amount of time and effort before we could earn money properly.
Okubo: It must have been challenging since platform businesses require a critical mass.
Inokuchi: Yes, that's right. I had concerns about whether it would work, but I felt that I had no choice but to continue. We also raised funds from venture capital firms.
In the midst of that, in 2020, the COVID-19 pandemic hit, and our clients started going bankrupt. We faced a severe situation.
Instead of continuing the B2B business on a small scale using the COVID-19 loans, I thought it might be more promising to shift our focus to something new.
Okubo: Indeed, the COVID-19 pandemic had a significant impact on various industries related to food.
Inokuchi: Due to the pandemic, the restaurant industry, which was the main market, suffered a loss, and there was an overflow of fish at fishing ports nationwide. The demand plummeted, and there were times when high-quality fish were traded at very low prices.
On the other hand, since people couldn't dine out, the need for "buying food online and enjoying it at home" became evident.
So, I thought that by utilizing the underutilized fish and creating a service where people could enjoy delicious fish at home, we could solve both problems. That's how we started the fish subscription service called "fishlle" which has become our main business now.
Okubo: However, the efforts you made in the B2B sector were not in vain, right? Would you say that the experience gained from the B2B platform business is also relevant to your current business?
Inokuchi: Exactly. When we were running the B2B platform, our targets were the producers and buyers from various regions nationwide, especially those in the restaurant industry. Through the B2B platform, I was able to connect with people in the fisheries industry, learn various opinions and perspectives, and understand the current state of the industry.
Many customers resonate with the idea of effectively utilizing underutilized fish.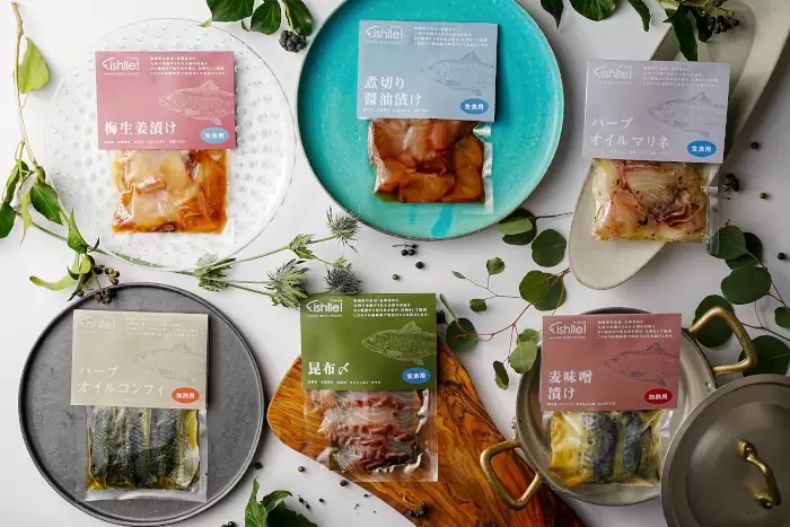 Okubo: How did you start the B2C business?
Inokuchi: First, we conducted crowdfunding to validate the concept and gather the minimum necessary funds. We ran a crowdfunding campaign for a meal kit using underutilized fish, and we were able to raise nearly 4 million yen from nearly 400 people in just one month. This indicated that there might be a demand, so we considered business development.
After conducting trial sales and other activities, we launched "fishlle," a fish subscription service, in March 2021.
Okubo: What is the origin of the service name "fishlle"?
Inokuchi: "fishlle" is a coined word. It carries the meaning of wanting people to have a fish-full (fulfilling) dietary life. "Fishful" is not an actual word, but we shortened it to "fishlle."
Okubo: I see. When it comes to subscription services, gathering members must have been challenging.
Inokuchi: That part went well. After two years since the service started, we now have nearly 10,000 customers who place orders every month. While we also put effort into digital marketing, in the first year and a half, we mostly relied on media exposure and social media without much advertising.
Okubo: What kind of people become members?
Inokuchi: In the early days when we relied only on media exposure, the main customers were in their 50s to 70s. I think it may be because the attributes of those who watch TV or read newspapers align with that demographic. After starting digital marketing, we also attracted younger customers. Currently, the main age group is from their 30s to 50s, but we have customers ranging from their 20s to 80s, representing a wide range of ages.
Okubo: What aspects of your service receive customer support?
Inokuchi: Firstly, the fact that they can easily enjoy delicious fish. We often receive feedback such as, "It's surprising that there aren't many options that are additive-free, have good freshness, and can be eaten immediately after thawing."
Also, many customers resonate with the idea of effectively utilizing underutilized fish. When they cancel their subscription, they often say, "I want to support your wonderful initiative, but I can't continue at the moment." Personally, I think this is remarkable.
I want to build a network with producers from all over the country and penetrate the seafood industry with a new distribution model.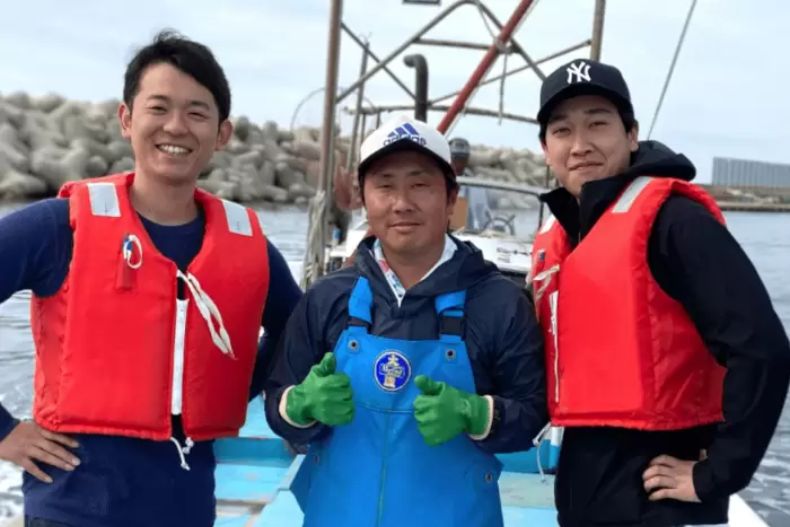 Okubo: What kind of initiatives are you considering for the future?
Iguchi: We are currently processing fish caught at a fishing port in Fukuoka at our own factory in Fukuoka city. We handle everything from seasoning, packaging, instant freezing, to sales in-house.
Actually, we have plans to expand this model nationwide. We are building networks with producers from various regions such as Oita, Kagoshima, Shizuoka, Aomori, and Hokkaido.
Our goal is to process and distribute the catch from each region right at the source. Through "fishlle," we aim to establish this new distribution model nationwide.
Okubo: It's challenging for fishing ports and fishermen to start their own e-commerce businesses, but with your company, you have the capability for manufacturing, an e-commerce infrastructure, and existing members, which is reassuring.
Inokuchi: Yes, you're right. Building a successful e-commerce platform takes time and effort in digital marketing. It involves conducting numerous A/B tests, collecting data, and analyzing the results.
Also, even if you have a processing facility, it doesn't guarantee that the products will sell well through e-commerce. We have accumulated know-how and data, so we hope that local producers, including fishermen, can make good use of our resources.
Through Fishur, we want fishermen to earn more. We purchase underutilized fish that would have otherwise been disposed of and give them proper value. This leads to increased income for fishermen.
Additionally, since our service operates on a subscription model, we procure a consistent number of fish every month. This ensures a stable income for fishermen without waste.
(Note: The company name "Fishur" in this translation is based on the pronunciation provided. The actual English name may differ if available.)
Through our fish subscription service, we aim to put an end to the trend of Japanese people distancing themselves from consuming fish.
Okubo: There is also the challenge of consumers distancing themselves from fish, not just the fishermen who catch them, right?
Inokuchi: Even if we optimize the distribution structure, it would be futile if consumers themselves don't have a greater desire for fish. I've been thinking about this since my days in the B2B sector.
Therefore, along with reforming the distribution structure, it is necessary to create more demand for fish among consumers. Through "fishlle," we aspire to put an end to the trend of Japanese people distancing themselves from fish.
What consumers have in common, regardless of age, is the desire to enjoy delicious fish at home but being unable to do so due to various reasons. For example, some find fish preparation troublesome and end up eating meat due to busyness. There is also the challenge of supermarkets offering limited varieties of fish, leading to a sense of monotony.
Okubo: Are there any fish that are not commonly seen in supermarkets but are actually incredibly delicious?
Inokuchi: Yes, there are. One example is the "Aigo" fish, which is considered representative of underutilized fish. Aigo has a strong odor in its internal organs, so it must be processed immediately after being caught to be consumed. However, if processed promptly, it is incredibly delicious even as sashimi.
However, under normal distribution channels, Aigo is rarely accessible. Typically, after being caught by fishermen, it goes through the local market and then to the central market for auctioning. This process takes at least two days after the catch.
Furthermore, Aigo has poisonous spines in its dorsal and pectoral fins, requiring extra handling. Due to these reasons, it is often discarded and doesn't reach consumers. However, we take the Aigo fish to our in-house factory within half a day of being caught, where it is processed and manufactured for raw consumption.
Okubo: So, there are benefits for consumers in being able to enjoy unique and delicious fish.
Inokuchi: We aim to create a truly sustainable seafood industry that is beneficial not only for the fishermen who catch the fish but also for the consumers who consume them, as well as for the environment and society.
Okubo: Finally, could you share your future goals?
Inokuchi: We want to expand the model we are implementing in Fukuoka to coastal areas nationwide and increase our production capacity. Ultimately, we aim to grow our brand to serve around one million people and become synonymous with fish, where people say "Fishr" when they think of fish.
Additionally, we have started exploring the B2B market again. We now offer the model of processing freshly caught fish at the local fishing grounds, flash-freezing them, and delivering the products not only to the general public but also to businesses in the food service industry. We would like to further promote this aspect in the future.
Our initial experience in the B2B sector has allowed us to understand the needs of food service providers to some extent. The challenges we faced back then are proving to be very valuable now.
In our "Founders' Handbook" (printed version), we feature interviews with various entrepreneurs. It is available for free distribution, so please feel free to inquire about it.
Kosei Okubo's impressions.
Here are the impressions of Mr. Kosei Okubo after the interview:
He believes that the success of this business can contribute to:
Preserving fish consumption in Japan's food culture, which is leaning towards meat.

Revitalizing regional areas, especially fishing villages.

Reducing resource waste.

Providing a successful case of young entrepreneurs outside of Tokyo.
Regarding the aspect of reducing resource waste, fishing is inherently environmentally friendly and sustainable as it relies on the blessings of the sea. However, there are challenges such as resource depletion (overfishing, losing to overseas competition, purchasing from other countries) and rising fuel costs. He thinks that the utilization of underutilized fish can enhance the efficiency and sustainability of the fishing industry, contributing to its advantage in those aspects.
Moreover, startups tend to concentrate in Tokyo, but I also think it's great to leverage the advantages of regional areas in business.
In the future, it will be crucial to establish customer retention through the subscription model and continue developing attractive products. Operating both online and physical processing facilities brings its own challenges, but it is a business that is both meaningful and demanding for startups. I hope they persevere and succeed in this endeavor.
Disclaimer: This article is an English translation of the original content published on the website sogyotecho.jp, which is the parent company of the Founders Guide website. The translation aims to provide information to English-speaking readers while maintaining the essence of the original article. Please note that any discrepancies or inaccuracies in the translation are unintentional. For the most accurate and up-to-date information, kindly refer to the original article in Japanese on sogyotecho.jp