One of the most pivotal decisions you will have to make as an ecommerce business owner is which platform to use to sell your products. With the rise of open-source ecommerce platforms and the plethora of SaaS solutions available today, businesses are simply spoiled for choosing where to put their allegiance.
With that said, online marketplaces continue to prove themselves as the most popular solutions, and by quite some margin. Taking a look at the list of the world's biggest ecommerce websites, the overwhelming majority are online marketplaces, with some familiar names rounding off the top spots such as Amazon and Walmart.
After the global pandemic created the perfect storm for the sudden surge in demand for these platforms, consumers are now spending more than ever online, primarily due to a necessity through the closure of brick-and-mortar stores. Yet, many experts believe the pandemic has merely acted as a catalyst for the adoption of digital products and services, and it seems as though these new digital behaviors will continue to endure post-pandemic.
On that note, let's take a look at some of the biggest ecommerce shopping portals and the pros and cons of using their services to sell your products.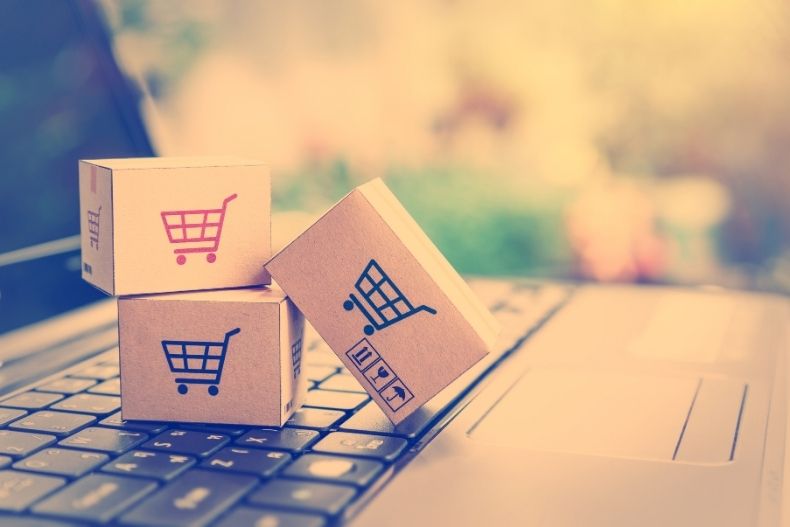 Amazon
Amazon doesn't need any introduction, since it's one of the biggest companies in the world and the most recognizable ecommerce brand around. The mammoth American e-retailer currently holds approximately 45% of the U.S. ecommerce market through an inventory of about 12 million items across all its categories and services, but is it the best place to sell your products?
Well, if one thing is for sure, your products will certainly gain access to a highly diverse consumer market with ease, giving your products and your brand considerable exposure – as long as you learn how to market your products effectively and write catchy headlines and enticing product descriptions.
Furthermore, Amazon enables companies to expand their products into new markets with relatively low risk, since it is a globally trusted brand. The platform gives your company the ability to expand its reach beyond its current geographical location and into other parts of the world, where there are potentially thousands of consumers waiting to buy, which may help increase sales.
However, there are some drawbacks that you need to consider. First of all, Amazon is highly competitive, with most product categories and niches becoming heavily saturated. Unless you are selling a highly unique item, then chances are you will be competing with dozens of sellers all offering the same product. Secondly, the fees weigh in at $0.99 per item, unless you pay for the professional plan, which is around $40 per month.
Lastly, selling on any marketplace means that you must relinquish at least some control over the way you market and sell your product, as you must abide by their rules. This may or may not be a problem depending on your branding strategy, but it's something to bear in mind.
eBay
eBay has been around since 1995 and was one of the first online marketplaces. Since then, it has become one of the most well-known and most visited websites in the world. In fact, with over 1 billion active listings and 180 million active buyers, eBay is still the second leading marketplace in the U.S., behind Amazon.
As for a place to sell your products, eBay certainly offers plenty of benefits. First of all, you gain access to a massive customer base, immediately taking advantage of their size and scale. It's an easy way to acquire new customers, especially since the way the listings work means that it's nowhere near as competitive as Amazon.
This allows you to establish yourself on the eBay ecosystem with much less effort, and it also means you have a better chance at receiving a higher price for your items. In addition to this, eBay doesn't sell its own products (unlike Amazon), which means that shoppers only see the items available from third-party sellers, so you'll never be forced to compete against "the house."
As for the downsides, eBay can get quite pricey, with all the seller fees and final value fees that you must pay. You'll get 50 free listings each month, but after that, you'll have to pay $0.35 for each additional listing in most categories. After that, there are final value costs to pay, which may be as high as 10% for sellers.
There are even higher costs to consider in other areas, so make sure you do your research on our product category beforehand so you know what you're in for before you start selling.
Walmart
According to the Fortune 500 Global 500, Walmart is the largest company in the world, with recorded revenue of $559 billion in 2020. Incredibly, this is the eighth year in a row that the American retail corporation has held the top spot, which must mean they are doing something right.
While Walmart.com has always been a popular extension of the world-famous brick-and-mortar stores, business owners have not typically been able to sell their products on the website unless they are a well-known wholesaler or brand. However, in 2009, Walmart launched its marketplace, which enabled third-party sellers to list products on the site, complementing existing offerings from first-party brands.
As it turns out, it's an excellent place to sell your products.
To begin with, Walmart offers a limitless product assortment, which means that sellers can leverage their entire catalog on Walmart Marketplace as long as their products are not on Walmart's prohibited product list. Sellers are also permitted to establish their own return policy, which gives you more control over return conditions and as you can set up terms that work best for your business while being fair to Walmart's customers.
This is much more of a favorable proposition than Amazon offers, whereby sellers are required to have a return policy that either matches or exceeds their own.
Similar to both eBay and Amazon, sellers can access a vast customer base and take advantage of Walmart's scale when using their marketplace. Still, the good news is that Walmart has considerably less competition than both. Walmart Marketplace has around 70,000 sellers compared to Amazon's 2.4 million. As for fees, you only pay for what you sell with Walmart, with a comparable seller fee to the other mentions on our list.
Once again, there are some negatives to consider. First of all, there are strict price requirements, as Walmart commits to a low price guarantee for its customers. This means that you may have to offer your products at a lower price than what you would on eBay or Amazon, which will lower your profit margins.
In addition to this, there is no fulfillment service for third-party sellers, which means that you must handle your own storage, shipping, and returns, which can be a big downside for those who are used to selling on Amazon.
Finally, and quite importantly, Walmart is highly picky over who they allow to sell products on their platform. Walmart aims to maintain its reputation both as a trustworthy vendor and one that sells at affordable prices, so you will be vetted before they allow you to sell on their platforms. So even if you like the sound of their marketplace, you may not be able to sell there unless you run a tight ship and can prove that your brand values align with theirs.
Final word
Choosing the right ecommerce marketplace for your business can seem like a daunting task, especially given the overwhelming amount of choice you have. With that said, the three options mentioned in this list all stand head and shoulders above the rest, offering excellent perks and protection to their sellers, along with a huge customer base that is ready and waiting to make new purchases, likely for years to come.
Whatever you decide, make sure you take the time to read the small print regarding your product niche, so you can get a better understanding of things like fees, pricing policies, and how you need to handle returns.