The Richmond Human Resources Forum, Four Seasons, 26th November 2015
26 November 2015
London, United Kingdom
Organization: Richmond Events Ltd
Discipline: Social & Behavioral Science
Subdiscipline: Business and Management Science
Event type: Conference
Venue: Four Seasons
Source:http://www.globaleventslist.elsevier.com/events/2015/11/the-richmond-human-resources-forum-four-seasons-26th-november-2015/
GAME'2015
2–4 December 2015
Amsterdam, Netherlands
Organization: EUROSIS – ETI
Disciplines: Computer Science, Social & Behavioral Science
Subdisciplines: Computer Science,Artificial Intelligence, Software Engineering, Graphics, User-Centric Services, Education, Business and Management Science, Economics and Finance, Social and Behavioral Science
Event type: Conference
Venue: University of Amsterdam (UvA)
Expected number of delegates: 26–50
Source: http://www.globaleventslist.elsevier.com/events/2015/12/game2015/
icSPORTS 2015
The 3rd International Congress on Sport Sciences Research and Technology Support will take place in Lisbon, Portugal on15-17 November 2015.

In the XXI century most human activities, including sports, are becoming more and more technological. Engineering in general and Information Technology in particular are becoming an important support for many activities directly or indirectly related to sport sciences, including improvement of physical activities, sports medicine, biotechnology and nutrition, sports management, and all imaginable application areas in sports. This congress intends to be a meeting point of both academics and practitioners, in order to exchange ideas and developed synergies.
CONGRESS AREAS
1 . Signal Processing and Motor Behavior
2 . Sports Medicine and Support Technology
3 . Health, Sports Performance and Support Technology
4 . Computer Systems in Sports
CONGRESS CHAIR
Jan Cabri, Norwegian School of Sport Sciences, Norway
PROGRAM CHAIR
Pedro Pezarat Correia, Faculdade de Motricidade Humana, Universidade de Lisboa, Portugal
Source: http://www.eubusiness.com/events/icsports-15
6th European Innovation Summit
The 6th European Innovation Summit, organised by Knowledge4innovation, will take place from 17 to 20 November 2014 in the European Parliament in Brussels.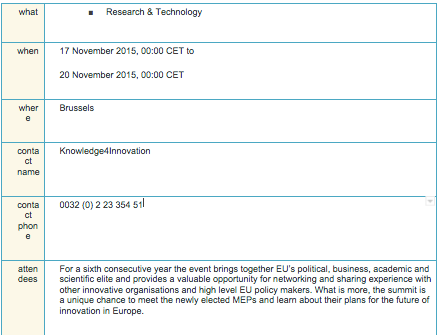 The programme features more than 25 conference sessions and discussions on topics of great importance for everyone working in the area of innovation and more than 100 high-level speakers from the European parliament, the European Commission, the educational and the private sector. The motto of the this year's edition is 'A Mandate for Innovation in Europe' which highlights the strong belief that innovation should be a top strategic priority in the new institutional cycle of the European Union and the centerpiece of a revised Europe 2020 strategy.
The program of the 6th European Innovation Summit features conference sessions on important "horizontal" aspects of innovation such as Framework conditions for innovation, TTIP, Horizon 2020, as well as parallel sessions for specific sectors for which innovation is the major resource to overcome the big challenges ahead – agriculture, energy, transport, health, climate, IT.
Source: http://www.eubusiness.com/events/innovation-summit-15