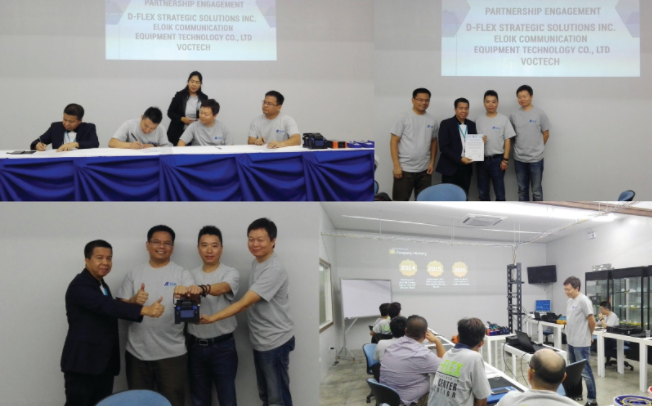 Cebu Technical Vocational Training and Assessment Academy, Inc. (VocTech), together with D-FLEX Strategic Solutions, Inc., inked a Memorandum of Agreement with Tianjin Eloik Communication Equipment Technology Co., Ltd.
VocTech is an educational institution that focuses on specialized skills in Premise Cabling, Fiber Optic, Solar PV Technology, CCTV Design and Installation, Mobile Application Development, Web Application Development, Animation, and Visual Graphics. D-Flex Strategic Solutions, Inc. is an industry leader specializing in the distribution and innovation of high quality, high-performance network cabling solutions, data-center solutions and transmission equipment. In April of this year, VocTech and D-Flex entered into a MOA to put up a state-of-the-art Fiber Optic laboratory in VocTech that is powered by Vivanco (a European Co. that specializes in Consumer Electronics, Information Technology and Telecommunications).
With the addition of Tianjin Eloik Communication Equipment Technology Co., Ltd., VocTech, further strengthens its programs. Eloik is a technology company from Germany, specializing in optical communication equipment research and development, production and distribution. It is located in Tianjin Bohai Economic Rim. Through the signing of the partnership agreement, D-Flex and Eloik becomes industry partners and VocTech is made as the Academe Partner for Optical Fiber Fusion Technology.
This MOA signing is a new milestone not only to VocTech and D-Flex but also to Cebu and Central Visayas Region. The business community is becoming highly digitalized that data access is one of the most important drivers to stay competitive. In this age of technology-based business transactions, an internet superhighway is needed in order to provide super-fast internet connection.
Fiber optics offers the fastest way to access data, providing consumers with higher download and upload speeds and faster internet browsing including streaming of high-definition multi-media content. The partnership between VocTech, D-Flex, and Eloik is a good timing because this will give support to IT practitioners that specialize in fiber optics. As a skills development institution, VocTech, through this partnership, will be more able to train students, professionals and out of school youths in Cebu and the neighboring regions and prepare them in fiber optics technology.