Financing for Startups
Author: Julie Marie Bedas
Starting a business is a lot like going to college. Both involve many similar steps like personal assessment, asking for directions and determining the location. However, since you're focused on the former, reading this guide can help you get a head start on how to proceed with launching your company. Seven steps are discussed in the article and while it might be easy to get past the self-assessment up to getting-your-business-listed steps, you might find yourself stuck on the 5th step–which is funding.
The saying "Money makes the world go round" is true especially in the business world where every process revolves around money– either spending or earning it back. So for startups that are in the early stages and not yet generating income, how do they get the money to set their business in motion? This is where investors come in.
If starting a business is like going to college, then investors are the scholarship sponsors. When a company is showing promise and potential, organizations or individuals will be willing to invest in it. As with scholarships that may come in different forms, and may be provided by different groups, so are business investments. This article will discuss the four major types of business investors that can help you in funding for your startup.
Venture Capitalists
Venture capitalists are firms or individuals that provide financial capital to high-potential companies at the early stage of business. Venture because they take on risky decisions in funding startups that may or may not return the investment, and Capitalist because in exchange they will be owning equity on the companies that they funded. Venture Capitalists also provide mentoring and a network of connections accumulated throughout the years of venturing and investing in businesses.
Last March, Forbes compiled a Midas List of The Top 10 Venture Investors (http://www.forbes.com/sites/alexkonrad/2015/03/25/midas-top-ten-list-2015/) of the year 2015. The list was based on the value of returns earned by the investors. Below are the top 3 from the list of the venture capitalists and the reasons why they are the top venturers for this year. Here are the investors who turned the companies they touched into gold:
Jim Goetz from Sequoia Capital

Goetz also owned the first spot the previous year, and this is his fifth consecutive time on the list. He is#1 this year for Facebook's acquisition of WhatsApp, the mobile messaging company in which he was the sole investor. The deal was sealed for $22billion. It was said that Goetz was able to return $3 billion to Sequioa which is a great deal bigger than its seed fund to WhatsApp which is $434 million. Goetz is also involved with publicly traded companies such as HubSpot, Ruckus Wireless, Palo Alto Networks, Nimble Storage, Barracuda Networks and Jive Software. Other companies he's involved with are Carbon 3d, Appirio, Drawbridge, Widgetbox, Metaswitch, Pocket Gems and Sencha. His other investments include Karma, eMeter, AdMob, Clearwell Systems and Peakstream.
Peter Fenton from Benchmark Capital

Fenton climbs a spot higher from being last year's #3. Fenton was an early investor in Twitter, and is now one of the board members of the company. He also holds positions on Yelp, Zendesk, Polyvore, Quip, Engine Yard, Docker, Cockroach, elasticsearch, Hortonworks, New Relic, Lithium Technologies, Optimizely, Zuora and Revinate. Hortonworks, New Relic and Zendesk went public in 2014. New Relic currently has a billion and a half valuation. His other investments include JBoss, SpringSource, FriendFeed, Wily Technology,Corometrucs, Reactivity, Zimbra, Minted and Xensource.
Chris Sacca from Lowercase Capital

From being last year's #12, Sacca climbs to #3. It is also his fifth consecutive time on the list. He is a seed investor of Twitter, and holds a large position in the company. Sacca also has more than 3% stakes for his funds in Uber,the company is reportedly valued more than $40 billion. His other investments include Stripe and Kickstarter.
Angel Investors
Another type of financial investors are the "Angels". Although they don't have wings or halos, they are as much a blessing to startups as real angels. According to entrepreneur.com, Angel Investors are individuals with sufficient funds to invest in startup businesses. They choose what companies to invest in based on hunches, and so businesses that might not have high chances of getting invested in by established venture capitalists are more likely to get funded by Angel Investors. They provide seed funding or financial assistance to kick-start a company to the next level. Angel Investors get their return by owning equity in the company, having a percentage return on his/ her investment and/or being part of the board members of the company. Investments made by Angel Investors can range from thousands to millions of dollars. You can find you own angel to guide your startup through AngelList, MicroVentures and Angel Capital Association.
Crowdfunding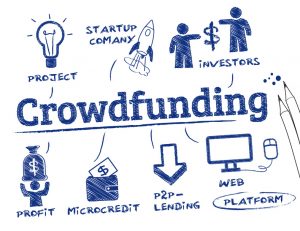 Crowdfunding believes in the power of numbers. In Crowdfunding, the investors are the crowd. A startup can earn financial support through donations made by a large number of people which can be made personally, but is mostly done through virtual platforms. The returns earned by the investors are based on the agreements set by the Crowdfunding Platform.  Sites like Seedrs and CrowdCube raise funds in exchange for company shares. Some sites (listed below) offer rewards as incentive to the investors; it can be products,  limited editions, etc. But mostly, individuals who make donations just generally support the idea or the project and want to see it succeed without expecting anything in return.
Anyone can be a Crowdfunder. Whether you are a billionaire or just an average person, you can donate your money in a campaign that you support. Never underestimate the power of numbers. In 2013, it was reported that the Crowdfunding industry raised a total of $5.1 billion. The biggest fund raised so far is a record $82 million for a project that aims to develop a video game called Star Citizen by Chris Roberts and his company Cloud Imperium Games Corporation. If you want to try crowdfunding, blow are 3 top crowdfunding sites you can browse:
Kickstarter is the most popular funding platform to date. It has over 5.5 million monthly estimated traffic. Even celebrities use the site to earn funds for their movies. The Star Citizen project used Kickstarter in earning their record-breaking $82 million, although they also used the crowdfunding plugin IgnitionDeck in their WordPress. Project duration can last from 30 to 60 days. What's unique about Kickstarter is that a project creator can only collect their funds if the project has reached the targeted amount of money. As MonetizePros pointed out, it is better this way as you might not be able to reward your contributors if you are not able to reach your targeted amount. Kickstarter charges 5% fee to funds raised, and additional fees for Amazon processing.

The site has an estimated 2.3 million monthly traffic, making it the second most-used Crowdfunding platform. No deadlines are set on the campaigns posted. Funds can be collected whether the goal is reached or not. Gofundme is a go-to site if you are just asking for donations, and can't really offer anything in return to the funders, it does not require rewards. The site charges 7.9% + $0.30/ donation, and 9.25% to non-profit projects.

Indiegogo has a monthly estimated traffic of 919k. You can post your campaigns for up to 40 days. like Gofundme, you can also choose to withdraw the funds whether or not you have reached your goal. But, you have to make sure that you will be able to pay out the rewards to your investors. Indiegogo charges 4% to funds if it reached the targeted amount, and 9% if it does not. There is also 3% fee for credit card processing, and if you are not from the US, you have to pay an additional $25 wire fee.
Loans
If you don't like the hassle of finding business investors, you can also get a loan. Business loans are still investments, you just have to make sure that you can pay back the money you borrowed whether or not your business succeeds. You can take out a loan from the bank. All you have to do is present your business, and they will determine whether it has enough potential to succeed before they can grant you a loan.
You can also loan online via Ondeck. You can apply through your computer or mobile, get funded, and you can do your payback either daily or weekly. Ondeck generally supports small businesses.
There are a lot of ways you can get financing for your Startup. You can even ask your family, friends and contacts to loan you some money in order to get started with your entrepreneurial dreams. All you need is hard work, determination and a thick skin. Remember that the lack of money is never an obstacle to success. If you really want to see your tree grow, you will find a way to acquire the seed.