Business partnerships, like any relationship, are eventually going to spark disagreements between the partners. Conflict in any relationship is stressful, but it takes on an added urgency when your money and livelihood are involved. Some disagreements can be resolved amicably, while some may require more drastic measures, up to dissolving the partnership.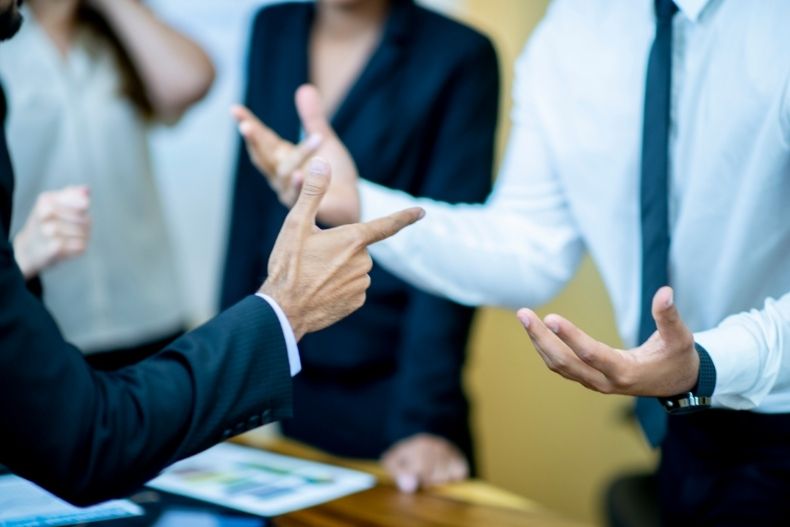 Consider a Partnership Agreement
Before you ever sign on the dotted line, consider drafting a partnership agreement with your future business partner. A partnership agreement is like a prenuptial agreement for a marriage. It will spell out exactly what happens in the event of a "divorce" and protect each partner. You should consult an attorney and an accountant to help create your agreement to ensure it's legal and financially fair to both of you. With a partnership agreement in place, you'll both know what to expect and have already agreed on what happens in the event you find yourselves in an unresolvable disagreement.
Negotiation
If you don't have a partnership agreement in place, your best course of action regarding a partnership disagreement will be, as in any other relationship, talking it out and negotiating with your partner. You need to clearly explain your positions and motivations to each other, and try to find common ground. Sometimes you'll find that disagreements can be resolved simply, because one person misunderstood the other's intentions, or you can find a way for you both to win. You may want to write down your positions so you don't get caught up in emotion and are able to talk calmly and thoroughly about the problem.
If simply having a conversation with your partner doesn't resolve the problem, you may want to consider bringing in a neutral third party as a next step. Mediation or arbitration can help both sides work together to resolve the problem without feelings or prejudgments getting in the way. This can improve your communication, and the mediator or arbitrator may be able to envision a solution that the business partners hadn't considered. Unfortunately, this isn't going to be very helpful if one or both sides refuse to cooperate properly to work toward a reasonable and mutually beneficial solution. You may consider agreeing to sign a document legally binding you to the mediator or arbitrator's decision, if you're confident it will be fair and reasonable.
Dissolution of Partnership
In the worst case scenario, you and your partner are unable to come to any kind of agreement. In this case, you may decide that the only viable solution is to part ways. If this happens, you'll need to agree on how to go about dissolving the partnership, which will most likely involve either one partner buying out the other or splitting the assets of the business. As you can imagine, it is unlikely that two already belligerent partners will be able to calmly come to an agreement regarding the breakup of the business partnership, the value of the business, or how to split assets between the partners. In any event, just as if you were going through a divorce, you will want a lawyer on your side to make sure any agreement you come to is fair and equitable. You will certainly need one if it comes down to legal actions to resolve the case.