As the owner of a startup, you probably spend a lot of time wondering how you can continue to grow your business.
One way to expand and diversify your operations is by shipping internationally. Whether you're shipping to Germany, China or other international destinations, international freight shipping is an enticing way to grow a significant portion of your total e-commerce orders.
However, a lot can happen when you begin to ship overseas. For many small online retailers, there is a level of apprehension associated with shipping internationally. The risks, from navigating customs to international shipping regulations, can be daunting.
This article covers the nine most common shipping questions that small-to-medium retailers have, taking the mystery out of international freight and preparing you for a worry-free shipping experience.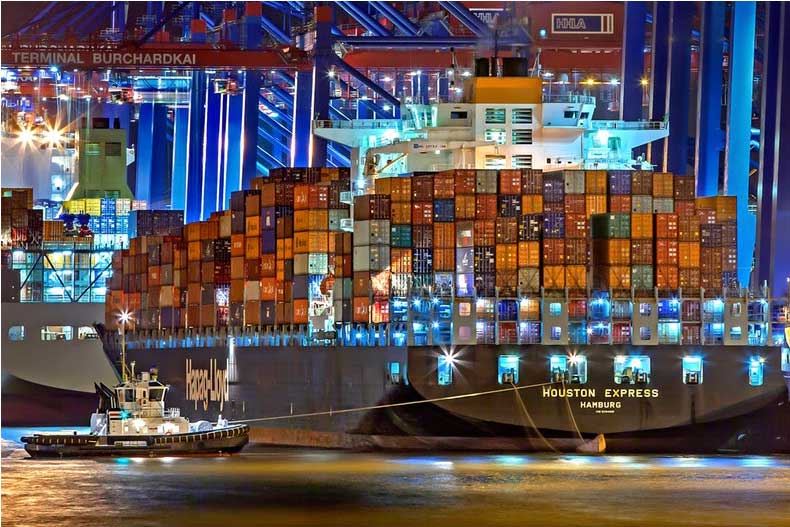 1. Which International Freight Service Should I Choose?
When it comes to international shipping, there are two options available. Goods can be transported by ship or by plane.
Below, we outline both options as well as their pros and cons.
Air freight is the preferred method of international freight forwarding for companies that ship retail goods which must reach their destination quickly. Air freight provides the most direct and reliable route between two points, reducing the time it takes for a shipment to arrive.
Due to its quick transit time, air freight is more expensive than ocean freight. Because of size, weight, and safety factors, air freight has limited carrying capacity and volume. A plane's cargo space is significantly smaller than that of a cargo ship. Air freight also has greater restrictions with prohibited items.
Choosing ocean freight, on the other hand, is one of the cheapest ways to transport goods overseas. Its large capacity enables it to carry anything from retail goods to heavy equipment such as cranes or commercial vehicles. Ocean freight also has a better carbon footprint.
In terms of transit time, ocean cargo must travel greater distances. Goods can take well over a week to arrive at their destination. Planning must be carried out well in advance to ensure just-in-time deliveries. Additional delays can occur due to environmental factors and congestion at ports.
2. How Do I Calculate Which International Freight Option Is Best?
Deciding which freight option is right for you depends on several factors such as type of cargo, time sensitivity, distance, cargo safety, and cost considerations. How goods are packaged can also impact how much it will cost to ship internationally.
To calculate freight rates, use an online freight calculator that can provide instant online freight quotes to help you make an informed decision on which ship freight service works within your budget.
3. What Documentation Do I Need to Provide?
All international freight packages must be accompanied by the correct documents to expedite your shipment, avoid delays, and ensure everything goes smoothly.
The standard forms and documents you will need to provide to be successful include:
Pro Forma Invoice. This is a document that highlights the goods being sent, their value, and the buyer and seller in the transaction, among other key specifications.
Commercial Invoice. This acts as a bill of sale and provides essential information regarding the goods being exported.
Certificate of Origin. This serves as a declaration specifying which country the export shipment was manufactured in.
Shipper's Letter of Instruction. It provides instructions on how the export shipment must be handled to successfully move the goods.
Packing List. It identifies the items in the shipment and details dimensions, weight, and piece count.
Bill of Lading. This is a document issued by the carrier that provides evidence or proof of shipment. It ensures the owner of the cargo has legal rights to claim the goods. It is used for ocean shipments.
Airway Bill. This is an air freight version of the Bill of Lading.
Dangerous Goods Certificate. This is a required document if the exported shipment is carrying products considered as dangerous goods.
Material Safety Data Sheet. It is a document that contains information about the hazardous materials in an export shipment.
Export License. This is a government document that grants permission to conduct certain export transactions.
Import License. This is a government document required to import goods in certain countries.
4. What Restrictions Do I Need to Know About?
Every destination country will specify what commodities and goods are considered prohibited and controlled items. These prohibited and controlled items will be subject to specific country requirements to guarantee safe delivery.
Talk to your international freight shipping partner or check online for international requirements before you ship your goods.
5. How Long Will My Shipment Take?
Transit times will vary according to the distance between source and destination and the freight service method. Your preferred international freight forwarding company should provide you with an estimated transit time.
Likewise, an online freight quote should include estimated delivery time.
6. How Do I Prepare My Products for Shipping?
Aside from the documents required with your shipment, the right packaging will allow for the smooth delivery of your goods and products in a safe and timely manner while mitigating returns and exchanges.
To properly package your products, choose a shipping container that can withstand a long international trip. This should include customs as well as sorting and handling facilities. Your item should be cushioned well and checked for movement to avoid damage during transit.
If your products are unusually big or bulky, you need to find out whether the shipping company will be able to help you with breakbulk services. There are only a handful of credible and well-established companies that offer this specialized service to businesses and exporters.
Lastly, your package should be sealed and labeled correctly to avoid errors at customs and ensure the package arrives at the correct destination.
7. What International Fees Should I Expect?
As with domestic shipping, every package shipped internationally is subject to certain fees. These costs can vary, but often include the following:
Freight associated charges
Custom examination fees
Custom taxes and duties
Carrier-related fees
Zone-specific charges
Delay fees
Port charges
Container management fees
Inland delivery charges
Destination charges
Courier and Documentation fees
Cargo insurance
The most accurate way to determine international shipping costs is to use an online shipping cost estimator. Alternatively, an international freight forwarder can provide you with an accurate quote on your international shipment.
8. Do I Need Insurance?
In short, yes. While international shipping companies will provide insurance, the coverage is limited. If you are shipping high-value goods or you cannot afford to lose or replace your exported shipment, you should consider purchasing shipping insurance.
9. How Do I Go About Finding the Right International Shipping Company?
Your international shipping partner can have a significant impact on your experience moving goods overseas. The right partner for your needs will guarantee safe and timely delivery of your goods.
They will also make it easier for you to scale when your business begins to expand its operations.
Choosing the right logistics provider requires careful research. During your international shipping experience, issues will come up. You'll want a partner you can turn to for expert advice, who can give insight and answers regarding your worldwide shipping questions.
As you are unfamiliar with international shipping, it's important to select a partner who has the experience you need to ship successfully to your main market. They should be licensed and authorized in the destination country you want to export goods to.
They should be able to provide your preferred shipment type and route as well as shipment tracking services to help you stay informed of your shipment's status.
Final thoughts
Skillfully navigating the world of international freight starts by establishing a working relationship with the right international shipping company. These industry experts can answer any additional questions not covered by the topics above. Their wealth of experience in shipping packages internationally will help demystify the whole process, giving you the confidence to further expand your business to new destinations.