The marketing industry has experienced powerful changes over the past few decades. Alternative currencies have recently gained a lot of attraction in the digital marketing sector. A lot of money is being printed, and cryptocurrencies such as Bitcoin and Dogecoin have positively impacted the future of businesses and their marketing activities. These days, digital marketing has a major impact on businesses of all sizes, and investing in cryptocurrencies will help the company prosper. This implies that marketers need to understand cryptocurrencies and Bitcoin and how these digital currencies affect the digital marketing industry.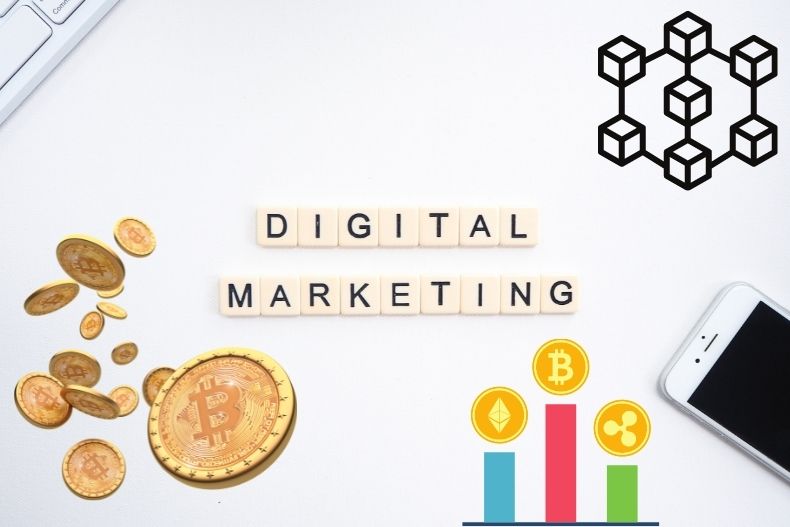 The Influence of Cryptocurrency on the Digital Marketing
The benefit of cryptocurrency is to monitor a marketing organization and knowledge about consumers' preferences and decisions. Using blockchain technology, the user can choose what types of content and ads they want to see. These ads are beneficial to raise awareness about available products and services while benefiting the platform, publisher, and the consumer.
Digital marketers incorporate cryptocurrencies into digital marketing to create more inventive ways to attract users and help the company gain profit. This implies the investors use digital currency, BAT. It is known as a basic attention token. This token is based on cryptocurrency blockchain. BAT users can choose whatever ad they want to see, and they will be reimbursed with BAT in exchange for their attention. The ads assist the users in learning more about the brand and items they are interested in by selecting the ads they want to see. As a result, consumers will be rewarded with a percentage of the BAT used by advertisers to purchase ad space.
Cryptocurrency's blockchain technology ensures data safety and transparency. These variables significantly impact digital marketing, offering notable benefits and gain to the users.
Digital Marketing Strategies of Katina Stefanova
Stefanova changed her paradigm of typical portfolio investments with technological advancements and adopted blockchain technology. They learn about using digital currency for trade and investment. According to Stefanova, investing in Bitcoin is a winning strategy. The current macroeconomic conditions further support the argument for investing in digital assets relative to fiat currencies.
Cryptocurrency is a digital payment system that doesn't rely on banks to verify transactions. It involves a peer-to-peer system that can enable anyone to send and receive payments from anywhere. Having cryptocurrency as a digital mode of payment, people are no longer required to carry physical money in the real world. Cryptocurrency payments exist purely as digital entries to an online database describing specific transactions.
Stefanova thinks that the future of digital assets is huge. It all started with Bitcoin and its underlying technology that enable the creation and transfer of digital value without intermediaries. Then, Ethereum, an asset management platform, was introduced. Ethereum has evolved to become the largest blockchain ecosystem in the world. Widespread adoption of digital assets will lead to easier and faster issuance of new securities and will modernize cross-border transactions. These benefits apply to the existing types of securities such as bonds, fund shares, and stocks. Beyond just improving the efficiency of the existing forms of securities, digital assets will help create new types of securities. Therefore, investing in digital assets will help the asset companies raise capital investment. The investors can split their investment among several different objects, allowing for diversification of their investment. Moreover, it gives people access to their securities through a trusted platform.
The vision of Katina Stefanova is to create a global stock exchange that will help to create new investment categories possible and accessible to retail investors. Aside from stocks, portions of large bundles of assets representative of companies, digital assets will enable focused, inflation-resistant investments. Over the last few years, investors have been using real estate as digital assets. Car manufacturers can profit from the returns generated by thousands of leased vehicles. Industrial goods are also made investable to retail investors, such as industrial plants, machines, and tractors. These assets increase the operating cost, raise the consumption of resources and create an output that creates profit for investors. Following the model of digital investing will help the retail investors to know that purchase of the machine via digital assets will help investors make returns each time the machine is used.
Digital Investment Solutions Provided by Marto Platform
Katina Stefanova is the founder of Marto Capital, multi-strategy asset management and advisory firm focused on optimal asset allocation. The investors at Marto Capital desire to adopt digital transformation that will benefit both customers and investors. The crypto-native expertise of the Marto platform has provided attractive investment to people who believe in the future of digital currencies. For people who believe in that promise, investing in cryptocurrency represents a way to earn high returns while supporting the future of technology. Stefanova enabled investors from all walks of life to reap the benefits of cryptocurrencies. Marto Capital opens the door to financial services, connects traders and investors, and facilitates trade and market integration. People will learn about new investment opportunities and new digital assets. Therefore, they can invest in modern securities and assets that are far more applicable and flexible than the traditional types of securities.
Marketing Strategies Suggested by Katina Stefanova to Improve Digital Investments
Stefanova has served as a management committee advisor at Bridgewater Associates, the largest hedge fund in the financial industry. She held both investment and management leadership roles, helped startups and successful businesses to develop an investment plan that provide digital investing online platforms to investors to maintain a good reputation that further help to build a clear and positive brand image to the public.
To reach a wider audience, the marketer should adopt the approach of being an influencer marketer. This is an incredible way to penetrate the crypto industry. By utilizing influencers, the businesses can reach a wide audience through the millions of followers that these influencers follow them. Email marketing and podcasts are a good way to boost crypto marketing strategy. This implies companies create high-quality email campaigns and broadcast their new coin to a wider audience.
Katina Stefanova thinks that cryptocurrency will dominate most business and finance conversations in near future. The cryptocurrency markets are favorable for long-term investors as opposed to short-term investors. Therefore, a successful business needs to maintain a balanced portfolio. There are several different types of cryptocurrencies like Bitcoin, Ethereum, Dogecoin, Litecoin. Beginners or startups should invest in just one type of cryptocurrency initially and assess their gains and losses before expanding their investment portfolio. The startup businesses are advised to invest minimum funds in each cryptocurrency that increase the amount being invested in investment.
The investors who want their assets in different digital currencies need not worry about waiting around to make purchases or having cash available when it is needed; these virtual currencies have very fast transactions. The blockchain technology behind digital currency allows for these transfers to be completed within a few seconds or minutes. Moreover, digital currencies are deflationary. This means that the value of these virtual coins will increase over time and their value will rise. Investing in initial coin offerings (ICOs) allows investors to have access to tokens enabling them to buy low and sell high when cryptocurrency values go up substantially.
By using blockchain technology including cryptocurrency, the Marto platform has redesigned investment processes and have increased capital and assets. The investors at Marto Capital learn that digital currencies can be considered a good long-term investment option, their potential growth is what attracts many investors today who want an alternative way to diversify their portfolios beyond traditional investments like stocks, bonds, mutual funds, or real estate.
Those who see cryptocurrencies such as bitcoin as the currency of the future have analyzed that digital assets are the future. Bitcoin and other cryptocurrencies have attracted more investors in subsequent years. The diversity of investable asset types will significantly increase in the coming years. Businesses in the financial sector have become familiar with the new opportunities to take advantage of this next stage of digitalization. Bitcoin hit multiple new all-time high prices and more institutional buy-in from major companies. The number of cryptocurrency investors has been steadily increasing around the world for a while, but recent growth has been explosive.
Thus, investors see many benefits such as crypto offering a new way to handle their finances, and many also find that the financial freedom of crypto has liberated them from the rigidity of traditional banking. Cryptocurrencies and the blockchain industry are consistently growing. These platforms have helped the companies to build a strong financial infrastructure, they are quick to expand the offering of assets their clients require and help the investors to receive the tools they need to manage and safeguard their crypto assets.