A billionaire with a genius-level intellect. A scientific mind that revolutionized the fields of transport, engineering, and space exploration? A highly publicized and tempestuous love life. Now, are we talking about Tony Stark or Elon Musk?
One's fictional, but the other is as real as it gets. The two may not be exact mirror images of each other, but there is enough shared between them to invoke inevitable comparisons. The question now is how alike are they really? How much of Marvel's Iron Man is reflected in SpaceX's founder?
With the release of Captain America: Civil War, now may be the best time to ask those questions.
Their Backstories
Most superheroes tend to have elaborate origin stories to help paint a pretty picture for fans to see why they are the way they are. Looking into the comics, Anthony "Tony" Edward Stark is the adopted son of Howard Stark and Maria Stark.
At the age of 15, Stark would enroll in MIT to study electrical engineering. He would go on to receive his master's degrees in both electrical engineering and physics. After losing his parents in a car accident, Tony Stark would inherit his industrialist father's company: Stark Industries.
His real life counterpart, on the other hand, was no less impressive. Elon Musk was born to Errol and Maye Musk in Pretoria, Transvaal, South Africa. At ten years old, he taught himself computer programming. Two years later, he sold the code for a video game he made to a PC magazine. For his efforts, he received approximately $500. A version of the game is playable online.
At 19, Musk studied at Queen's University in Kingston, Ontario. He later transferred to the University of Pennsylvania for his degree in physics. Later, he would earn his economics degree at the Wharton School of the University of Pennsylvania.
Professional Accomplishments
As a fictional superhero, Tony Stark carves a path that not even Elon Musk can realistically follow. In terms of business, however, the two can be more closely compared with each other.
In the comics, several hostile takeovers from rivals, bankruptcies, and even faked deaths from Stark himself would severely affect Stark Industries. Going through several names, including Stark International, Stark Enterprises, Stark/Fujikawa, and Stark Solutions, Tony Stark oversaw his company work on projects ranging from weaponry to sustainable energy.
Elon Musk is no stranger to founding numerous companies himself. After earning his degrees in economics and physics, Musk would enroll in Stanford University to begin a PhD in applied physics only to drop out two days later to found Zip2 with his brother Kimbal. The company would eventually be acquired by Compaq. Musk's second company, X.com, was in 1999. It merged with Confinity a year later and would eventually give way to PayPal in 2001.
Despite earning enough money to retire at the age of 32, Musk found himself toying with the idea of "Mars Oasis." In an attempt to rekindle public interest in space exploration, Musk founded SpaceX. The long-term goal he had in mind is the creation of a "true spacefaring civilization." From there, Musk would co-found Tesla Motors, SolarCity, and OpenAI. Not too shabby for the non-superhero, real life version of Tony Stark.
On Philanthropic Pursuits
It takes more than being child prodigies, successful businessmen, and formidable inventors to really encapsulate the similarities between Tony Stark and Elon Musk. Both men are noted philanthropists, as Stark so memorably described himself in 2012's The Avengers. As a matter of fact, his mother was one herself. To honor her memory, Tony Stark began a charity in her name, which donated funds to various other charities, as well as funding his own superhero team, the Avengers.
Elon Musk's Musk Foundation focuses primarily on providing solar-power energy systems in various disaster areas. One such effort was the collaboration with SolarCity to donate a 25-kW solar power system to Coden, Alabama's SBCA hurricane response center.
Another notable donation of Musk's is the $10 million he gave to the Future of Life Institute. The reason? To fund global research programs to keep artificial intelligence beneficial to humanity. Given his outspoken belief on the potential threat of AI, this comes as no surprise. Tony Stark's comic book version may not be to blame for Ultron, but his movie counterpart could stand to learn a thing or two from Musk's caution.
On Love
Romance is definitely something that both men can say they know a thing or two about. Tony Stark's playboy lifestyle, both in the comics and movies, are well documented. However, he was never married, which is something that Musk has on him at this point.
Elon Musk's first marriage began in 2000 and ended eight years later, after producing six sons. Since then, his on-and-off marriages with actress Talulah Riley have become highly publicized affairs.
So can we conclude that Elon Musk is the real life Tony Stark?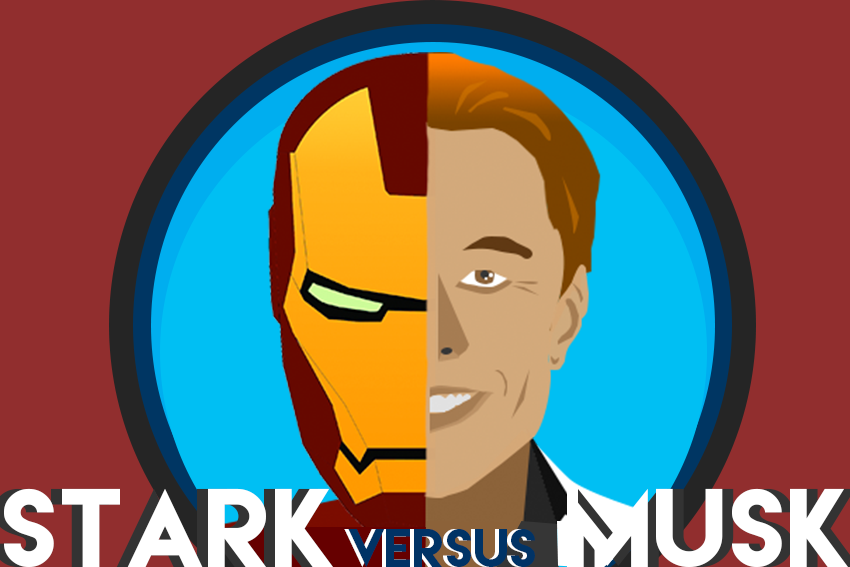 Despite similarities, Tony Stark and Elon Musk are definitely not doppelgangers. What can be seen here are two men, one fictional and one real, who has their respective worlds eating out of the palm of their hands. Geniuses, who proved it time and time again through their various accomplishments.
Despite all that, they remain flawed and relatable human beings, with crippling personal lows to accompany their nigh-unbelievable professional highs. Who knows, maybe someday Elon Musk will get around to creating his own version of Stark's superhero armor. And when that time comes, Elon Musk not Tony Stark would be known as the "real Ironman".