Business banking refers to a company's financial interactions with an organization that offers business loans, savings accounts, credit, and checking accounts created particularly for businesses rather than individuals.
When a bank, or a subsidiary of a bank, works only with companies, this is referred to as business banking. A bank that primarily serves consumers is a retail bank, while a bank that primarily serves capital markets is an investment bank. Certain banks cater to simultaneous categories of consumers.
Company banking is a term that refers to a variety of services that a bank provides to a corporation or business.
Firm banking services include loans, savings accounts, credit, and checking accounts that are all suited to the needs of the business.
Banks can provide services in corporate, retail, as well as investment banking under one roof.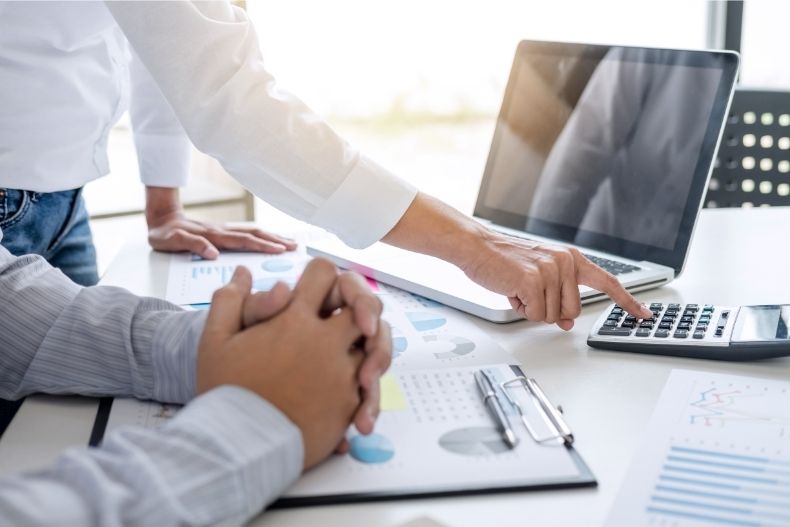 What is Business Banking?
Business banking is often referred to as corporate or commercial banking. Banks offer financial and consulting services to both small and big organizations. These services are customized to meet the unique requirements of each organization. These services include real estate and commercial loans, bank accounts and interest-bearing products, and credit card services. Banks may also provide corporate and commercial customers with investment management and sometimes securities underwriting services.
Historically, the "Glass-Steagall Act," or the Banking Act of 1933, mandated investment banks and financial institutions to be distinct businesses. That began to change in 1999 when sections of the statute were repealed. Banks may now combine corporate, retail, or investment banking services under the new laws.
Business banking demand is expanding in the United States as the economy continues to rise. Since 2002, there were 7,870 commercial banks, which then decreased to 4,708 in 2018. This has been driven mostly by mergers and acquisitions. JPMorgan Chase, Wells Fargo, and Bank of America have the biggest market shares in corporate or business banking. JPMorgan Chase is becoming the biggest commercial bank in the United States, with 2019 sales of $142 billion. It is important to remember that these banks also function as commercial banks and retail banks, which allows them to diversify their customer base and product offerings.
Business Bank Services
Business banks can provide a diverse variety of financial services to businesses of all sizes. Apart from savings accounts for businesses, business banks also provide financing, payroll services, cash management solutions, and fraud protection. You can check here if you are wondering: "is there any bank near me?"
Bank Finance
Bank finance is a critical source of finance for corporate development, acquisition, and equipment purchases and simply meeting expanding operational expenditures. Firm banks may provide fixed-term loans, short- and long-term loans, lines of credit, and asset-based loans, depending on the requirements of the business. Banks finance equipment via fixed loans or leasing. Certain banks specialize in certain sectors, like agribusiness, construction, and real estate development.
Cash Management
Cash management services, also known as treasury management, assist organizations in increasing their effectiveness in handling their receivables, accounts payable, cash reserves, or liquidity. Business banks provide customized systems that assist firms in streamlining their cash management, leading to decreased expenses and more cash on hand.
Banks facilitate business transactions by providing firms with access to Automated Clearing House (ACH) and digital payment processing services or digital banking. Additionally, they enable the automated transfer of funds from idle checking accounts to interest-bearing savings, putting the cash excess to work while leaving the company checking account with just enough funds to cover daily obligations. Businesses have access to a personalized online system that enables their cash management operations to their savings accounts, providing real-time visibility into their cash flow.
Payroll Processing Services
Numerous banks provide payroll services to small companies. Suppose your firm is young or too tiny to justify the investment of a bookkeeper. In that case, several banks provide payroll management software or services. Apart from banks, other standalone payroll service providers exist. It is worthwhile to compare the two in terms of expenses and advantages.
Protection Against Fraud
Banks provide fraud insurance to safeguard companies against any fraud that occurs in checking accounts. These include inadequate vendor checks and staff fraud, which may occur when there are too many employees with authority to accounts, making a transaction harder to track.
Discounts on Products
Money-saving deals from other businesses are beneficial add-ons to several small business banking plans. Martin stated that some banks give discounts on partner products and services due to the huge volume of bank clients' purchases.
Request a list of partner firms that give discounts to your bank's small business banking clients. Hotels, insurance firms, airlines, and office supply shops are all examples of typical partners.
Banking over the Internet
Through your computer or smartphone, you are capable of transferring money, paying bills, and depositing checks. You may well be able to save up on financial services if you pick an online-only bank since the bank's costs are often cheaper due to the absence of a physical location.
Integration of Accounting Software
When handling your corporate bank account, integration with accounting software might make all the difference. It enables you to keep tabs on your money and track your cash flow daily. Additionally, it assists you in avoiding accounting errors by automatically recording the money traveling in and out of the accounts.
Conclusion
Finding the best bank for your company may need some study, but the work will be well worth it. Choose a bank that allocates a business banker to the account and provides a comprehensive suite of commercial banking services and products, such as business checking and money market accounts, internet banking, business credit cards, comprehensive payroll solutions, and fraud insurance.