When dealing with electricity, all businesses must prioritise security and safety, because a lack of proper care and attention is sure to lead to disastrous results. Your business could also attract the attention of the authorities that regulate commercial electrical safety, and you could find yourself facing a hefty fine. Therefore, you can never be too cautious or prepared in this regard.
Electrical Installation Condition Report is a standard certification that is now compulsory for all businesses in the UK. This certification ensures that businesses are complying with the basic electrical safety standards as dictated by the law. This includes clauses to protect the safety of staff and property from potential electrical issues.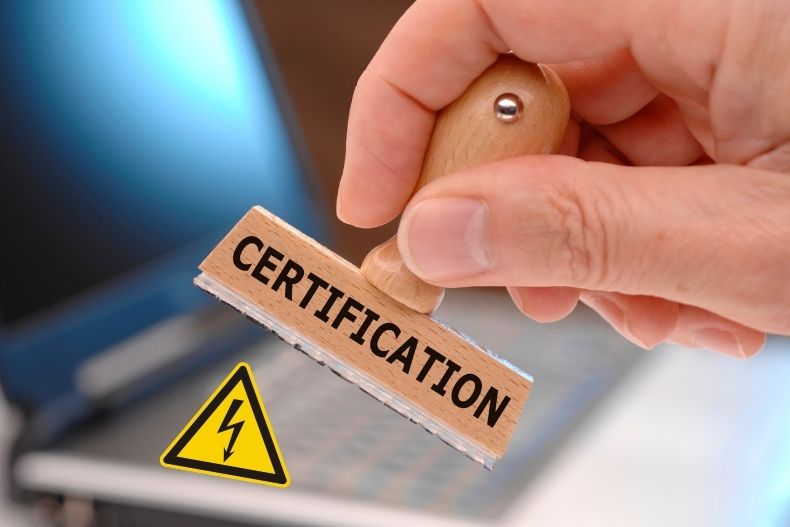 The EICR Certificate
The Electrical Installation Condition Report, EICR, is a documented collection of tests and inspections that are conducted on the electrical installations in commercial buildings to ensure that they meet the official safety standards stipulated under the law.
This legal electrical requirement is a derivation of the Electrical Work Regulation (1989) and the British Standards BS7671 which dictate that all electrical installations must undergo rigorous and frequent testing. All EICR tests are conducted by qualified professionals who have demonstrated the necessary knowledge and qualifications and have the authority to carry out these tests.
What Does it Involve?
The EICR Certificate records the cumulated results of all tests and inspections carried out on electrical installations of any business, and reports wear, tear, or any similar damage to the electrical circuitry. It identifies any areas that do not comply with electrical wiring regulations and encourages business owners to correct such issues.
It also details any issues with installation that could lead to severe electrical shocks, dangerously high temperatures, wire earthing faults, or any other problems with the fittings.
Why Does Your Business Need to Have an ICR Certificate?
Under UK law, all businesses must conduct an EICR test every year to ensure that no part of your business's system is faulty or damaged. Every part of the system, from sockets and switches to wiring, distribution panels, and circuits, is subjected to wear and tear that could deteriorate equipment over time and result in major hazards.
The test ensures that your entire electrical system is safe for use and does not pose a threat to your assets, staff, or facility. The EICR will also identify any over-loaded circuits that cause regular tripping of breakers. Frequent overloading can mean risks of accidents, damaged equipment, uncontrolled fire, and shocks.
Benefits of EICR Certificates
Along with the legal requirements, having an up-to-date EICR certificate can be beneficial to your business in a variety of ways.
Firstly, it's necessary for your insurance. You need an EICR certificate to validate your insurance and this certificate shows that you have taken all necessary precautions. It shows that you conduct electrical safety tests frequently and continue to maintain high levels of security and safety in your workplace.
Additionally, if you ever have to face legal action, this certification will strengthen your case and help to reduce your liability, thanks to evidence that electrical testing had been conducted regularly.
An EICR will also save you plenty of money in the long run as it keeps your equipment protected from any serious damage. Through an EICR, a qualified and trained electrician with inspect your electric system and identify any overheating of equipment or overload in the circuit that can cause energy wastage and irreparable damage to your assets.
Furthermore, an EICR provides recommendations that will help you make your systems more efficient and could save you significant amounts of money by avoiding having to repair or replace electrical assets.
With improved efficiency, your business will also be able to reduce its energy consumption through heating, lighting, and better energy monitoring. By monitoring the performance of your electrical systems, you can quickly identify problem areas and correct them to minimise your carbon footprint.
This certification protects your business from significant operational, reputation, and financial losses. Faulty electrical circuitry could cause accidents that could even lead to loss of life, so vigilance is essential. This certificate will keep your assets safe and help you avoid fines and penalties for not complying with safety laws.
Final Words
In such uncertain times, it's more important than ever to be on top of your EICR game. EICR is a preventative measure that is designed to help your business quickly identify and address maintenance issues that could escalate into more serious problems. This will not only help you protect your assets, your people, and your business's reputation, but it can save you greatly on replacing or repairing equipment further down the line.
After all, you can't put a price on safety, so be sure to stay on top of your EICR tests and certifications.