If you love food and most importantly cooking, you should try your luck in the food service management industry by starting a catering business. Catering services are one of the in-demand services in events such as weddings, conferences and fundraising galas. The catering industry is highly fragmented, with no major company holding the lion's share of the market. Therefore, you can establish a small start-up and grow it by finding a local niche.
Starting a business is one thing, but making it successful is another. As with the catering business, success does not depend on having delicious meals on your menu. If you already have or are interested in starting a catering or food business that you want to succeed, there are several factors you need to consider.
Below are 8 ways to ensure your catering business soars into success.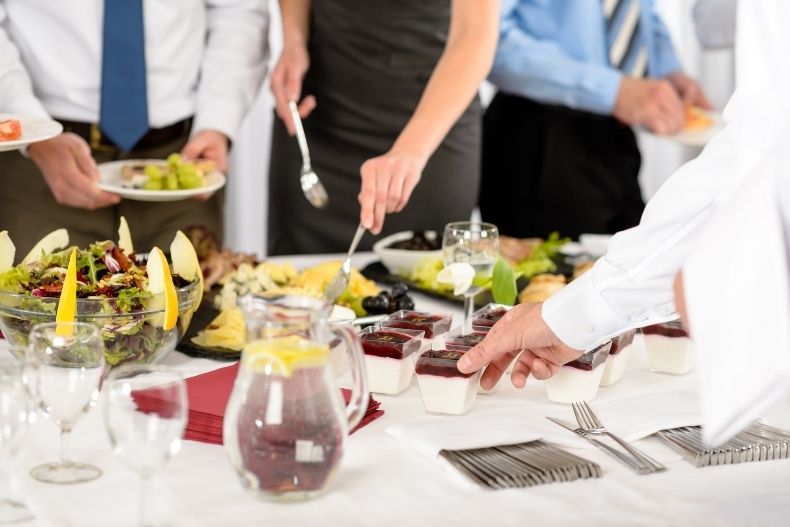 1. Education for Success
You may have a passion for cooking and, on top of that, be the family's favorite chef. However, when it comes to making a catering business successful, you need to have more than passion. In the business world, you need to have a set of skills to run a business. Some of the crucial skills you need to help your business soar into success are superb organizational and time management skills.
Running a business is a lot of administrative work that involves scheduling, financial planning, accounting and record-keeping. However, you do not have to worry if you think you perform poorly in this sector. You can enroll in a diploma or degree program in food management from a reputable college or university.
2. Cleanliness and Hygiene
When it comes to food and catering services, cleanliness and hygiene are of utmost importance. If interested in getting customers, you need to observe the highest possible standards of cleanliness and hygiene. This entails ensuring everything is hygienic, from handling raw food products, preparation, serving, dressing to even the staff's dress code.
As a business, you, therefore, need to ensure the rooms where food is stored and prepared are clean. Also, purchase quality food service cleaning supplies and sanitation products that effectively remove germs, soils and other contaminants.
3. Create a Solid Event Plan
Every customer will come to you with different catering needs; thus, every event will be slightly different. To ensure your clients are satisfied, ensure you take the time to create a solid event plan for each event, be it a wedding, funeral, anniversary or corporate event.
Handling a client's request without any form of organization will lead to chaos and confusion, resulting in the loss of a client. Plan in advance so that you can have to incorporate any minor changes the client might request afterward.
4. Serve Quality Food
The best way to capture the attention of a hungry stomach is by having delicious food. The quality of food you cook can break or build your catering business. Food made with love and passion tastes better than one made by just mixing ingredients, so it is said. As a catering business, you need the people to be full and taste your person in every dish you serve.
When preparing food, always use fresh produce and ingredients. When cooking the food, put the same passion and hard work you would put in when preparing food at your house.
Remember to also place the food in an organized manner on the plate. The way you present the food reflects the quality of the food. By serving quality food, you make a name for yourself and your business and encourage the customers to request your services again and spread the word about your business.
5. Offer a Diverse Menu
Events usually have many people with various food preferences. To satisfy the preferences of most of them, if not all, you need to offer a diverse menu. Prepare dishes from multiple cultures and consider the needs of various people such as vegetarians, people with food allergies, vegan preferences and religious dietary restrictions.
Having a diverse menu prevents locking out some guests from experiencing your delicious and well-prepared food and even attracts more clients.
6. Ensure Your Services are Top Notch
Even though the number one priority is the food itself when it comes to catering, you must provide outstanding customer service for your catering business to be successful. Your quality of services will also determine your clients' view of your catering business. Be friendly, courteous, respectful and helpful when engaging your clients. Inculcate these principles into your staff.
When dealing with customers' or guests' complaints and concerns, be sensitive and respectful. Satisfying clients in a catering business goes beyond ensuring their stomachs are full.
7. Be Creative
To propel your catering business into success, you need to be innovative to stand out from the competition. There are thousands of catering businesses out there competing against you. You, therefore, need to engage your creative side to outperform them. If it is with the food, add your own special touches to transform seemingly boring food into fun and appealing dishes (food art).
You can also go beyond catering services and offer additional services such as venue decorating, cake making, event planning, costumed catering and personalized table arrangements. To get the guests coming for more and beat your competitors, do be afraid to engage your creative side.
8. Marketing and Networking
In today's world where the internet rules, you do not have to limit yourself to the old ways of marketing your business. Use social media, websites, blogs, and online event planning platforms to catapult your catering business to new heights. You can reach a wide audience through online marketing from the comfort of your office desk or home couch.
Word of mouth advertising is also an effective way of marketing your business. Network with wedding planners, event coordinators and other services and request them to recommend your business to their clients.
You can also recommend your business to them, and in turn, you can recommend their businesses. Doing so will help your catering business grow.