Want to Start a Business Buying and Selling Used Cars? Here Are 12 Tips to Aid You on Your Way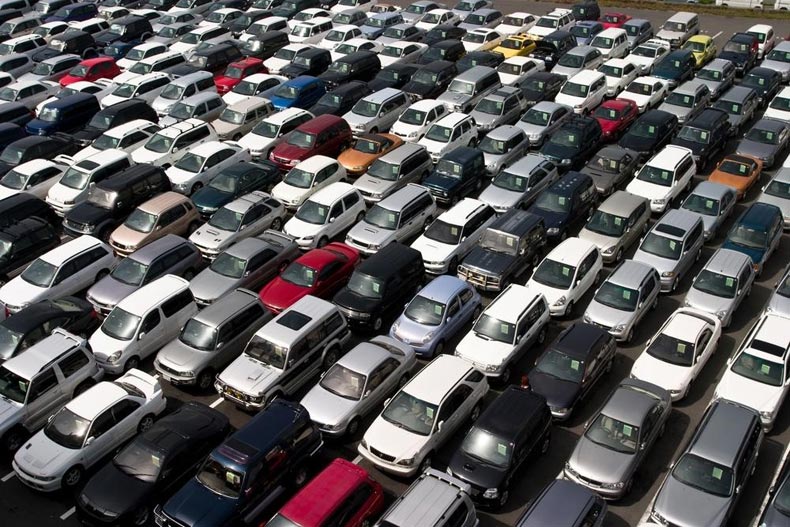 So, you're considering to start your own business in buying and selling used cars. In this business, it helps to have some working knowledge about cars, marketing, and integrity, although it is not a requirement. For some, it might be the buying that is intimidating, while others are more concerned with being able to make regular sales. But when you have the right tools in your arsenal, you'll be better prepared to successfully take on the used car sales business. Buying and selling used cars can be a very profitable venture when you follow a few sound car-buying-strategies.com.
Every state has its own laws regarding the selling and buying of vehicles, who can sell and buy and how many vehicles can be sold privately. If you plan on selling more than a certain number of vehicles, you should apply for a dealer's license before you get to the limit. In the state of Maryland, private parties without a dealer's license may only sell 2 vehicles within a 12 month period. Having a dealer's license allows you to legally sell used vehicles. It also means that you have a certain level of obligation to ensure that your vehicles have clear titles and meet the state's inspection requirements. You will also need to familiarize yourself with your state's title & tagging regulations. This is even more important if you are going to import and buy and sell cars in Oman.
Choose the Right Brand of Cars to Buy/Sell
Unless you have a particular niche like luxury cars, classic cars or something else, you may want to consider brands that the average used car buyer trusts and sees as reliable. According to Kelley Blue Book, some of the best used cars to buy or sell under $5000 are Subaru, Honda and Toyota. Because car makes like these, Nissan and Acura are widely recognized you are setting yourself up for success.
If you plan on going into a specific style of car, you will need to price them accordingly. Both restored classic cars and as-is classics tend to have a higher resale value than more modern cars. The nostalgia and cult-like following of these vehicles are impressive. Once again, sticking to what your customer base is most likely to be attracted to takes some of the guesswork out of choosing which used cars to buy. When you do your market research you will know what your customer wants from you and deliver.
When selling a used car, the price matters a lot. Consider pricing your vehicles $5000 or less. It's a reasonable amount that most people who are looking to buy a used car can manage. When you're working within a niche market you may need to price your vehicles differently. Research the prices of some of your nearby competitors, as well as their policies and practices. You may need to copy their model or adjust it to better fit the needs of your target consumer.
Although having a dealer's license allows you to purchase cars at wholesale price, there may be times when you buy from private parties. In these instances don't be afraid to negotiate for the lowest price. The worst that can happen is that the deal falls through. You don't want to make deals that will hurt your business in the long run. Don't be ashamed of bargaining because it is highly likely that your potential buyers are going to want to negotiate the price they pay as well.
Set a "bottom dollar" amount for each vehicle. This is simply the lowest amount that you can sell a car for and still make a profit. Having this figure in mind makes negotiating with customers and sales projections a little easier.
Here is where some of that integrity comes into play. Always do a thorough check of each vehicle you are considering buying. You don't want to spend your good money on a stolen car and have it repossessed by the police or an insurance company. You do not recover the money that you spend on unknowingly purchasing a stolen vehicle.
The vehicle's VIN number is much like your social security number. With it, you can discover various documented repairs, accidents and more. If you're concerned about replacement parts claiming to be original to the car or purchasing stolen vehicles, it may be helpful to compare the VIN on the dash to the one inside the door frame or on the engine or another area of the car.
Have a Trusted Mechanic in Your Corner
Get to know a certified mechanic. Chances are that you will need one to take care of any major repairs and conduct state required vehicle inspections. Another great reason to befriend a knowledgeable mechanic: he or she can help you decide whether or not a particular car is a good buy or not. It's not a good deal if you buy a car for $1000 and have to put $2500 into it and can sell it for only $3000.
When you have a good relationship with your mechanic you will have a better relationship with your cars. Not only can they help you decide whether or not to purchase a car, but they can work on your vehicles, giving you an expert opinion on what repairs are truly necessary for resale.
Checklists are important. They help you to keep track of what needs to be done and what already has been done. You might even want to have several checklists. A checklist for purchasing may include things like mileage, tires, test drive, car interior/exterior, etc. to make sure that you're not purchasing a lemon. Another checklist may be geared towards the car's overall appearance and visible cleanliness. Having a clear plan of attack can help keep you from making buying mistakes and ensure your customers a quality used vehicle.
Make Sure That Your Space is Adequate
Wherever you choose to operate your business, you want to make sure that you have adequate parking for your inventory. Check your state and county laws about storing cars without license plates. You don't want to incur fines and other fees. When you have a physical location make sure that the lot is sufficient for your inventory.
Have an Advertising Budget and Plan
In order to maximize your traffic and best reach potential buyers, you will want to advertise. It doesn't need to be sophisticated or grandiose, but it does need to be to the point and effective. If you have a smaller budget, go for newspaper, internet and radio show ads. If you have a larger budget, a short add on a local television station could do wonders for your business as can a radio commercial.
Consider Offering a Warranty
A warranty just might be the one thing that makes a potential buyer choose to buy from your business instead of one of your competitors. Since many used car business sells their vehicles as-is, offering a 60-day limited warranty can give buyers more confidence in your product. It also bolsters your perceived integrity. Customers may feel as though they are more than just a customer to you.
Running a used car sales business requires certain insurances to safeguard your inventory. You'll need liability coverage in the event of an auto accident. Errors and Omissions coverage and Open Lot coverage are also essential to running a legal used car sales business. Be sure to acquaint yourself with your local insurance requirements.
If you plan on using the internet to get attention and increase your business's traffic or visibility, it's a good idea to have pictures of your inventory. Even if you are not using the internet, you can use them in visual ads in the newspaper or on posters.
When taking pictures, think about how the picture will be used. If you are placing an ad in a newspaper, a shot of the exterior is fine. Make sure you have the correct lighting and that there are no shadows. Beware of strong glare and make try to keep other vehicles out of your photo. If you are taking pictures to be posted on eBay or a similar site, you may want to also take photos of the car's interior, odometer, engine and any other prominent features or selling points.
Whether you choose to have your business in a physical location or if you plan to be strictly online, the internet is your friend. You can create a Facebook page or an Instagram account to showcase your inventory. Get as creative as you like with your posts and captions. You can also post classifieds for cars for free on sites like Craigslist.com, Autovolo.co.uk, and others. Even if you do have a brick and mortar location you can use the internet to post ads and attract potential buyers to your location.
Whether you prefer to dive right into used car sales or take your time and start slow, these tips can help you better navigate the business of selling used cars. If selling used cars are truly what you wish to do, it may be useful to talk to some used car sellers to provide you with more insight into the business. Obtaining an experienced dealer as a mentor may prove to be invaluable. Listen to your instincts and never be afraid to ask questions.