New Jersey has the highest number of residents migrating out due to professional opportunities and career changes. Those are the most common reasons for New Jerseyans (NJ) to relocate. So, where do they intend to relocate?
New York (NY) is the most popular destination for New Jersey residents. Many people relocated to different boroughs of New York City between Manhattan, Brooklyn, Queens, and the Bronx.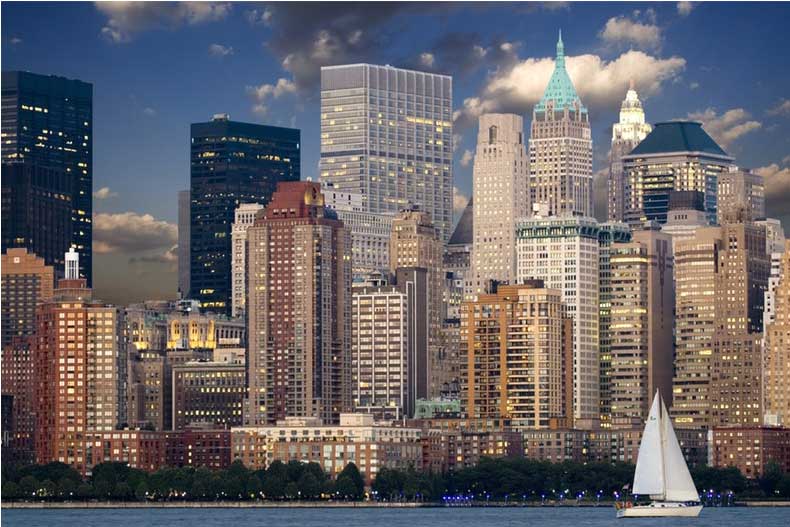 Should you Relocate to New York?
Should you move to New York City if you are now residing in New Jersey, and is it the best option for you? The lifestyle is one of the most visible distinctions between living in NJ and NYC. While New Jersey encourages a steadier, suburban lifestyle, New York City provides both a fast-moving, big-city way of life.
For a reason, New York City is renowned as the town that never sleeps, and the best part about living there is being able to enjoy all the action. Even in the city's quieter neighborhoods, everyone will have access to all of the city's attractions.
Some people opt to work in NYC even though they live in NJ because of the employment prospects it provides. Commute times from New Jersey to NYC, on the other hand, may not be as efficient or appropriate as if you already lived there.
Furthermore, if you work in New York City while residing in New Jersey, you will be required to file and pay income taxes in both New York and New Jersey. While residents of New Jersey can claim a tax credit for any taxes paid to New York on their returns, NJ taxes other income such as dividends, capital gains, interest, and more, whereas New York does not.
It is crucial to remember this since many people feel they may save money on taxes by living in New Jersey, while the truth is, it all depends on your circumstances and income.
While home and rental sale listings in NJ may be comparable to or even cheaper than those in NYC, keep in mind that the rental and home sale alternatives are far more limited in comparison to the NYC real estate market. With a substantially wider pool of homes accessible in NYC than in NJ, finding a place to live might be a lot easier.
Tips for moving from New Jersey to New York City
Here we have compiled a list of helpful hints to help you with your house search and relocation.
Date of Arrival
When looking for an apartment in New York City, you should begin your search six weeks before your desired relocating day. This will allow you to explore multiple communities and examine all of your listing alternatives in a certain location to choose which one is ideal for you.
The six weeks will allow you to familiarize yourself with different locations of NYC as well as housing pricing in certain neighborhoods, allowing you to confidently pick a room that suits your lifestyle and budget.
It is also vital to keep in mind that the lease signing date is not always the same as the arrival date. Rather, after previous tenants have moved out, landlords often spend time repainting and cleaning the flats, which indicates that even if your lease has begun, you will not be allowed to shift until all cleaning and repairs have been completed.
Choosing a Location
What elements of New York City appeal to you and fit your lifestyle? It is critical to limit your search to a few places, so you do not become overwhelmed by all the alternatives.
Transportation choices, surrounding schools, crime rates, essential retailers, dining options, building sites, nightlife and entertainment, and outdoor spaces are all factors to consider.
You can see if the community around the listing suits your preferred lifestyle preferences with this extensive information on the area around the listing.
Visiting the Location
It can be difficult to find an apartment if you are currently living in New Jersey or out of state because you cannot see the space. We offer you the facts about every listing in NYC without providing you with any insights.
Building infractions, elevator concerns, tenant complaints, the amount of natural light, the listing's cost in comparison to other similar listings on the market, and neighborhood insights are all factors to consider. With our deep knowledge of listings, we can assist you in learning both the benefits and drawbacks of an apartment without requiring you to conduct extensive research.
Number of Popular Neighborhoods to Live in New York City
If you are still trying to figure out which NYC area is right for you, take a look at some of the most popular places that other New Yorkers have made their home. Here are just a few of New York City's unique neighborhoods. Let's have a look at what makes them so unique.
Accept the Strange
The city's huge diversity of nightlife, entertainment, and culinary offerings are a big part of what makes it so attractive. Prepare to be regarded as basic as pumpkin spice lattes if you do not take advantage of the unusual. Make a point of getting out of your living room and seeing what the city has to offer.
Keep in Touch
New York is densely populated, yet it can also be the loneliest location on the planet if you do not establish roots in your neighborhood. Participate in a community garden in your area.
Use your professional skills for a worthy cause. Learn the name of a bartender and utilize it. In a city where people's faces appear and disappear all the time, it is crucial to make yours stand out.
Final Thoughts
If you are considering relocating to New York City, there are numerous places available that could be your ideal residence. Happy relocating!